DVD: Crimson |

reviews, news & interviews
DVD: Crimson
DVD: Crimson
Nasty and brutish grade-Z Eurotrash marriage of crime drama and horror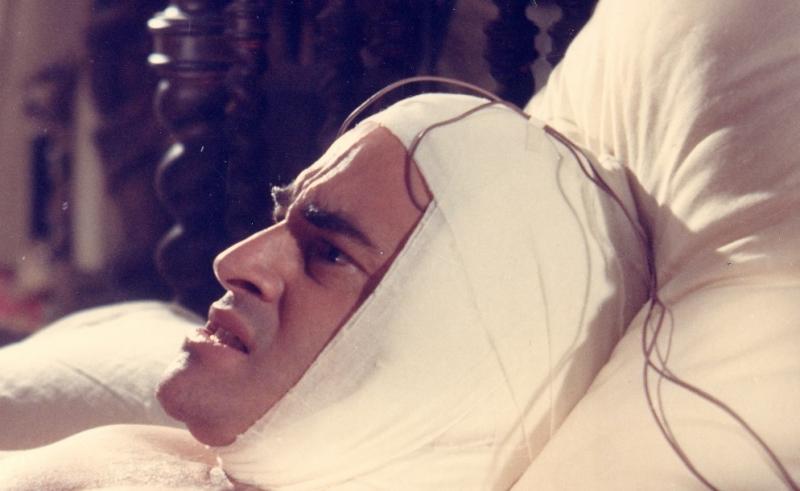 Post-brain transplant, Paul Naschy takes it lying down in the grim 'Crimson'
After watching the grim Crimson, it's impossible not to feel grubby and perplexed. Grubby, as this is a catering-size example of squalid exploitation cinema. Perplexed, as its plot is senseless, the charisma-free acting so inept that the cast may as well be talking in a bus queue, and the technical aspects of the film-making thoroughly lacking: continuity errors abound and microphones are in shot. It also lacks any sense of drama and pace, and is over-talky.
Yet, as it rolls towards its ludicrous conclusion,
Crimson
exerts a horrid fascination. "Could it get worse?" And yes, it does.
Crimson is Eurotrash cinema at its trashiest. Presumably intended as high-concept, it clunkily marries crime drama with horror. A robbery goes wrong and, while fleeing the scene, the gang's leader is shot in the head by police. Mind-bogglingly, it is decided he needs a brain transplant, so the right doctor is found and coerced into undertaking the relevant operation by threatening him and his wife (and kidnapping his daughter). As a brain is needed too, a rival gang leader is killed. Of course, it all goes wrong and there's an ensuing bunch of Frankenstein's monster-style idiocy.
'Crimson' is for committed fans of the aberrant only
The director is Juan Fortuny and the film a French-Spanish co-production, originally known as Las ratas no duermen de noche as well as The Man with the Severed Head and Crimson, the Color of Terror. It was first released in France and Spain in 1976 but filmed in 1973. The star is Spain's Paul Naschy, born Jacinto Alvarez, a veteran of scads of grade-Z tosh.
Overall, Crimson's problem is not its contemptuous don't-care sloppiness but its nasty tone. Each adult female character is seen in gratuitous full-frontal nude scenes. Getting them to appear naked is the only reason for their casting. Every sex scene is brutal. There are three rapes.
This new British home-cinema release of the with-added-sex-scenes French cut lacks the spoken commentary track of last year's American edition, and the only extras are three trailers (one for Crimson and two for other films released concurrently). The digital transfer from the film stock looks better than it has any right to. One for committed fans of the aberrant only.