Geta Bratescu, Camden Arts Centre |

reviews, news & interviews
Geta Bratescu, Camden Arts Centre
Geta Bratescu, Camden Arts Centre
A one-woman riot: the Romanian artist who has come in from the cold
Still from The Studio, 1978, by Geta Brătescu
What a delight to be introduced to an artist whom you have never heard of and whose work is inspirational.
Born in
Romania
in 1926, Geta Brătescu spent much of her life enduring the
Soviet occupation
of her country, then the repressive regime of Nicolae Ceaușescu; yet her work is a joyous exploration of creative freedom.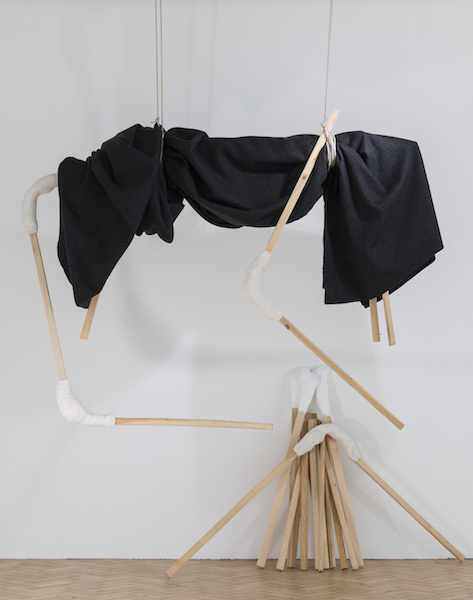 Behind the closed doors of her studio, she has perfected the art of making something out of nothing. Her materials could not be simpler – paper, charcoal, ink, scissors, string, bits of material and a sewing machine, or lengths of wood and a blanket. With these humble means she produces drawings, collages, sculptures and installations that reveal the process of their making and, in so doing, are a declaration of war against the forces of negativity – against anyone bent on inhibiting one's freedom of thought and action.
No To Violence, 1974 (pictured right: detail), is a powerful statement of dissent. Suspended from the ceiling is a wooden frame reminiscent of the structures on which Tibetan monks expose the dead in "sky burials". Hanging beneath it, something heavy is trussed inside a blanket like a body wrapped for burial. Protruding from the cloth and leant against the wall are bits of wood joined together by bandages to resemble weapons or broken limbs. It is obviously an installation rather than a dead body, yet the various elements are so evocative that the metaphoric power of the work is enhanced rather than diminished by the self-evident simplicity of the artifice.
The fact that most of these works are conjured from next to nothing induces a similar sense of euphoria as watching a magician reconfigure a sheet of torn paper or a photographic image appear in the developing tray. Take Inventory, 1987 (pictured left), for instance, a series of 13 compositions made from paper. White, grey, brown, turquoise, green and magenta sheets have been variously torn, cut, folded, crumpled or tied into scraps, bundles, ribbons, wands, borders, frills, stripes, fringes or fragile, spaghetti-like jumbles. The variety and versatility of their arrangement is astounding; Brătescu's powers of invention seem unstoppable. She could go on forever without repeating herself, or so it seems.
In Vestiges, 1978/9, she works the same magic on bits of material inherited from her mother. Patterned, striped, floral and plain, the worn and faded fragments are sewn into multi-layered compositions whose frayed and tattered edges are redolent of a life of make-do-and-mend frugality. From Black to White, 1975, is laid out on the floor; hundreds of tiny scraps of material have been graded from white to black and sewn into a pathway suggestive of a long and arduous journey. The predominance of grey and of worn and tattered threads implies a lifetime of hardship, so that while the Vestiges seem filled with nostalgia and memories of maternal care, From Black to White is more like a melancholy meditation on human endurance.
In Medea's Ten Hypostases (pictured below left) and Medeic Callisthenic Moves, 1980/81, the sewing machine becomes a versatile drawing implement. This time the swatches of material are large enough to suggest items of clothing; as well as selvedge edges and seams, one can discern the yoke of a neck or the shape of an armhole. Sewn together to create generic heads and shoulders, the pieces are also outlined and patterned by cross-stitching and overlocking.
Brătescu's extraordinary graphic skills are apparent in Born in Utopia, 1991 (pictured right), a series of collages in which heads and hands are conjured with minimal means. A boomerang shape created by scribbling though a stencil becomes the nose and eyebrows of a simple face, or the fingers of a hand; concentric circles become both expressive eyes and implements, such as a magnifying glass or compass, held by enquiring fingers. Suggestive of innocence or naivety, the results are both simple and very complex.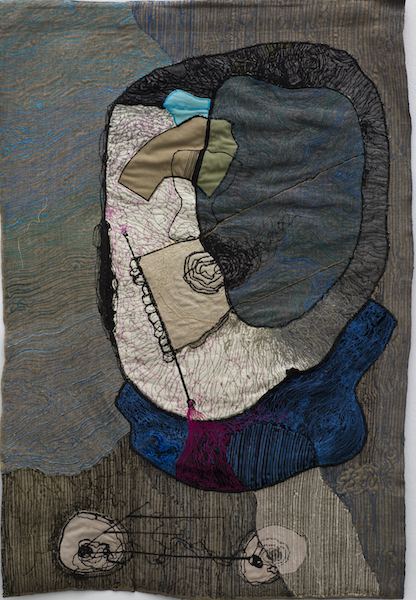 Brătescu also stages private performances for still or video cameras in which she explores her ability, behind closed doors, to control the substance and duration of her actions. Her video The Studio, 1978 (main picture) is like a manifesto. The camera pans round the room, scanning the environment in which everyday materials are transformed into artworks. Using her height as a guide, she draws a frame on a white backdrop; this is the arena over which she has absolute control and in which her creative potential can safely unfold.
She transforms a stool into a personage by dressing it in her own clothing. The same stool is hung on a wall in the exhibition; this time the addition of a nail for a nose and photos of the artist's eyes turns it into a comic self-portrait. Named The Traveller, it beams this courageous spirit into the room, while making ironic reference to the fact that, although she has rarely left Bucharest, she has journeyed extensively through her imagination.
At 91, Geta Brătescu is still working and this summer will be representing Romania in the Venice Biennale.
her drawings, collages, sculptures and installations are like a declaration of war against the forces of negativity
rating
Explore topics
Share this article