DVD/Blu-ray: Two Rode Together |

reviews, news & interviews
DVD/Blu-ray: Two Rode Together
DVD/Blu-ray: Two Rode Together
John Ford's transitional Western denounces white racism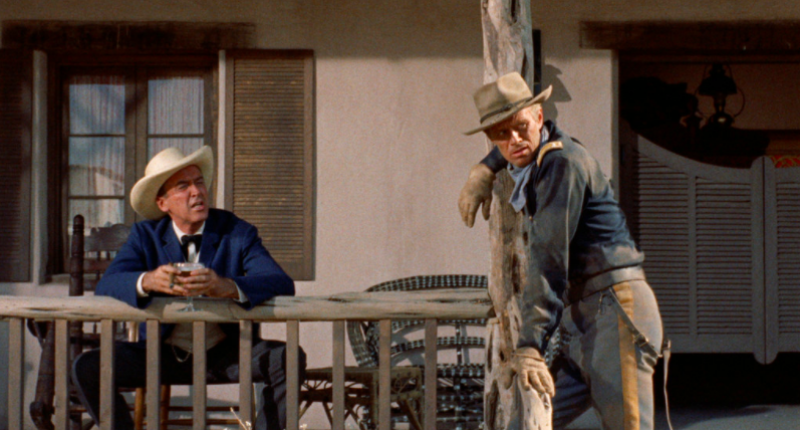 Sharp James Stewart and dusty Richard Widmark in 'Two Rode Together'
Two Rode Together (1961) depicts the humanising of Guthrie McCabe (James Stewart), a corrupt, mercenary border town marshal, as it builds to a denunciation of white racism.
John Ford, who made the film as a favour to
Columbia Pictures
(and for a $225,000 salary), considered it "crap". Yet it was a key transitional work in his career
–
and the bridge between his late masterpieces
The Searchers
(1956) and
The Man Who Shot Liberty Valance
(1962). As such, the new Masters of Cinema dual format release is a must-own for Ford and
Western
fans.
McCabe grudgingly accepts a commission from an army commander (John McIntire) to retrieve white captives who have grown to adulthood in the Comanche band led by the formidable Quanah Parker. The marshal and his old friend, the honourable cavalry lieutenant Jim Gary (Richard Widmark), head into the most fiercely defended Indian territory in the Southern Plains; the grey terrain makes a stark contrast to the Olympian buttes of Ford's beloved Monument Valley.
Ford was both indulging these comic macho flourishes and discarding them
Played by Henry Brandon (memorable as Chief Scar in The Searchers), Quanah proves an ally to McCabe, who sides with him against the militant upstart Stone Calf and takes off with the latter's Mexican wife, Elena (Linda Cristal, best known for The High Chaparral), and a white boy grown feral in captivity. Pestered about her marital relations with a Comanche by prurient cavalry wives at the fort, Elena (pictured below) emerges as the pivotal character, acquiring dignity and enabling McCabe's redemption.
Ford's sympathy for her doesn't extend to his casting of Woody Strode. The muscular African-American actor, who had portrayed the victimised "buffalo soldier" in Ford's Sergeant Rutledge (1960), was seemingly asked by the director to play Stone Calf as an absurd villain, a retrograde step given the burgeoning Civil Rights Movement.
Adapted by Frank S Nugent from a Will Cook novel, Two Rode Together at first glance seems like a cynical rehash of The Searchers, from which Nugent and Ford imported a crude slapstick punch-up, dialogue, and other bits of business.
The shot of the seated McCabe balancing his chair by resting his feet on a hitching rail quotes self-consciously from My Darling Clementine. The famous five-minute riverside take of McCabe and Gary smoking cigars while jawing unpleasantly about the madam McCabe fled to avoid marriage feels like a spoof of Rat Pack-era misogyny. Ford was both indulging these comic macho flourishes and discarding them in a film he didn't consider a signature work.
He had begun, in a sense, to deconstruct his artificial vision of the West, and he would preserve the sombre, elegiac Liberty Valance from such extraneous humour. That's one reason why it proved so powerful. Though Stewart's McCabe resurfaces as his comic Wyatt Earp in Ford's Cheyenne Autumn (1964), that film, too, was suffused wiith regret for the misery caused by the conquest of the West.
Featuring a superb high-definition presentation, this Two Rode Together release includes essays by Ford scholars Tag Gallagher (on video) and Richard Combs (in the booklet).
At first glance, it seems like a cynical rehash of 'The Searchers'
rating
Explore topics
Share this article