Roman Tragedies, Toneelgroep Amsterdam, Barbican |

reviews, news & interviews
Roman Tragedies, Toneelgroep Amsterdam, Barbican
Roman Tragedies, Toneelgroep Amsterdam, Barbican
Acting becomes being in Ivo van Hove's six-hour Shakespeare epic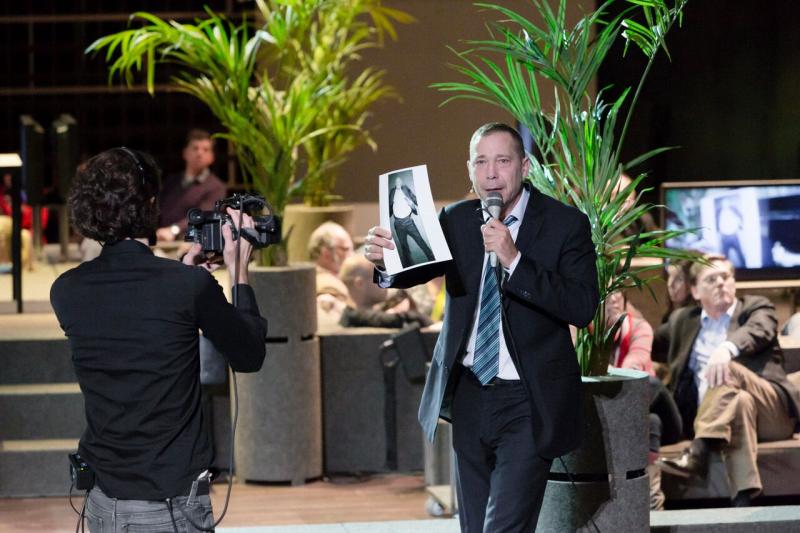 Hans Kesting as Antony at Julius Caesar's funeral
It felt good to be encountering Shakespeare at his most political with a world event to smile about, for once (hailing, of course, from this brilliant Dutch company's homeland).
It felt even better to emerge six hours later spellbound and deeply moved by the triumph of the personal, albeit in a kind of love-death, after so many power-games. Thrust voluntarily onstage to witness some of those conferences, even at close quarters you couldn't see the joins in the performances of Ivo van Hove's ensemble. This is not so much acting as being, or so it seems.
Those who'd seen the first Barbican outing of Roman Tragedies – to whit, much of Coriolanus, Julius Caesar and Antony and Cleopatra translated sometimes freely into Dutch – warned that it might not be on the same level as last year's Kings of War, but that the Toneelgroep experience still leaves most other theatre found wanting. As it turned out, this was no less resonant, more emotional perhaps, different in its range and ceaselessly engaging in its challenges to the audience. After Coriolanus's triumphal entry into Rome, the stage is remade and an MC invites the audience, if they wish, to leave their seats in the first of eight short breaks (seven five-minute, one 10) and join the action onstage. (Pictured below: Gijs Scholten van Aschat's Coriolanus flies off the handle.)
There's a food counter on the right, a bar on the left next to make-up and video desk, plenty of benches and sofas and room to stand wherever you want. I'm glad I did so, not so much for the rapid, brutal close of Coriolanus and the beginning of Julius Caesar as for the endgame of Cassius and Brutus: the first point at which tears came to the eyes – not just mine, I could see – as Eelco Smits's "noblest Roman of them all" wavers before joining the slab on which all the great figures, at least up to Antony and Cleopatra, who meet their deaths are photographed to a terrifying rushing noise from Eric Sleichem's soundscape.
Smits, who was complicit with von Hove in making a much-condensed Henry VI seem as gripping a character as Henry V or RIchard III in Kings of War, is utterly compelling when he speaks soft and low. So are erstwhile enemies Coriolanus (Gijs Scholten von Aschat) and Aufidius (Bart Slegers) in the rare quiet moments of a rough and racy Coriolanus. The women come to dominate by degrees. They're always present, in some telling sex-changes, as gameplayers on the world stage, not least Maria Kraakman's cold, authoritative Cominius and Octavius (always referred to as "she") and Mareke Heebink's totally plausible Cassius. Janni Goslinga's Virgilia and Frieda Pittoors's Volumnia, tough wife and mother respectively to a prideful, middle-aged Coriolanus, are strong, like all the female characters – the scenes with Caesar's Calpurnia and Brutus's Portia are interwoven, with virtuoso video work from Tal Yarden – but what a journey to the infinite variety of Chris Nietvelt's Cleopatra (pictured below) and her loving attendants.
It's rare to find a Cleopatra and Antony of equal stature, but Nietvelt and Hans Kesting are a marriage made in heaven, or rather in a very sensual Egypt where easy bisexuality is part of the deal. They're both the best in the roles I've ever seen (and we're talking some serious "star" names). Kesting, of course, has the biggest burden to shoulder, slipping quietly to the fore as Julius Caesar's defender before running amok in a virtuoso show of emotion. Is his big speech calculated demagoguery or passionate defence? The way he eyes up the audience before sweeping away his script, grabbing the microphone to slump in front of the rostrum where Smits's Brutus has given a reasonable but low-level speech and then to go off-mike – the only point where this happens in the whole evening – is the stuff of great theatre.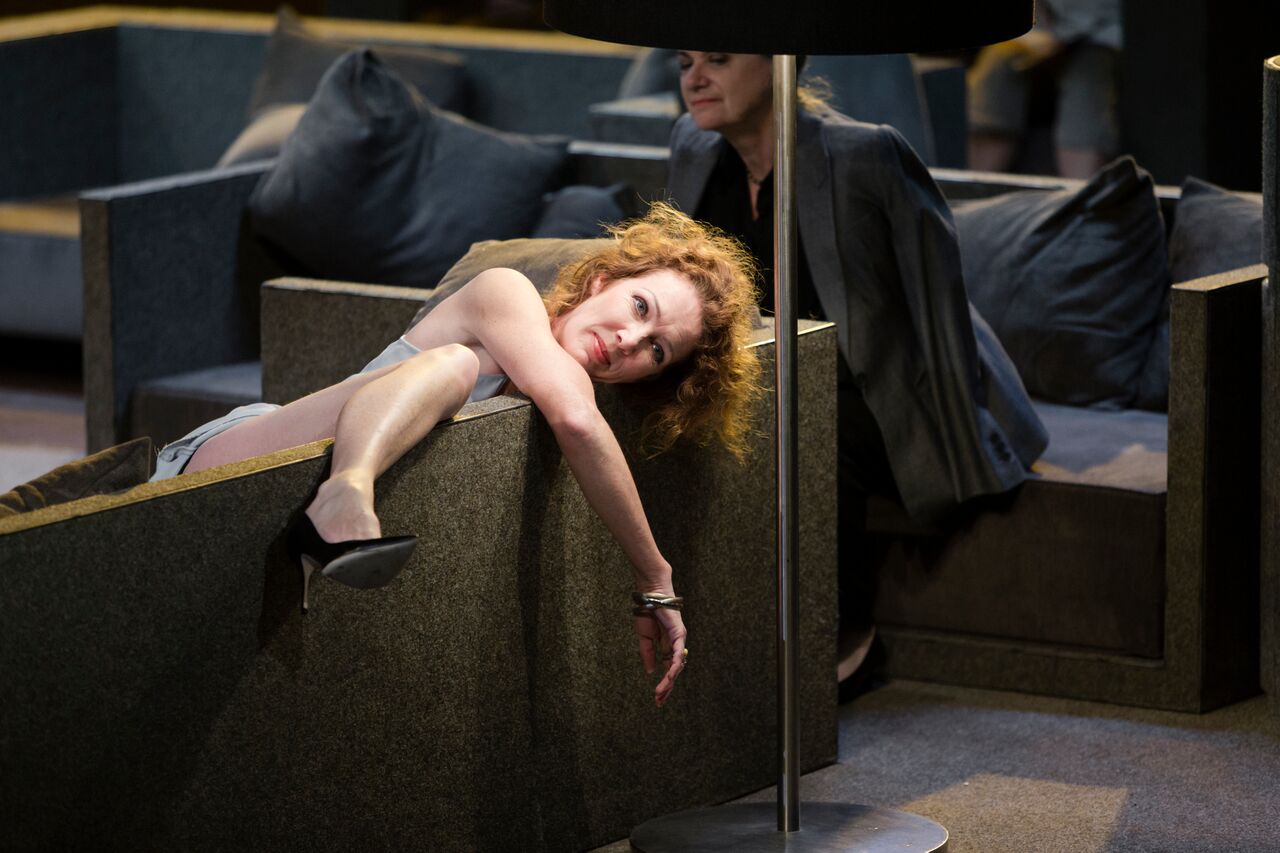 Is it a problem that the crowds he engages are us, and mostly silent? Certainly it's a different take from the usual; mob violence isn't part of the picture. And war is something that takes place outside the conference rooms where tempers, as we've seen in the Ukrainian and Greek parliaments, can frighteningly flare; five deafening battle sequences are commandeered by the two versatile percussionists of blindman (sic, lower-case b), otherwise wielding a range of evocative instruments ranging from wooden blocks rubbed eerily together to musical-saw effects and soft glocks and vibraphones for Cleopatra's court. The Roman debates anrd conflicts are strictly a matter for men and women in smart suits, buttoned appropriately for public utterance. We know that Antony is outside the norm when we encounter him at the beginning of the third play lounging in his boxer shorts, in thrall to the sweet Egyptian airs.
Inevitably doubts and questions surface – von Hove compels them. But the ends absolutely justify the means as the onstage audience is escorted offstage during the last scene change, leaving it essentially to Antony's and Cleopatra's great final speeches. Shakespeare's word magic, albeit in the more guttural sound of Dutch, never gets short shrift; Enobarbus's speech about "the barge she sat on" is appropriately mesemerising. How much more so, then, the final challenges, especially Nietvelt's in perfect complicity with Heebink's lovable Charmian, Pittoors's quiet old Iras and Goslinga's enthralled Diomedes.
The screens that were so frenetic with current world news go dead; even the busy LED display with its distancing projection of the dying characters' dates can't detract from the victory of the human. You'll never see anything like it; cordon off your Saturday or Sunday afternoons/evenings at once if you haven't got tickets and any are still available, and be among the ecstatic standing crowds at epic journey's end. Tragic to think that Brexit might mean an end to the best of European theatre visiting the UK, but let's celebrate what we have while we have it.