The Miser, Garrick Theatre |

reviews, news & interviews
The Miser, Garrick Theatre
The Miser, Garrick Theatre
Molière at full throttle: Griff Rhys Jones and Lee Mack appeal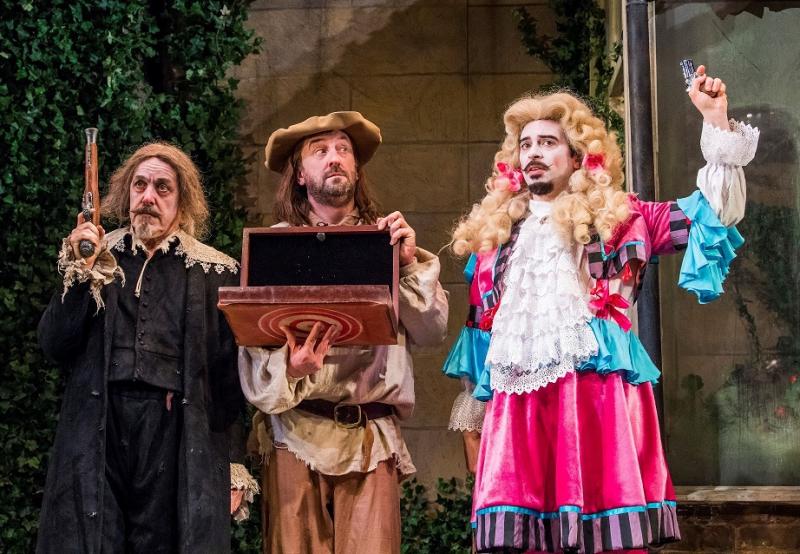 Everything in this garden is (quite) lovely: Griff Rhys Jones, Lee Mack, Ryan Gage
Trimmings, trimmings. They prove the final straw for Molière's Harpagon in this new adaptation of the classic French comedy-farce. The menu for his wedding banquet – which he doesn't want to spend a centime more on than he has to – is being concocted by chef-cum-dogsbody, Jacques. Soup, yes; a bit of meat, possibly.
But trimmings… The very thought of them provokes a howl of despair from Griff Rhys Jones, who plays
The Miser
's titular tight-purse with enormous gusto.
Sean Foley's West End production definitely doesn't hold back on the trimmings, and they're not just the standard stuffing on-the-side for a Christmas turkey. Instead this Miser, distinctly unmiserly in its approach, is more like one of those lavish Victorian banquet tables you read about in Mrs Beaton that throws the entire contents of the larder at the hapless diner, with the kitchen sink bunged in for good measure. You're left rather reeling.
Lee Mack's interaction with Griff Rhys Jones is very good indeed
Foley doesn't stint in this free adaptation that he co-created with Phil Porter. He serves up an evening that is often very funny indeed, albeit one that certainly chooses immediate comic fizz and fervour over finesse. Why limit yourself to just one gag at a time, when three will do instead? If it went any further this would be panto: as it is, slapstick and stand-up are the prime ingredients in the mix.
And with Lee Mack, in his first "straight" stage role, as Jacques, Foley has a master of the form at his disposal. Jacques is the put-upon servant par excellence, trapped in a strangely symbiotic relationship with his master despite Harpagon's shortcomings on every front. Perversely, he somehow even flourishes on his chagrin (Blackadder's Baldrick, even down to a certain inflection of speech, is certainly a colleague in misfortune). This adaptation generously gives Jacques extra roles over the original, making for one scene in which he, literally, has to change his hats as chef, coachman and sommelier at furious speed – and that's over and above his general presence as factotum. Musical duties on the spinet are thrown in, too.
Mack handles it all with considerable aplomb. You suspect he contributed a fair amount to the script too, if his early exclamation "Shia le Boeuf", when the spinet lid is slammed down on his fingers (it's a gag that repeats) is anything to go by. A general level of improvisation in the show looks certain to continue throughout its run, not least because jokes on topical issues like the recent budget are going to need replacing.
Mack's interaction with Rhys Jones (both pictured below, images by Helen Maybanks) is very good indeed, and it doesn't seem mismatched, even though the latter is playing on a considerably more serious note than anyone else around him. Rhys Jones conveys a sense of depth that no one else on stage even attempts, reminding us that there is a tragic seam to Harpagon that lies beneath all the comic action: beneath that mangy wig, there's an even more pathetic bald pate. It's a character study defined as much by gesture as by a slightly minced compression of speech.
And it's a long stretch more nuanced than anything his offspring come up with. Ryan Gage as son Cléante is foppish in accent and exaggerated wardrobe alike (one outfit is like "a badly erected fairground tent"), but not much more. Katy Wix as daughter Elise gets a lisp, just as bride-to-be Marianne (Ellie White) has one of those huskily demure posh accents that leave you pondering quite what it is she has just said. By contrast, Mathew Horne as Elise's suitor Valère is as restrained as his predominantly dark outfits.
Foley engages his cast gamely with Moliere's demolition of theatre's fourth wall throughout. Interaction with the audience is continuous, whether it's Harpagon spilling wine on the front row (or even passing his false teeth around) or the persistent guying of someone at the front as a banker, with all the expected riffs that might offer. Indeed, we're continually reminded of the comparisons between the circumstances of the stage action and those of our own day, with allusions to the trickle-down economy and frontline services, even the employment practices at Sports Direct (which might just make Harpagon appear the model employee he at one point claims to be). "The rich are rich for a reason" is certainly a line that speaks across the centuries.
Alice Power's design relishes a dominant interior set which is literally half collapsing, Harpagon's stinginess on repairs making for gaping cracks and (regularly) falling plasterwork. As relief, the second half opens on a garden scene, one that lightens the action in every way, with a lovely quasi-operatic musical number "We're in love". It comes like a breath of fresh air, with an unforced charm that we can just enjoy for itself – a moment of seeming spontaneity in an evening which otherwise presses hard to make its points.
Griff Rhys Jones conveys a sense of depth that no one else on stage even attempts
rating
Share this article