Frank-Gemmill, SCO, Manze, Queen's Hall, Edinburgh |

reviews, news & interviews
Frank-Gemmill, SCO, Manze, Queen's Hall, Edinburgh
Frank-Gemmill, SCO, Manze, Queen's Hall, Edinburgh
A brilliantly incisive evening kicks off Scotland's MacMillan celebrations in style
An enigmatic new Horn Concertino launches a month-long MacMillan celebration in Scotland
March 2017 is MacMillan month in Scotland – well, in Glasgow at least, with certain events spilling over into Edinburgh and other cities too.
It's not as if we don't already get to hear quite a bit of Sir James's music north of the border, but it's a valuable celebration all the same, and one that also serves to bring together several of the nation's musical institutions – the BBC Scottish Symphony Orchestra, Scottish Chamber Orchestra and Royal Conservatoire of Scotland, among others – at what's a particularly prolific time in his career.
And what better way to kick off the event than with a brand new piece? Well, almost. MacMillan's new Concertino for Horn and Strings, premiered by the SCO under Andrew Manze with the Orchestra's principal horn Alec Frank-Gemmill as soloist, is actually an expansion of his 2007 Horn Quintet, not only across the broader canvas of a string orchestra, but also with the addition of three short preliminary movements that provide a deceptively reassuring prelude to the anger and violence of the fourth movement's recasting of the Quintet itself.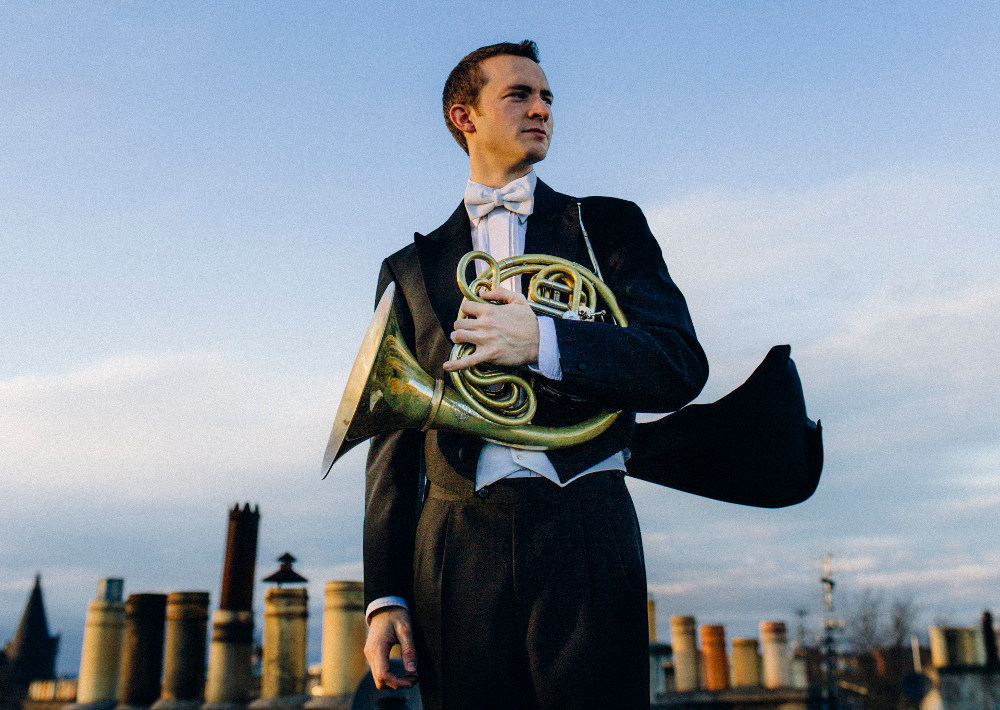 It's an enigmatic work, with a definite sense – as in quite a bit of MacMillan's recent music – of a story being told, although what that story is remains unclear. It's hinted at, though, in the work's cryptic new movement titles ("From there", "From a little boy", "From a little girl" and "From here"), and by the movement and theatrics MacMillan introduces: horn soloist and violas all begin offstage (at this performance they were suspended up in the balcony of the Queen's Hall, peering down on their orchestral colleagues), and the work closes with the horn player slowly processing away from the orchestra.
It was all carried off magnificently in a charismatic performance by Frank-Gemmill (pictured above, photograph by Jen Owens), who was beautifully lyrical in the trio of brief opening movements, his warm, golden sound put to superb use, only to explode into whooping frenzy at the start of the final movement. He found a persuasive way with the Concertino's drama too, never over-signalling its abrupt swerves in direction while providing enough vivid character to bring MacMillan's almost expressionist writing to bristling life.
There was also steely determination in the SCO's playing under Manze (pictured below) – driven, fiercely projected, yet impeccably clear, even in MacMillan's sometimes dense contrapuntal textures. And principal violinist Jane Atkins was especially fine in her achingly tender, valedictory solo accompanying Frank-Gemmill's departure from the stage in the work's poignant final moments.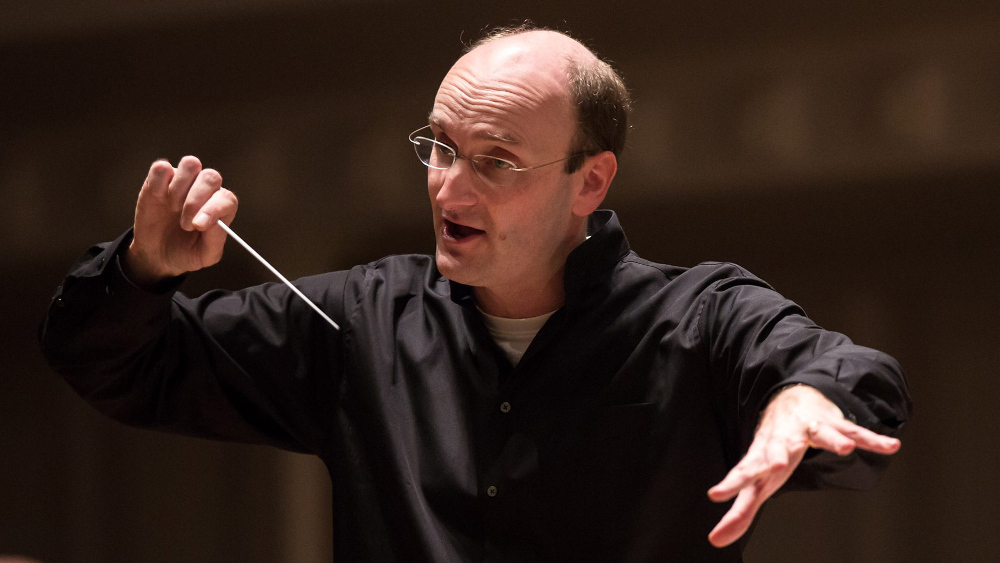 The Concertino was the centrepiece in what was a magnificent display from conductor and orchestra. Manze pushed the players hard, never letting up on energy and vigour, but his long years in period performance showed beyond doubt in his crispness, articulation and radiant clarity. All of which were present and correct in a brilliantly technicolour conjuring of Britten's Variations on a Theme of Frank Bridge, each of whose miniatures crackled with character, from the Vivaldian fizz of the hard-edged "Bourrée classique" to a surprisingly sensual "Chant".
Manze's immersion in early music made for a natural fit, too, with Beethoven's Second Symphony, his concert closer, in which he achieved a remarkable balance between airy lightness and density, acknowledging Beethoven's mischievous wit, especially in the Symphony's final movement, but never simply playing things for laughs. It was a stylish start to Scotland's MacMillan month – and, just as importantly, served to highlight a remarkably incisive partnership between Manze and the SCO.
Frank-Gemmill put his warm, golden sound to superb use, exploding into whooping frenzy in the final movement
rating
Share this article