MacMillan's Since it was the day of preparation , Edinburgh |

reviews, news & interviews
MacMillan's Since it was the day of preparation..., Edinburgh
MacMillan's Since it was the day of preparation..., Edinburgh
A welcome re-airing of James MacMillan's striking opera/passion/ritual
Saturday, 28 November 2015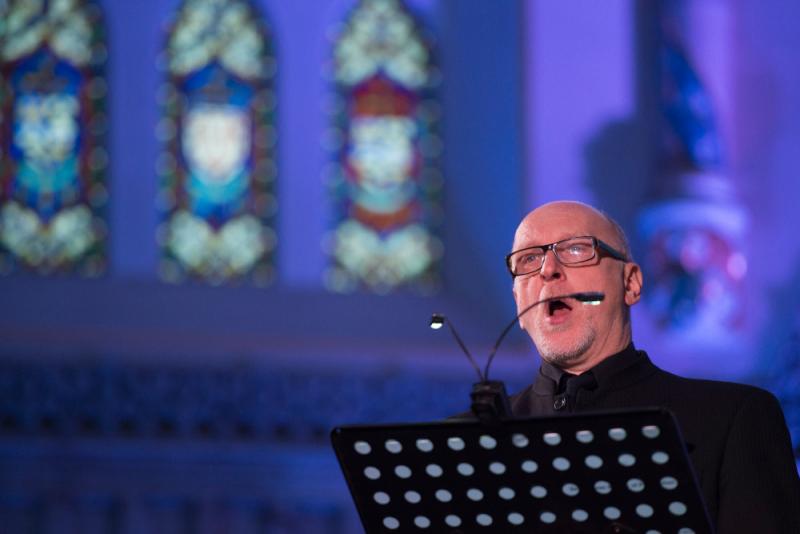 Brindley Sherratt makes a proud and resolute Christ in MacMillan's sacred drama
James MacMillan's sacred drama Since it was the day of preparation… got its first outing at the Edinburgh International Festival back in 2012. But it was an entirely different experience hearing it in a cavernous Edinburgh cathedral on a chilly November evening – in a welcome re-performance from co-commissioners the Hebrides Ensemble plus Synergy Vocals – to catching it amid the city's August festival mayhem.
And one that suited the piece's slow-moving, contemplative atmosphere far more strongly, too.
In fact, it's a moot point what the work actually is – sometimes operatic, sometimes ritualistic, closest probably to Bach's Passions, and intended as something of a companion piece to MacMillan's own 2007 St John Passion. It deals with the less considered conclusion of St John's Gospel, covering Christ's death and mysterious reappearances through to the Ascension, and using a bizarre but, it turns out, highly effective quintet of harp, theorbo, cello, clarinet and horn (each of which gets a lengthy solo), plus singers.
The Hebrides Ensemble's performance had clearly matured and bedded down beautifully since the 2012 premiere, each player responding to their intense solos with appropriate theatricality and focus, as well as giving them plenty of space to breathe in the resonant acoustics of St Mary's Metropolitan Cathedral. The score feels studded with MacMillan's trademark collisions of serene spirituality and savage violence, but there was plenty of space for contemplation, too – in the ever-turning major triads of Stephen Stirling's noble horn solo, for instance, or in Elizabeth Kenny's pensive opening theorbo solo. And some magical touches – haloing Christ's vocal lines (delivered by a hugely impressive Brindley Sherratt) with the gentle tinkle of bells played by Synergy Vocals' four-strong chorus, for example (pictured above right). MacMillan is not afraid to be simple, nor to demand extreme expressiveness from his simplicity.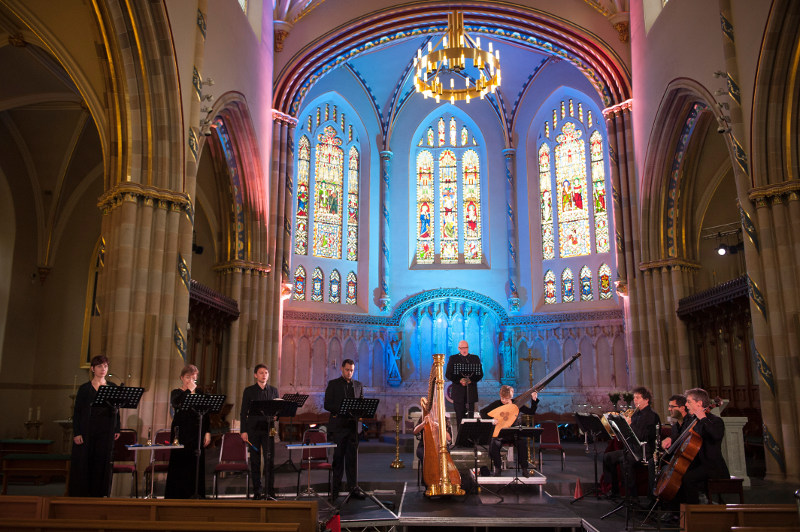 The Synergy singers were on very fine form, intoning the gospel story with crystal-clear diction and a silky balance between their vocal lines, which were often as sensuous as the instrumentalists' music. Tenor Benedict Hymas was particularly effective in the work's opening, chanting from behind the audience with the effect that his voice seemed to be coming from all parts of the cathedral's huge interior, lit highly effectively with simple changing blues and reds by Kai Fischer (pictured above left).
It felt like a wonderfully mature, thoughtful performance of what's ultimately quite an enigmatic work, small-scale but big in themes, potent and intensely focused, and one whose undeniable power comes precisely from its blurring of the operatic, the sacred and the ritualistic.
MacMillan is not afraid to be simple, nor to demand extreme expressiveness from his simplicity
rating
Explore topics
Share this article