Toni Erdmann |

reviews, news & interviews
Toni Erdmann
Toni Erdmann
Germany's Oscar-contender is lengthy and rewarding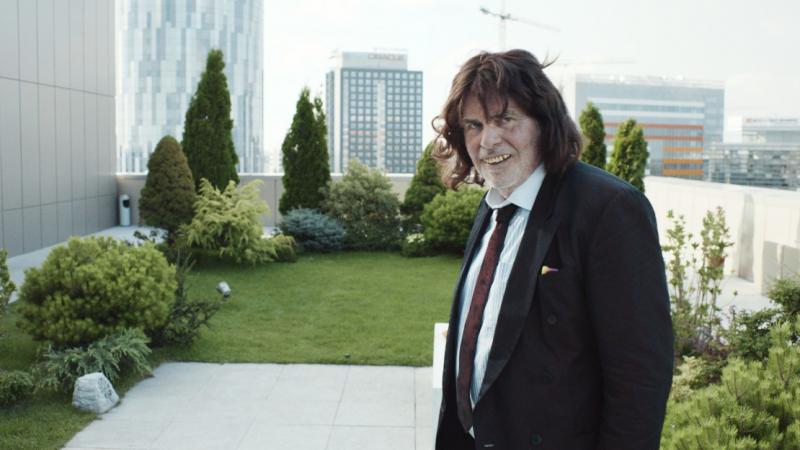 Father's day: Peter Simonischek in `Toni Erdmann'
There aren't many films that at (nearly) three hours in length leave you wanting more. But such is the hypnotic grip cast by Maren Ade's Oscar-nominated Toni Erdmann that its final image seems as much the prelude to something as a closing note on what has come before.
A dark comedy about a father who risks destroying the daughter he also clearly loves, the movie rides multiple shifts in tone with remarkable ease. You can only imagine the cringe-making American remake that with luck does not await.
The title character is in fact the forbidding-looking alias of Winfried Conradi (Peter Simonischek), a shambolic-looking music teacher who would appear to have made a sideline career out of embarrassing his daughter Ines (Sandra Hüller). A pursed-lipped corporate consultant whose withheld manner conceals an inner Whitney Houston waiting to break free (as indeed happens at one point), Ines could do without her prankster-dad shadowing her on a business trip to Bucharest, his buck teeth and fearless public posturing both on full display. "Are you insane?", Ines asks of Winfried on numerous occasions, the answer a yes-and-no: playful, fretful, loving, ultimately somewhat lost.
The ebb and flow between the two and their contrasting ways of life takes place against the flattest visuals imaginable: this must be one of the least visually alluring European films to crack the international market in years. But the abiding drear only serves to amplify the determined anarchy of Winfried in his pretend guise. This is a man who thinks nothing of scaring the bejesus out of a courier who clearly wonders at what sort of depraved home he has come to call, or of posing as the German ambassador to Romania in the presence of a community who are largely au fait with his elaborate pretence.
Much has been made of how surprising it is to find a comedy emanating from Germany, a viewpoint that seems not a little patronising. Worse, that reductive assessment ignores the baleful mood underscoring much of Ade's first-rate script. Ines upbraids her father's lack of ambition while clearly finding something in his devil-may-care approach to life that strikes a chord. An overgrown kid who on some fundamental psychic level has lost his way, Winfried elicits compassion alongside annoyance from a daughter who has probably seen it all — and who, it turns out, is capable of transgressing herself, most notably in a priceless party scene in which she decides impulsively to greet her guests in the nude.
Ade, too, knows how to make a gesture count. A climactic embrace between parent and child is both playful and slightly pathetic, while an earlier scene of the two handcuffed together (pictured above) works brilliantly as a comic metaphor for the familial ties that bind, no matter how awkward and contentious they might be. Both leading actors are superb, Simonischek suggesting Nick Nolte on an especially shabby day as his visage goes from mournful to menacing and back again. Hüller, in the larger of the two parts, takes the reins of the film's straight man, so to speak, as she does what she can to maintain her equilibrium in the face of such an unpredictable father. She also deftly fields an instant classic of a sexual encounter involving a petit four. After Toni Erdmann, room service may never look quite the same again.
Much has been made of how surprising it is to find a comedy emanating from Germany
rating
Explore topics
Share this article