Reissue CDs Weekly: Guy Darrell |

reviews, news & interviews
Reissue CDs Weekly: Guy Darrell
Reissue CDs Weekly: Guy Darrell
Fascinating compilation chronicling the 'I've Been Hurt' hitmaker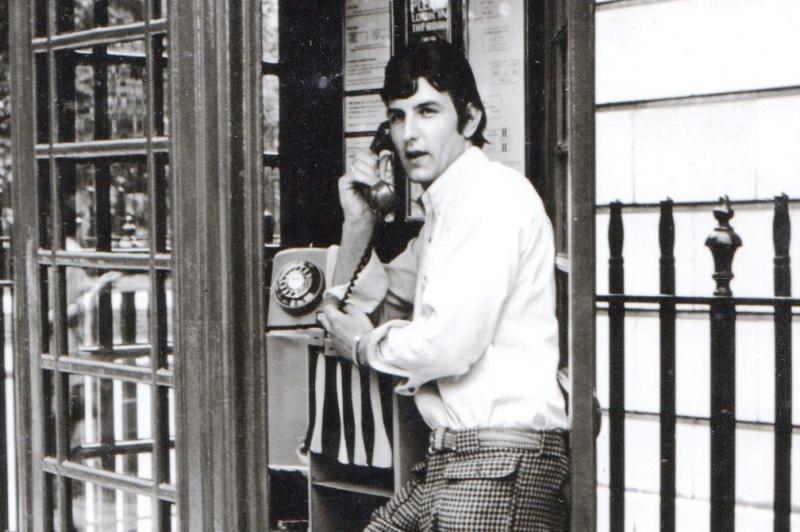 'Where am I on the charts?' Guy Darrell phones home in 1966
In the last week of September 1973, Guy Darrell peaked at number 12 on the British single's chart with the catchy blue-eyed soul pounder "I've Been Hurt" and performed on Top of the Pops. His was a grassroots-driven success. "I've Been Hurt" was popular on the northern soul scene and initial sales were to fans hearing the song in clubs as it packed dance floors rather than on the radio.
Despite then-hot popsters David Essex, Sweet and Wizzard being lodged in the Top Ten when Darrell's single was selling at its fastest, this was not a week when pop was looking forward. A reissue of David Bowie's 1967 novelty "Laughing Gnome" was at 14 and Bobby 'Boris' Pickett & The Crypt Kickers "Monster Mash", first a US hit in 1962, was at four. One place below "I've Been Hurt", Al Martino's 1966 sludge-fest "Spanish Eyes" sat at 13. Donny Osmond's "Puppy Love", a version of the 1960 Paul Anka song, held the 15 spot. Pop was eating itself.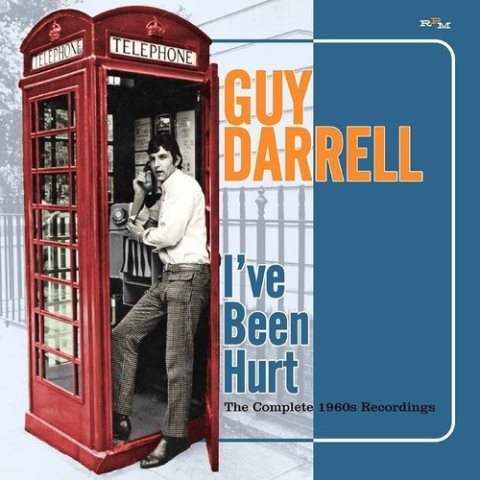 For Guy Darrell, in 1973, it was fitting. His version of "I've Been Hurt" was originally issued in June 1966. The Darrell seen on Top of the Pops wasn't the mod-sharp Sixties popster but a hairier edition (pictured below left). That didn't matter to northern soul fans for whom what was in the groove counted. Darrell had become caught up in the phenomenon of obscure cuts from the previous decade charting in the early Seventies after becoming belated dance-floor fillers. The same happened with Tammi Lynn's 1965 "I'm Gonna Run Away From You" single, which charted here in 1971 and 1975.
Darrell had not quite had his cake and eaten it. His was not the voice soundtracking dancer's moves. "I've Been Hurt" was reissued on the back of club plays of Bill Deal & The Rhondels' 1969 version of the song. Swift action by a British label got Darrell's 1966 run-through into the shops. The oft-covered song was originally released in 1965 by The Tams, who themselves got some after-the-fact northern soul-derived sales when their 1968 single "Be Young, Be Foolish, Be Happy" hit the UK charts in 1970.
There's no doubt Darrell was lucky in 1973. His success was nothing to do with marketing or PR: it was about the song's appeal to a large niche audience. In the Sixties though, he had been pushed hard but never achieved traction. The new 28-track collection I've Been Hurt: The Complete 1960s Recordings fascinatingly tracks his path through the 14 singles he issued between May 1964 and October 1969. That's a lot of singles by a barely heard of singer.
John Swail, who died in in 2013, had assumed the name Guy Darrell. From Gravesend, Kent, he initially fronted Guy Darrell & The Midniters who, on the evidence of their two 1964 singles heard here, were a weak beat group trying to hitch themselves to The Beatles' bandwagon and about as good as Liverpool's Faron's Flamingos.
That really should have been it for Guy Darrell. Two poor-selling singles – a tepid version of the Beatles and Stones-favoured Arthur Alexander's "Go Home Girl" was the best top side – ought to have ensured he had little future. However, his manager Roger Easterby was head of promotions for Guy Darrell & The Midniters' label, Oriole. Easterby next had the same job with CBS and Darrell followed him there. Such sponsorship granted Darrell a string of releases. Easterby also managed Radio London DJ Keith Skues, so airplay on the pirate station was assured. The connection with CBS even resulted in a 1965 photo opportunity with Bob Dylan, another of the label's signees (pictured below right). Darrell was handed the breaks on a plate.
The music Darrell issued falls into three stylistic phases. Over 1964 to 1965, it's watery beat with a soul edge. His first two singles of 1966 try folk rock on for size: OK versions of Paul Simon's "Somewhere They Can't Find me" and "Blessed", and Dylan's "It Takes a Lot to Laugh, It Takes a Train to Cry" were issued. "I've Been Hurt" was originally paired off with "Blessed". Thereafter, into 1969, the singles are mostly a gently stomping pop-soul akin to that of contemporary solo acts Graham Bonney and Neil Christian. Darrell's voice was melodic but thin, yet no worse than that of, say, Wayne Fontana. At times, he sounds uncannily like The Hollies' Allan Clarke. The material was usually strong though prosaically arranged, so generally lacks drama.
On I've Been Hurt, the title track is the stand out. A September 1966 version of Dan Penn and Spooner Oldham's "Big Louie" is good R&B chugger. "I've Never Had a Love Like That", a January 1967 B-side, is good pop-soul too. In August 1968, he issued the Elton John and Bernie Taupin ballad "Skyline Pigeon" as an A-side. Obviously aimed at the market courted by Elton John's former employer Long John Baldry, it lacks the necessary big voice and doesn't lodge itself in the head. He had first dibs on "Evil Woman", which The Troggs recorded more strikingly. After 14 singles, Darrell failed to click with the public. Then, in 1973, the delayed-response success which came on a label run by the always faithful Roger Easterby.
Although I've Been Hurt: The Complete 1960s Recordings is not essential musically, it hits home by telling a new story emphasising that no matter how hard it is tried for, success is not guaranteed. Persistence and patronage are not enough. Still, in the end, Darrell did get in the charts. Many of his contemporaries had no such luck.
Darrell's belated success in 1973 was nothing to do with marketing or PR: it was about 'I've Been Hurt's' appeal
Explore topics
Share this article
Subscribe to theartsdesk.com
Thank you for continuing to read our work on theartsdesk.com. For unlimited access to every article in its entirety, including our archive of more than 10,000 pieces, we're asking for £3.95 per month or £30 per year. We feel it's a very good deal, and hope you do too.
To take an annual subscription now simply click here.
And if you're looking for that extra gift for a friend or family member, why not treat them to a theartsdesk.com gift subscription?