Reissue CDs Weekly: Popcorn Girls |

reviews, news & interviews
Reissue CDs Weekly: Popcorn Girls
Reissue CDs Weekly: Popcorn Girls
Saint Etienne's Bob Stanley opens a window on Belgium's open-minded dance scene
Starring in 'Popcorn Girls': Tuesday Weld, an unlikely filler of Belgium's dance floors
Various Artists: Popcorn Girls
Although the sole single by troubled American televison and film star Tuesday Weld seems an unlikely dance floor filler, 1962's cute and gently shuffling "Are You the Boy" became a staple with one of continental Europe's most important and longest-lasting dance music subcultures. Weld sang flat but what mattered for Belgium's Popcorn scene was the rhythm: a mid-tempo, almost-martial two-step which could accompany the "slow swing" dance which gripped the country in the late Sixties and continues to do so.
Like Northern Soul – its closest cousin – Popcorn is a term which does not encompass music as it evolved but instead was coined to tag a scene. Unlike audiences in Blackpool, Stoke-on-Trent or Wigan, Belgium's music fans subscribed to no particular genre and weren't fussed about the origin of a record. In its later days, DJs at Wigan Casino aired novelties like the theme from Joe 90 but Northern Soul was really about soul. Across the North Sea, it was and is about that jazzy rhythm.
An example of a song better than Weld's and co-opted by Popcorn is Arthur Alexander's "Anna" which, when covered by The Beatles, reached a world-wide audience. The rhythm of the original fit perfectly. So did that of Mary Wells' Motown single "You Beat me to the Punch" (also covered by The Beatles' Merseybeat contemporaries).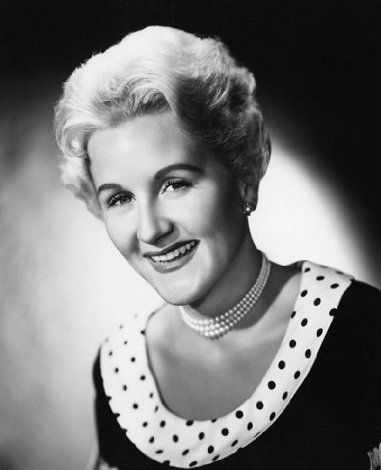 Yet, as Popcorn Girls shows, Weld's wasn't the only unlikely record to find favour in open-minded Belgium. The compilation also features Margaret Whiting's 1958 Bacharach & David-composed film theme "Hot Spell" which sounds like a country-infused Rosemary Clooney. Whiting (pictured left) was through-and-through square and most definitely not a soul singer. She had been recording since the 1940s with a series of white-bread big bands.
Another unexpected voice heard on Popcorn Girls is that of Britain's Lorne Lesley (pictured below right), a former 1960's bill topper on Saturday Night at the London Palladium. Like Shirley Bassey, she was born in Cardiff's Tiger Bay district. Nowadays, she is better known as the wife of the perma-tanned television antiques expert David Dickinson. Back in 1959, she issued "I Don't Know", an irresistible swoon of a B-side sharing the brooding atmosphere of Peggy Lee's "Fever".
But both due to its home base and its broad-brush outlook, Popcorn has not conquered the popular imagination like Northern Soul. Yet it remains a vital, inclusive scene which celebrates music – frequently great music – which might otherwise be overlooked. Popcorn Girls is compiled by Saint Etienne's Bob Stanley who, with the band and his writing, also celebrates music with the non-nostalgic passion of an explorer discovering new terrain.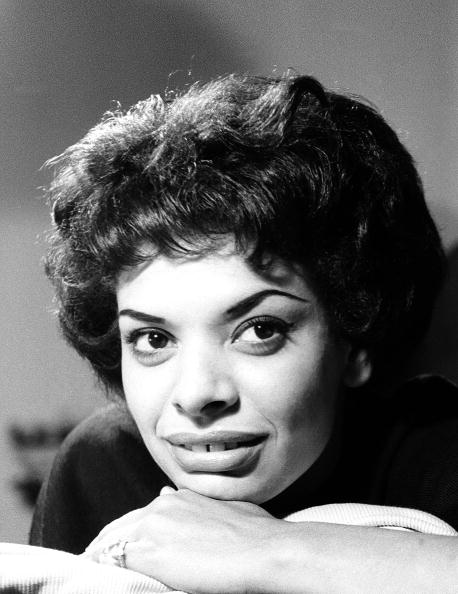 The lovely cover of Popcorn Girls is inviting but, as Stanley has found, the scene itself doesn't necessarily share the smouldering glamour of the alluring lady perched on the lip of a bowl of fluffy white morsels and her soundtrack. He has described footage of dancers in Popcorn clubs as being like a "David Lynch scene set in Hemel Hempstead." Popcorn is not about style. In his liner notes, Stanley says "it was all in the rhythm and the tempo."
It began in 1969 west of Antwerp at De Oude Hoos (the old house), a café which was part of a farm. Gilbert "Gibbe" Govaert, the pioneering DJ at the weekly Sunday afternoon sessions, found that a beat slower than the funk he was inclined to play went down best. The venue became a regular club and was named The Popcorn after the James Brown record. Clubs sprouted up elsewhere in Belgium and radio picked up on the scene.
Belgium became so keen on the slower sound that Lowlands grey-area labels began pumping out CD collections of Popcorn in the Nineties. Buyers found that some of the singers had suspiciously deep voices – the original records had been slowed down to match their beat to the popcorn rhythm.
Thankfully, there's no such tomfoolery with the enchanting Popcorn Girls. Popcorn may not have the metropolitan hipster cachet which eventually came the way of Northern Soul, but this enlightening collection is an indispensable window on a rarely celebrated scene. More importantly, it also includes 20 songs which can't fail to make anyone cut a rug. But slowly though.
Overleaf: Listen to Tuesday Weld's "Are You the Boy" and Lorne Lesley's "I Don't Know" from Popcorn Girls
Listen to Tuesday Weld's "Are You the Boy"
Listen to Lorne Lesley's "I Don't Know"
An unexpected voice on 'Popcorn Girls' is Lorne Lesley, wife of perma-tanned television antiques expert David Dickinson
Share this article