DVD: The Lovers & the Despot |

reviews, news & interviews
DVD: The Lovers & the Despot
DVD: The Lovers & the Despot
An everyday story of abduction, imprisonment and film production
Tuesday, 22 November 2016
Choi Eun-hee and Shin Sang-ok in happier times
What to do if you're a despotic leader with an underperforming film industry? Hiring better directors and actors wasn't an option for Kim Jong-il in the late 1970s, so he took drastic action: luring South Korea's biggest female star Choi Eun-hee to Hong Kong on false pretences and having her abducted. Her ex-husband, the South's leading filmmaker Shin Sang-ok, did the honourable thing and went in search of her, only to suffer the same fate. What happened next is the subject of Rob Cannan and Ross Adam's engrossing documentary.
Shin was a financially inept directorial maverick, whose production company had been shut down by the restrictive South Korean regime. He and Choi were one of the country's most famous couples, though his infidelity had recently led to divorce. On arriving in North Korea, Choi was kept in a gilded cage while Shin languished in prison after repeated escape attempts. Shin managed to convince his captors that he was willing to work for the regime and the couple were reunited. They co-directed 17 films over a two-year period, with movie buff Kim Jong-il effectively acting as producer (pictured below right, with Choi and Chin).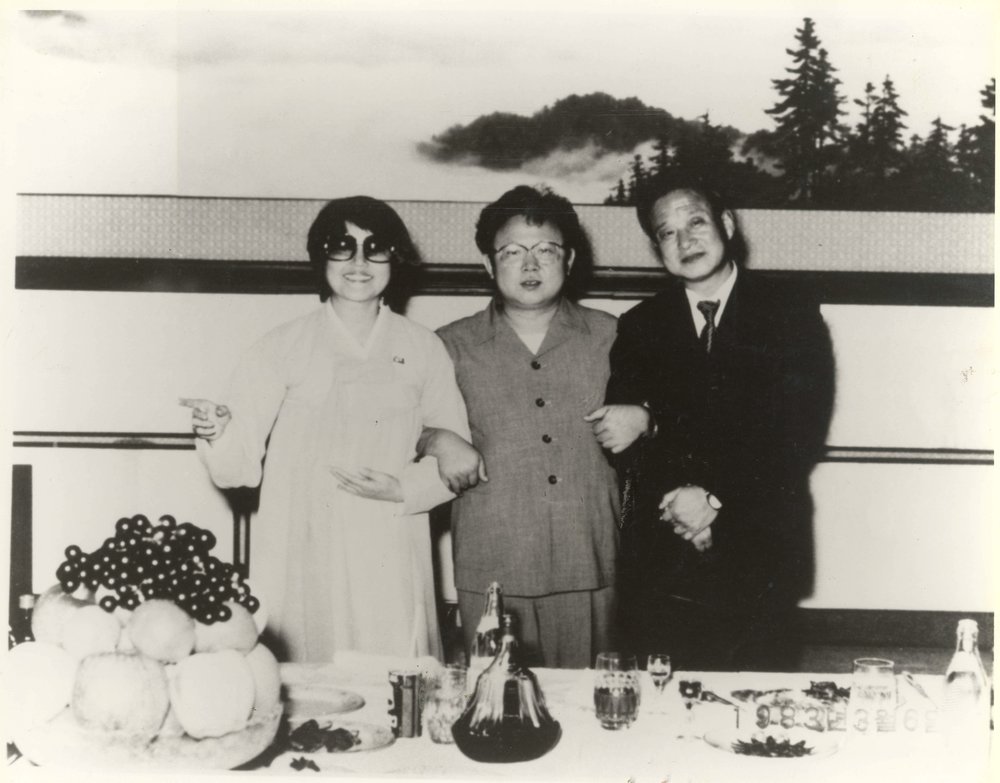 It's an insane, credulity-stretching story, clearly and unfussily told. Interviewees include a spry, elderly Choi, and it's a neat touch to have some of the more outlandish anecdotes illustrated by clips taken from Chin's films. Choi managed to obtain a micro-cassette recorder and tape many of the pair's conversations with the dictator – the cassettes later confirming that they had not willingly defected, as some nay-sayers on both sides of the divide later claimed. Chin's comment that he hated "everything apart from not having to worry about money" is bitterly apposite; despite his semi-incarceration he was given unprecedented artistic and financial freedom by Kim Jong-il, a tragi-comic figure all too aware of his charisma deficit. Chin and Choi managed to play the game for several years, the pair well aware that they could be discarded in an instant should the Dear Leader fall out of love with them.
How they plotted and pulled off their eventual escape is brilliantly reconstructed, but the triumph was short-lived. Shin's Hollywood career was limited to producing a series of bad Disney comedies. He returned to Seoul under a cloud in 1994, making few films before his death in 2006. Cannan and Adam make excellent use of archive footage, and it's to their credit that they've managed to persuade so many bit-part players in the story to talk frankly on camera. And how well constructed this film is, its 94 minutes flying by. Image and sound are impeccable, but there are no extras.
Overleaf: watch the film's trailer
The more outlandish anecdotes are illustrated by clips from Chin's films
rating
Share this article