Storyville: Masterspy of Moscow - George Blake, BBC Four |

reviews, news & interviews
Storyville: Masterspy of Moscow - George Blake, BBC Four
Storyville: Masterspy of Moscow - George Blake, BBC Four
Intriguing espionage life-story of the British double-agent, and a brief encounter today
George Blake at his Moscow dacha last year
"The righteous traitor" must be as provocative a subtitle as any when the subject is espionage. Director George Carey nevertheless used it in this highly revealing film about George Blake, the "spy who got away", which proved as much about the anatomy of treachery – its correlation with the uneasy relationship of the outsider to a dominant establishment – as it was an investigation of the intelligence world in which Blake played so notable a role.
The final rankings of ignominy – who really was the Soviets' "masterspy"? – may never be decided when it comes to rating which of the British defectors did most damage to their homeland (and, by extension, the non-Communist world of the time), though the Cambridge spies of the earlier generation – Kim Philby (the subject of Carey's previous film), Guy Burgess and Donald Maclean – probably remain more notorious in the popular imagination. Blake's story certainly differed from theirs: his ideological conversion to Communism dated from when he was a North Korean prisoner-of-war, rather than Cambridge in the 1930s. And the earlier trio escaped before they were caught, while Blake confessed his involvement with the Soviets under interrogation, and only made it to Moscow after he was sensationally sprung from Wormwood Scrubs prison in 1966 and spirited away via East Germany. He probably lived more happily in his Soviet exile than the rest, too, and we caught a late glimpse, tantalisingly brief, of Blake today, aged 92 and almost blind, living out his days peacefully in the countryside outside Moscow.
If he seemed to yearn in his Russian exile for a homeland, it was for Holland, the country of his birth
Most of all, though, Masterspy of Moscow emphasized how Blake never really was "one of us", never a member of the British elite who could move effortlessly into intelligence: if he seemed to yearn in his Russian exile for a homeland, it was for Holland, the country of his birth, rather than England. His Rotterdam childhood in the Behar family – he would change his name later – certainly wasn't easy, though after the early death of his distant father the young George was sent to stay in the very different, wealthy world of his paternal Jewish relations in Cairo. It was there that he was exposed to the opinions of a cousin who later became a prominent Egyptian Communist.
As in his Philby film, director Carey was an unobtrusive narrator, allowing his subjects to speak for themselves. He proved lucky that so many were still alive and able to talk so insightfully about their memories: what engaging company these interviewees were, with a French cousin, Sylvie Brabant, filling in much of that family context. (Blake's first wife Gillian and his children from that marriage were notably absent from the film).
Then there were the professional contacts of Blake's wartime espionage days, the upper-class SIS secretaries like Iris Peake and Susan Asquith, whose accents alone illustrated the gulf between where they and he came from; another veteran interviewee was Ed Sheffield, an American fellow prisoner-of-war in North Korea, seeing his own days out in rather sunnier climes in Florida. (The British legation in Seoul, where Blake was captured in 1950, pictured below.).Other ex-MI6 colleagues completed the film's broad cast, alongside espionage historians Alan Judd (MI6) and Tim Weiner (CIA), and Blake's biographer Roger Hermiston.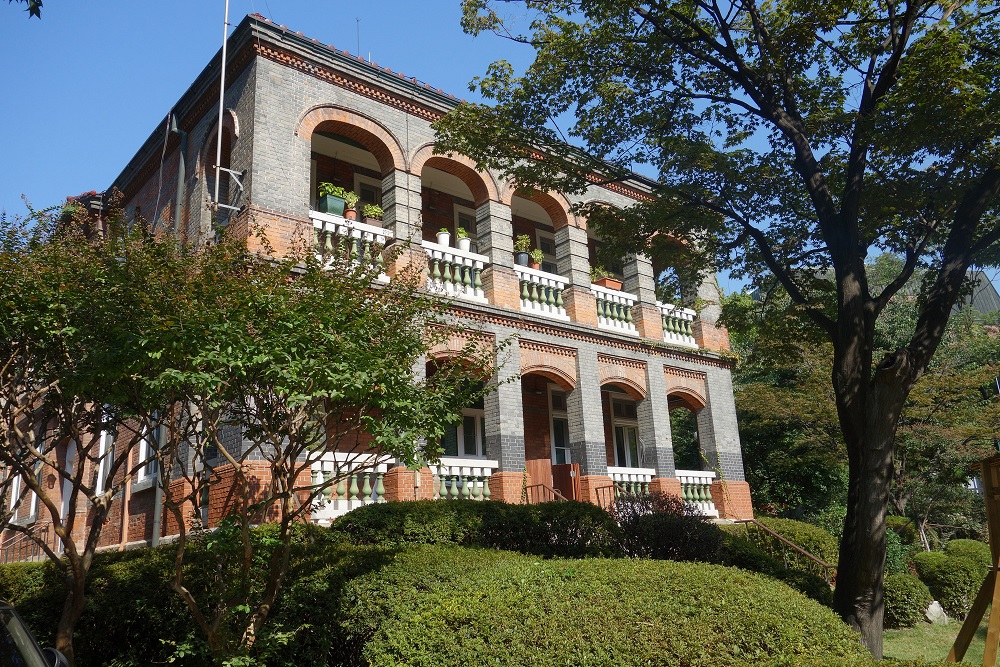 But two extended encounters seemed especially revealing: even if the individuals concerned weren't exactly at the heart of Blake's story, they somehow conveyed a greater sense of historical atmosphere than other more "official" contacts. We met Michael Randle, the last of the three accomplices who helped Blake escape from prison still alive, as he remembered how, with his wife and children, they smuggled Blake out of the country hidden under the back seat of a Volkswagen camper van. (More could have been said of the later repercussions of that story, when the three were tried, and then acquitted, for that at the beginning of the 1990s, with Blake vowing to return if they had been convicted – but at 90 minutes Masterspy… was already packed).
Even more revealing somehow were Louis and Trudy Wesserling, who got to know Blake and his family when they were at the Foreign Office Arabic school in Lebanon at the beginning of the 1960s; Louis was an oilman rather than a diplomat, but they were Dutch, and so the two couples got on especially well. Trudy's memories of her final meeting with Blake, at a party to celebrate the end of their course, spoke volumes: they were drinking and dancing, and when the subject came to politics, Blake eventually blurted out the question, "Are you one of us?" Politically "red as a brick" herself, as she remembered today, she guessed at something, that he was longing to tell the whole story. Only days later, he would do just that, to both his own amazement (as he recalled in Tom Bower's 1990 television interview that was the film's most important archive source) and that of his interrogators. He could have kept quiet and walked away, but instead a "dam burst".
Carey's closing encounter with Blake proved less revelatory. "Instead of that easy smile, the closed look of a man who can keep secrets came down," Carey noted when the subject turned to Vladimir Putin, on whose goodwill Blake to some extent depends. How much their belief in Marxism-Leninism survived the experience of Soviet exile remains a crucial retrospective question for all the British spies, and Blake's likely did (and does) more than that of the others. The contrast of their earlier idealism with the cynicism that's at the heart of Russian statecraft today coud hardly be starker.
The contrast of their earlier idealism with the cynicism that's at the heart of Russian statecraft today coud hardly be starker
rating
Share this article