theartsdesk Q&A: Musician Agnes Obel
theartsdesk Q&A: Musician Agnes Obel
The Danish singer-songwriter opens up about her third album 'Citizen of Glass'
Saturday, 15 October 2016
Through eyes of glass: Agnes Obel takes the title of her new album to extremes
Agnes Obel's new album Citizen of Glass is released next week. Conceptually underpinned by a fascination with the German idea of the gläserner menschen or gläserner bürger – the glass citizen – its ten compositions examine privacy, the nature of what is hidden, why it is concealed and question how much self-exposure is needed, whether in day-to-day life or as fuel for an artist. The glass citizen is one for whom everything is apparent.
Discussing the album, the Berlin-based Danish singer-songwriter (born 1980) revealed its conception and inspirations, and also explained the ideas behind many of its songs. Despite this though, Obel is not a person of glass, guards her privacy and has reservations about today's tendencies to broadcast the minutiae of life to the digital world.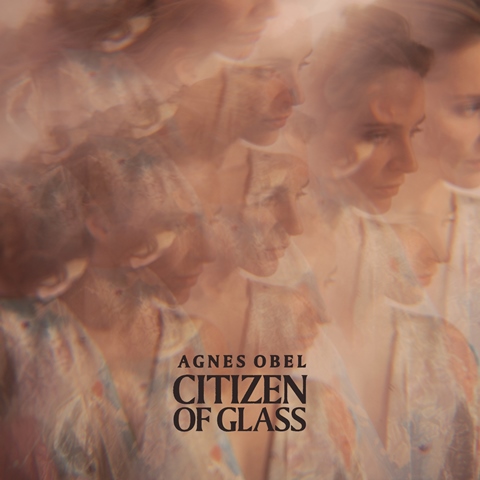 This is her third album, the follow-up to Philharmonics (2010) and Aventine (2013). She began working on what would become Citizen of Glass in 2014. A platinum seller in her home country and a major star in France and Germany, Obel might have revisited familiar territory. Instead, while recognisably her work, Citizen of Glass is very different to its predecessors. Although Aventine's final track "Smoke & Mirrors" points towards the new album's moods and textures, her songs now have less direct melodies and are more about voice than piano, and how her voice interacts with the (generally) very spare instrumentation. She sings with herself as a chorale. On "Familiar", her voice is treated to sound as if she is duetting with a man.
Her own arranger and producer, Obel plays most of the instruments on the album. Amongst the keyboards she plays are celeste, Mellotron and spinet. Apart from shaker, most of the percussion is hers. Three cello and violin players are also heard. As ever, Citizen of Glass realises her vision and with its hymnal, impressionistic and still-melodic songs, it is also Obel's most striking album to date. As the conversation shows Agnes Obel is, in person, as considered as her music.
KIERON TYLER: Citizen of Glass seems like your least direct album. The songs are not underpinned by strict rhythm as they have been before, your vocals are more mixed back than previously. Are you being more allusive? Less direct?
AGNES OBEL: I was trying to do the opposite because I decided to work conceptually after I stumbled across the term gläserner menschen, to try and work to that rather than writing songs and seeing if I like them or not. I started with finding instruments I thought could create a certain state of mind. I had never done that before. Not just in songwriting but in the production. First of all, I thought gläserner menschen was a very beautiful term to describe a level of privacy with the material of glass. I could see it as relevant for me and the way I work, as I use myself as material in my songs, my imagination, my own life. I also like to mix fiction and memoir. Also, I love the glass image as a way to direct how the sounds should be.
I'm critical of Facebook as it's a media which makes us expose ourselves
Should Citizen of Glass be taken as autobiography? Maybe a comment on exposure?
No, it's not an autobiography. As a private person I don't use Facebook, I don't understand it really. I do it because of my music, but I'm critical as it's a media which makes us expose ourselves more. I wanted to see how we have this ideal of self-determination, revealing yourself. I saw that mirrored in everyone doing that now in social media, documenting your life, the moment.
Which comes first, melody or lyrics?
Some songs, I had the final arrangements in my head. With "Trojan Horses", I felt like I had everything in my mind when I started recording and writing. And then there were some songs where it gets developed from the sound: lyrics develop from the sound. I usually compose with the piano. "Trojan Horses" was with the celeste.
There's a European, eastern European, feel to the songs. Bartók might be in there. "Grasshopper" could soundtrack a Jan Švankmajer film. Also, with the way the strings cycle, perhaps Philip Glass is in there too?
I love Jan Švankmajer, but it's a coincidence. I never thought of a specific location at all. With "It's Happening Again" and the strings, I wanted a sound so I had instruments repeating and repeating themselves, again and again and again. I wanted elements where it was sparse and simple, and then complex. To reflect change.
Are we doing things because the media is telling us to?
On "It's Happening Again", you sing about something in the back of your head.
I wanted to make an album where I was talking from within. As soon as we interpret ourselves, we are changing things. "Familiar" is a conversation with myself, with my inner ghost. The song is about wanting to tell a story about having a secret love affair, having secrets. I wanted a ghost in my own head to sing with to me in the chorus. I love it where we step into the head of the person.
With "Stretch Your Eyes", there's the lyric "keep your eyes on the road." Are you talking to someone else? Or is it yourself?
I was writing "Stretch Your Eyes" in the midst of a lot of stuff happening in Europe, how minds are being changed by our media. How we are being manipulated, corrupted all the time. I felt like that. I was sitting in Berlin thinking "what is going on in Denmark?" The immigration rules, it's just insane. A wheel that's turning, like with Brexit, it just turns on its own. The media becomes the message: are we doing things because the media is telling us to? It's not been pretty being a European in the past couple of years and I hope it turns around. I see crazy headlines and had a feeling something bad is about to come, and that it is what I wanted in "Stretch Your Eyes".
What is the "Red Virgin Soil" the song takes its title from?
I wanted a title that sounded as basic as the instrumental elements I'm using, which are very basic: prepared piano, hitting on the piano. It sounds very stripped down. I came across the title when researching the idea of being transparent. I came across this book Envy by Yuri Olesha which is from the Soviet Union [published 1927] about a person who is really jealous of his roommate as he's a completely transparent person, he has no feelings, he doesn't know envy, he has no secrets. He's an ideal citizen. The two characters represent two different states of society and the book was later seen as corrupting as nobody is completely transparent, everybody has emotions. Olesha was part of a literary group called Red Virgin Soil, with Isaac Babel who got executed. They were critical of the state. We are complex beings and we can't be transparent.
I love instrumentals as they feel like an emotional outburst
Can we also read transparent as invisibility, rather than everything being evident or a total openness? Like being lost in the crowd?
Yes, that fits with our times. It's nice to think of it like this too. It seems like we are all over-stimulated which seems meaningless. So over-saturated.
Citizen of Glass includes two instrumentals and you've recorded instrumentals before. What attracts you to instrumentals?
I love instrumentals. I love voices, but I also love instrumentals as they feel like an emotional outburst where you don't need any words. It's something I enjoy doing and I could easily make instrumental music. Also, I listened to Meredith Monk while I made this album, the way she uses her voice and I definitely wanted to try to do that, but she also has beautiful piano pieces. You don't have to have a voice, break it up.
What gives the instrumental "Grasshopper" its title?
Because of how it sounds. [wordlessly sings the bouncing rhythm]
Was it tough sequencing the album's tracks?
Yes. I knew "Mary" had to be the last song as I wanted it to end on a positive note as the song is about having a secret and carrying it with you, and how carrying it becomes destructive. At the end of the song you're letting go of the secret, telling the secret. My point was there's potential to let go of demons – secrets – and this can be very good for you. The title is only biblical in the sense of being watched from above. I can be super-critical of self-revelation, but it maybe also has a very great potential.
The album's arrangements are complex. What will it be like when played live?
It's such a big challenge, and its super difficult to work out how to play it. I've found the best musicians I could and then lots of rehearsing. I sing in so many different voices, each song has its own framework so we have to work out a way to tune into it. It will be exciting.
What would you like people to get from Citizen of Glass?
I just want people to listen. I've stories for each song in my mind. I don't want to explain each song. But I've already said a lot.
It's not been pretty being a European in the past couple of years
Share this article