10 Questions for Conductor Thomas Dausgaard
10 Questions for Conductor Thomas Dausgaard
A Dane in Scotland on wall-to-wall Beethoven and working on a farm in China
Thursday, 29 September 2016
Thomas Dausgaard working in Glasgow
One of two Danish Thomases at the head of BBC bands (compatriot Thomas Søndergård is at the helm of the BBC National Orchestra of Wales), Thomas Dausgaard joins the Glasgow-based BBC Scottish Symphony Orchestra as chief conductor this season.
Dausgaard follows in the rather illustrious footsteps of Donald Runnicles (who becomes the Orchestra's conductor emeritus), and joins a high-flying team of Ilan Volkov as principal guest and composer-conductor Matthias Pintscher as artist-in-association.
Runnicles has left, as they say, big shoes to fill. But Dausgaard is out to make his mark with a distinctive if diverse opening season, featuring big Romantic showpieces alongside music from his Danish homeland, a Haydn oratorio and contemporary Scottish fare. He talked with theartsdesk about Beethoven's stepping stones, why Brits love Denmark, and what he gets out of farming in China.
DAVID KETTLE: You've just directed your first concert as the BBC Scottish Symphony Orchestra's chief conductor, but you already have quite a history with the Orchestra. Can you tell us a bit about it?
THOMAS DAUSGAARD: Yes, I've already done quite a lot of performances with them. We were at the BBC Proms for two concerts this year and one concert last year, we've been to the St Magnus Festival in Orkney, and we've done several concerts in Glasgow and around too. I've really enjoyed working with the Orchestra – otherwise I wouldn't have taken up the post! It's an orchestra that takes a great joy in music-making, and has a real curiosity about music: a very warm group of musicians.
Aside from the Orchestra's playing, what else attracted you to take up the post?
Many things play into a decision like that. First of all, I really like City Halls, the venue where we perform in Glasgow (pictured below). I love the daylight that comes into it, its light and ambience – that's very rare in a concert hall, and a lot of the time in other concert halls you might just as well be underground. And I've always been an admirer of the BBC, and what the BBC does for corners of the repertoire that sometimes need oxygen, and what it does for young composers and living composers.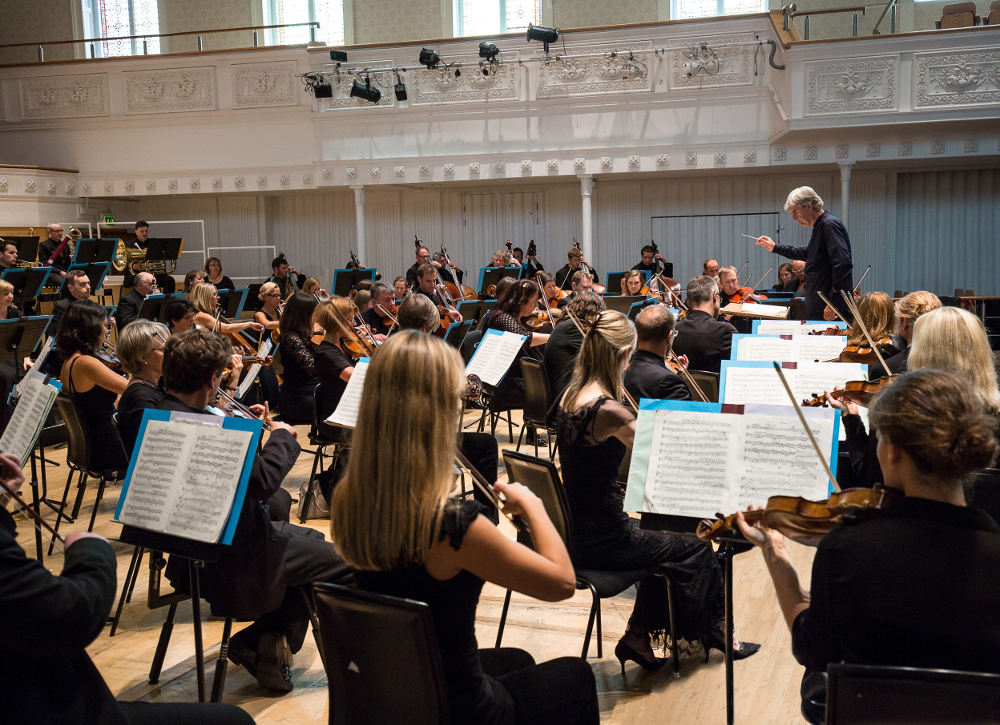 There's a lot of diverse music in your first season – from Bruckner and Mahler to Haydn's Creation, a concert of new Scottish music, a gargantuan Beethoven concert. What brings it all together?
It's important to me that we have a certain diversity across the season. But also for our first season together we should be building, or continuing to build, our musical language together. We're doing a number of things that haven't been done in Scotland before – including the completed version of Bruckner's Ninth Symphony, which opened the season last week, and the very long Beethoven "Academy" concert from 1808. There's quite a bit of British music, too. I studied at London's Royal College of Music with Norman del Mar – who himself was a former chief conductor of the BBC SSO – and he passed his love of British music on to me, so I'm delighted to be featuring Britten, Tippett and Elgar.
You're also bringing a few pieces of Danish music, too. Was it important to you to feature the music of your homeland?
I've actually been asked to do that – but of course I'm very happy to do it too! I'm a very happy ambassador for Danish music, and I'm delighted that there's an interest in me doing this, but I wouldn't do it unless I was asked, I think.
The whole perspective on these works changes, and they're stepping stones rather than final statements – stepping stones to each other, and also to the closing Choral Fantasia
Two of your concerts will include works by Rued Langaard, including his Fourth and Sixth Symphonies. We're not too familiar with Langaard in the UK – how would you describe him and his music?
He was an unusual figure – a wunderkind, with a natural affinity for composing for orchestra. His First Symphony was premiered by the Berlin Philharmonic, and he wrote it when he was just 15, actually only about three miles away from where I live now. He was influenced by Nielsen, who was older and played much more in Denmark, and also by Richard Strauss. But he found some very individual directions in music, including what we later came to call collage music, where there's no bridge between sections, where you simply cut the music like a primitive film cut from one scene to another, with no explanation. He was also obsessed with repetition, and the way that it can somehow get you into a trance. I'm sure that was what Langaard was striving for in some of his music. He was concerned, of course, with events in the world in the early 20th century, and he felt that some kind of spiritual insight could somehow play a role in helping humans on their path.
You're also known for championing contemporary music, and you've performed many works by your compatriot Per Nørgård. Is that something we can expect for your future concerts in Scotland?
Absolutely – I'm already discussing that with the orchestra. I've performed a lot of Nørgård's music, and it would be wonderful to bring that to Scotland as well. In Denmark we have an idea that Danish music somehow travels best westwards – we always find that audiences and musicians in Britain, and also further on in the US and Canada, are among the most receptive to it and enjoy it the most. Britain feels like a fertile ground for Danish music – but why that might be is difficult to say. It might be something to do with the light – Edinburgh and Glasgow are actually on the same latitude as Copenhagen, and there's something about twilight colours that we love, probably because the twilight can be so long, and of course it has always inspired us to tell stories and tales of the old times – there are very strong storytelling traditions in Denmark, and I know in Scotland as well.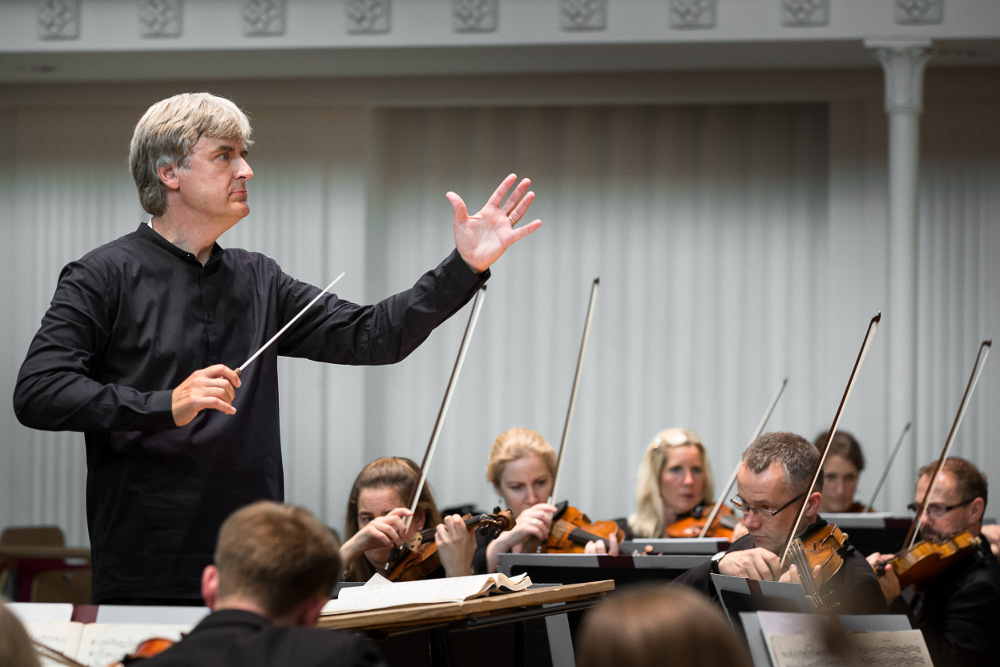 The second concert in your initial season is a recreation of Beethoven's massive 1808 "Academy" concert, featuring his Fifth and Sixth Symphonies, Fourth Piano Concerto, Choral Fantasia and a lot more besides. Isn't that a crazy idea? Why did you decide to do it?
Yes, it's going to be a bit crazy – but crazy in a good way, I think. I've done this programme before, and it's actually been an overwhelming experience – you're somehow submerged in this sea of sound which is Beethoven's, all from a very particular time in his life. And you have the opportunity to experience his works from a different perspective than you would normally – the Sixth Symphony, for example, although it's one of his longest, actually forms the "overture" to the concert. So the whole perspective on these works changes, and they're stepping stones rather than final statements – stepping stones to each other, and also to the closing Choral Fantasia, which brings all the forces together.
How have you found conducting this concert when you've done it previously?
It makes me think quite differently about the pieces when they're in more traditional concerts. I bring the experience of this "Academy" concert with me every time I perform the Sixth Symphony – it still has the feeling of an overture about it. And the tension that builds to the Fifth Symphony in this concert is very tangible – in a way that you'd love to be there when you perform it in a more traditional concert. I think it can open our minds to Beethoven's music in new ways.
Finally, your biography says that you have a particular interest in remote communities, and have travelled to live and work around the world, including with head-hunting tribes in Borneo and on a farm in China. Why is that? What do you get out of it?
Yes, I've always done this. I think I'm interested in finding the roots of where we come from – in a very practical way, in musical terms, I always want to know about the most recent research on the works I'm conducting, but in broader life, too, I'm interested in the things we share across cultures, and I want to get a feel for where we come from. Performing with an orchestra, I'll usually be in a big city, surrounded by a lot of noise. But I've found I need quiet, and for nature to be able to speak to me. I love to see and experience and live among people who have found a way with nature that can inspire me when I go back into Western life.
What do you think you do differently as a result of your travels?
That's hard to pinpoint. I'm also fascinated with the musics of different peoples. I remember on a Pacific island, I was invited to a wedding, in church, where the singing was in four parts. Now, I can't think of any church in my country where the congregation's singing would automatically be in four parts. It made me appreciate that kind of singing, and the role it can play in a community event like that. In terms of classical music, I want to know as much as I can about what really inspired, say, Beethoven – what made him move the pen, what was in his inner ear, because notation is a very fragile, fragmentary way of communicating, and there must have been something of quite a different vitality than just dots on paper inside him. Maybe I need to travel, and experience life in a different way, to somehow open myself up better towards all this.
Thomas Dausgaard conducts the BBC SSO's Beethoven "Academy" concert on Sunday 2 Oct in City Halls, Glasgow
I love to live among people who have found a way with nature that can inspire me when I go back into Western life
Explore topics
Share this article