NEON: The Charged Line, Grundy Art Gallery, Blackpool |

reviews, news & interviews
NEON: The Charged Line, Grundy Art Gallery, Blackpool
NEON: The Charged Line, Grundy Art Gallery, Blackpool
A very 20th-century medium gets a retrospective in the city of electric sunshine
Thursday, 08 September 2016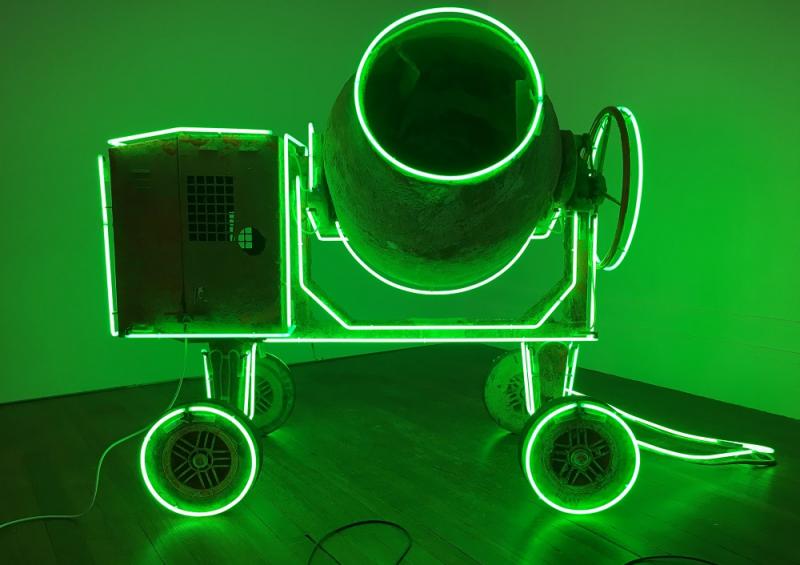 David Batchelor, 'Green Pimp', 2006
Neon was once the triumphant glowing symbol of commerce and capitalism. In the 1930s the distinctive tube lighting gleamed above broadway theatres and on prominent billboards in the world's great metropolises from New York to Paris. These glory days were not to last. Within just few years neon signs were removed from their downtown pride of place, demoted instead to apologetically jutting out from roadside motels and peripheral dive bars.
By the time that a group of American artists became known for using neon in the 1960s it had become the go-to metaphor for philosophers and writers lamenting the decline of the urban dream. Yet surprisingly, ever since it has had a pretty extraordinary track record as an artists' material, with plenty today still seeing it as their medium of choice.
Now, Blackpool's Grundy Art Gallery has reconfigured its Edwardian building into eight rooms for the UK's first major survey of artists who have worked with neon over the past five decades. Coinciding with the city's annual Illuminations, NEON: The Charged Line is a fascinating exploration of a technology that in artists' hands has taken on a wide range of meanings, associations and uses. Fitting then that the first piece that greets us above the gallery's entrance is Martin Creed's helpfully non-prescriptive neon from the year 2000, stating the simple slogan: Things.
Bearing in mind its time-honoured deployment for promotional signage it's perhaps not surprising that one of the most prolific ways in which artists used neon was to question ideas of language and meaning. A key player in these early explorations was conceptual art pioneer Joseph Kosuth who shaped the tubes into words that often represent the thing that they're describing. Here, a selection of his works takes up the whole wall of the first gallery, including his seminal single-word sign Neon, 1965. The electrified gas has been made into a monument to itself in luminous white. And like many monuments there's a sense that it's harking back to a heyday that has long since gone, further underlined by the truth that the gas inside isn't neon, but argon.
Opposite Kosuth and working 25 years later, Tracey Emin has reproduced her distinctive idiosyncratic writing as a glowing sign that alludes to personal self doubt: I Know, I Know, I Know, 2002 (pictured above right). Fellow YBA Fiona Banner does away with letters and words altogether, representing punctuation alone. Most minimal of all is her solitary Neon Full Stop, 1997. Cerith Wyn Evans riffs on neon's association with cinema in a slogan familiar to fans of silent movies: Meanwhile…Across Town, 2001 (pictured below).
Other works concentrate on reflecting neon's optical characteristics. Austrian artist Brigitte Kowanz has placed a circle of neon black and white dots and dashes on top of a specially cut metal disk which warps the light as you move around. It's about as close as you can get to live action Op art. Even more overtly abstract is Bertrand Lavier's reimagining of a classic Frank Stella design. Stella's iconic matt painted stripes receive a light upgrade, converted into bright red and white lights that you'll need a decent pair of shades to fully appreciate.
For some artists, neon is essentially a drawing material. Keith Sonnier's Pictogram II, 1980, is especially free and painterly. Curvy and angular lines in a whole range of colours intersect to describe a design that's both figurative and abstract. British contemporary artist Eddie Peake also uses neon to produce linear designs. In Verb from 2013 he has depicted a naked reclining faun in electric blue neon. It's a character straight out science fiction, like a weird Narnia/Blade Runner hybrid.
Of course unlike the conventional line, neon isn't confined to a page. In two sculptures by David Batchelor the tubes are adapted to literally highlight the edges of a ladder and a cement mixer (main picture). This luminous adornment lends the everyday hardware a futuristic look, but it's also a reminder of neon's evolution into a grungy material, rather than a symbol of luxury. It's that chequered cultural history that has clearly appealed to several artists. Curator Richard Parry reminds us that, "one of the fascinating things about neon is that it has endured. It manages to be futuristic and vintage at the same time."
Prem Sahib's allusion to neon's seedy past is certainly loud and proud. Just outside the gallery he has installed a small bright blue sign by the fire escape, strongly resembling a pert blue pair of pants. It's reminiscent of those signs you find tucked above underground clubs to invite you down to where the party's at. Just visible from the main road, the gallery might get a few unexpected after hours punters if they keep it switched on overnight.
Blackpool's own historical association with neon goes back to the 1930s when the seaside resort embraced it as a technology perfect for its annual Illuminations. Upstairs at the Grundy is a selection of designs for neons intended for the festival, now part of the town council archives. They were designed by the company Claudegen founded by Georges Claude, the so-called "Edison of France" who turned neon lighting into a fortune making business. These remarkable drawings on black paper were made using bright coloured chalk, carefully flecked and smudged to create the impression of dazzling light. How many were turned into actual decorations isn't known, but they're a vivid reminder of the time when neon was instrumental to the creation of the "city of electric sunshine".
A strong candidate for this exhibition's showstopper is by French artist Francois Morrelet, who worked with neon since the Sixties and died earlier this year. His magnificent installation, Triple X Neonly, 2012 gets a whole room to itself, a combination of three 'X's in hyper-bold red (pictured above right). It looks almost two-dimensional when viewed head on, but take a step either side and it becomes a complex perspective-distorting web. Abstract on the one hand but with a clear nod to neon's sleazier side in its title. This work alone is a potted example of the myriad ways in which neon has appealed to artists, and will surely continue to do so. Anyone who saw Catherine Zeta-Jones try to steal diamonds by making her way through a maze of web lasers in the film Entrapment will get an extra cinematic reference to boot.
Maybe in the real world neon has had its day, a victim of brighter, easier to maintain modern lighting like LEDs. But if this exhibition is anything to go by, in the art world at least it will continue to endure.
NEON: The Charged Line at Grundy Art Gallery, Blackpool until 7 January 2017
The annual Blackpool Illuminations run until November 6th
Frank Stella's iconic matt painted stripes receive a light upgrade that you'll need a decent pair of shades to fully appreciate
rating
Explore topics
Share this article