Owen Wingrave, British Youth Opera, Peacock Theatre |

reviews, news & interviews
Owen Wingrave, British Youth Opera, Peacock Theatre
Owen Wingrave, British Youth Opera, Peacock Theatre
Stylish visuals can't quite give this static opera life
Wednesday, 07 September 2016
'He shall be straightened out at Paramore': Owen (Dominic Sedgwick) succumbs to the curse of the Wingraves
Owen Wingrave is the Britten opera that always comes with a caveat, an apology. Dramatically flawed (a problem partially, but by no means entirely, accounted for by its genesis as a television opera) and musically uneven, it has nevertheless emerged recently as a favourite choice for young singers, with Guildhall (2013), the Royal Conservatoire of Scotland (2016) and now British Youth Opera (2016) all choosing to stage it, with varying degrees of success.
Owen, last of the soldiering clan of the Wingraves, leaves officer training, casting his family's history aside in favour of an avowed pacifism. Forced to return to the family estate of Paramore, he confronts the displeasure and disgust of his relations and fiancée Kate. Taunting his masculinity she dares him to spend a night in the house's haunted room, but when she returns to unlock the door finds him dead.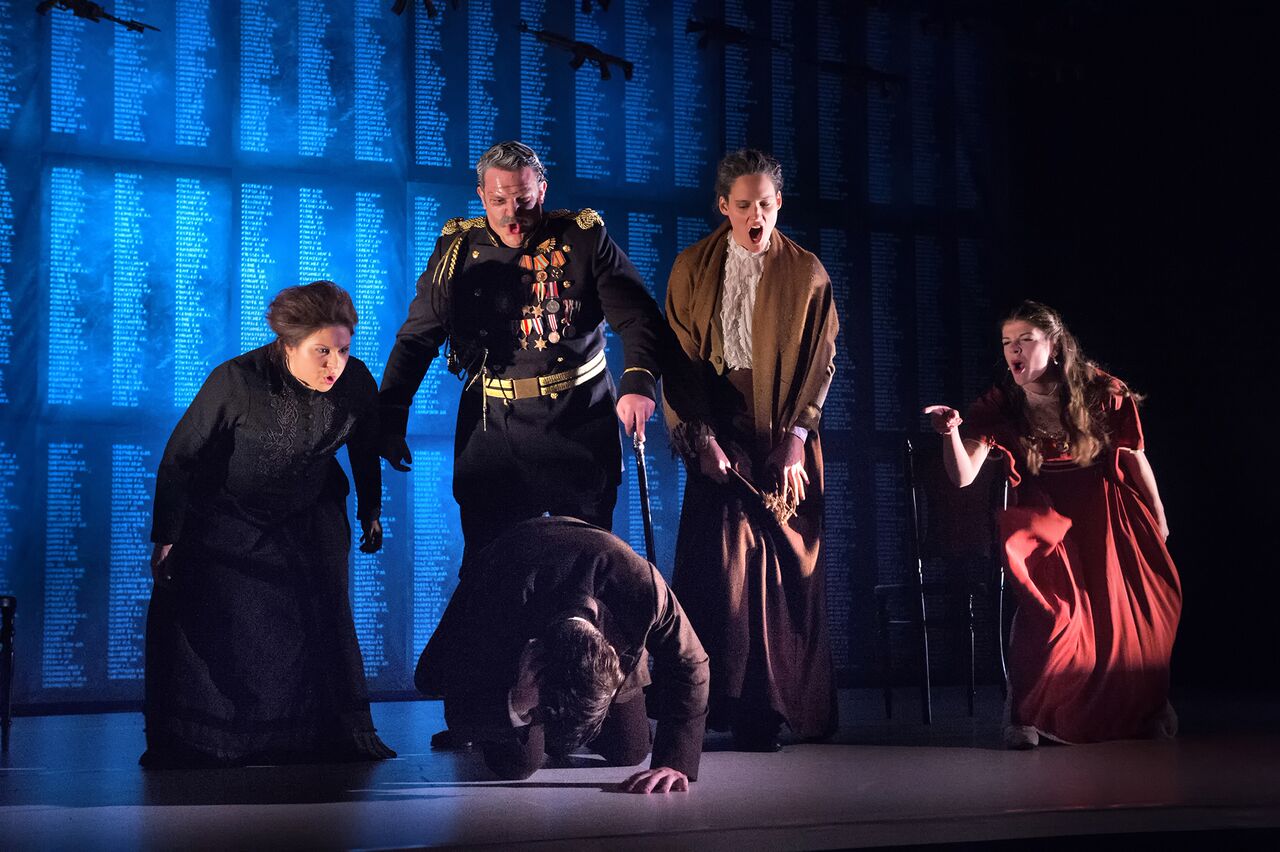 This latest production by Max Webster for BYO is visually very attractive, offering a sequence of striking stage pictures that somehow never quite coalesce into a drama. That oddly inert quality inherent to a score that flirts with 12-tone techniques is left largely unchallenged, despite some attempts to reverse the traditional order of seen and unseen elements. Webster does away with the family portraits that provide a focal point for the music, but unaccountably decides to open up the locked room in which young pacifist Owen meets his violent fate. Henry James, master of mystery, knew that discretion was the better part of horror, and the imagined fate of his hero is far more potent than this more literal approach.
James Cotterill's handsome designs situate the opera between James's original era and Britten's, colliding CND banners and a contemporary war memorial (a poignant backcloth to all the action) with Edwardian costumes. The Southend Boys' Choir roam the stage with toy guns, holding up makeshift signs reminding us of the casualties of conflicts from Vietnam to the Boer War. Paramore itself is little more than a suggestion of furniture, but suspended above the heads of its inhabitants is a cloud of machine guns – a symbol more beautiful than subtle.
Despite its name, British Youth Opera is a finishing school for young professional singers, usually already working at postgraduate level or beyond. Their casts are reliably strong, and this was no exception. Providing a vocal and emotional anchor for this coldest of works were Harry Thatcher's Spencer Coyle and Alexandra Lowe's Mrs Coyle, both demonstrating real vocal control and no little beauty without ever losing the clarity of diction essential in a production without surtitles.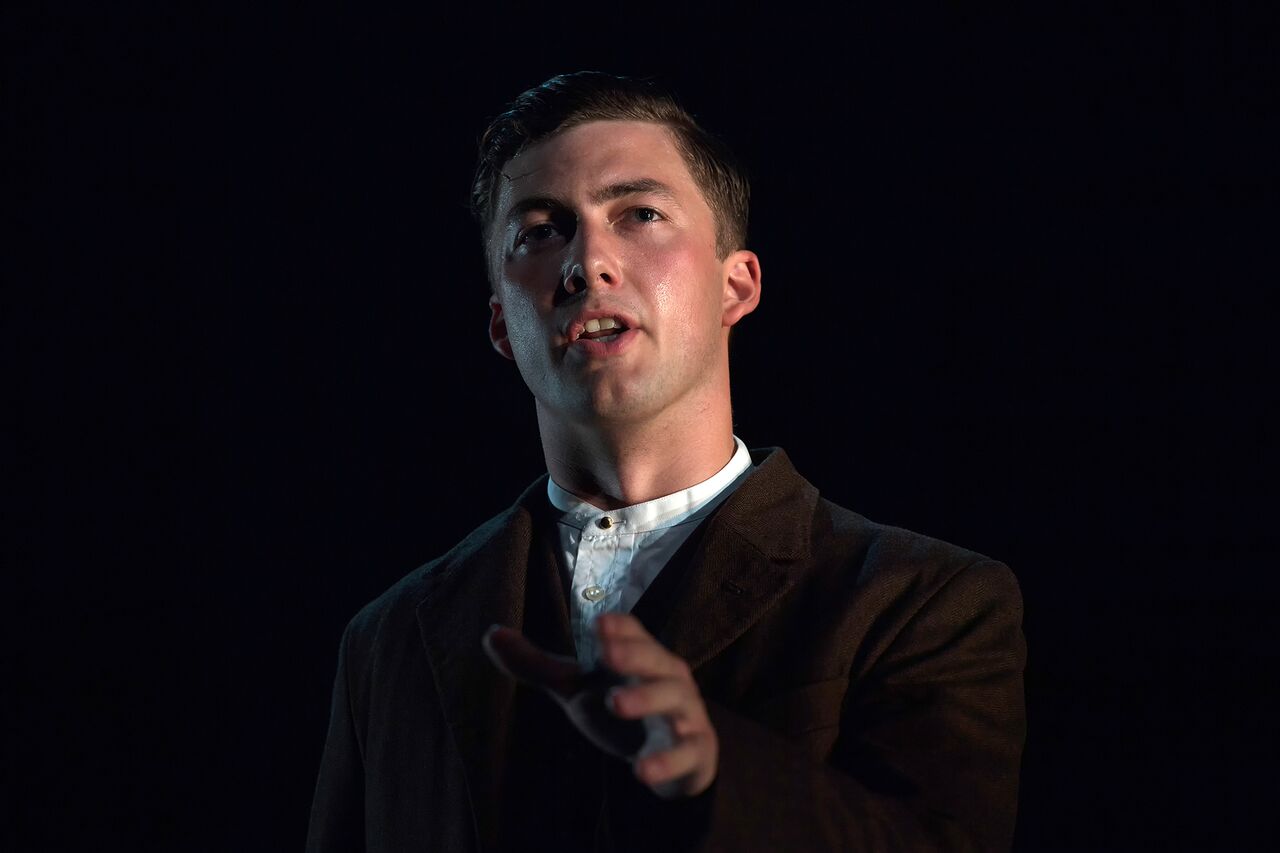 Superb mezzo Katie Coventry (impressive earlier this year in the title role of the London Handel Festival's Ariodante) makes sense of Kate Julian's brittle outbursts and volatile temper, loading the line, "Why was I not born a man?" with real desperation. Vocally outweighing Dominic Sedgwick's Owen (pictured left), who consistently prioritises beauty of tone over power, her strength is however met with effective softness and stillness. Resisting the urge to do too much, Sedgwick offers a sensitive portrait of a young man troubled by conscience. Mention should also be made of tenor James Liu, who sings the ballad of the Wingraves with tremendous tenderness and a lovely sense of line.
Myfanwy Piper's libretto remains stubbornly unmusical, and the odd acoustic of the Peacock Theatre means that Alex Ingram's Southbank Sinfonia risk overpowering the singers at times, but a strong cast and stylish production go some way towards rehabilitating this troubled piece.
Resisting the urge to do too much, Sedgwick offers a sensitive portrait of a young man troubled by conscience
rating
Explore topics
Share this article