Notes on Blindness |

reviews, news & interviews
Notes on Blindness
Notes on Blindness
Luminous documentary is both profound and moving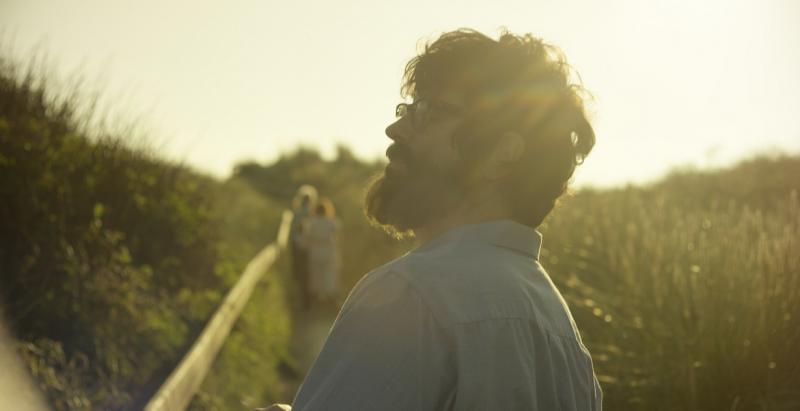 Moment of light: Dan Skinner as John Hull
Notes on Blindness is an extraordinary film that wears its original genius lightly. The debut full-length documentary from directors Peter Middleton and James Spinney, it may seem complicated in its assembly, but has a final impact that is luminously simple. And to speak of a film whose immediate subject is the loss of sight – and by extension, of the visual element that comprises cinema itself – in terms of luminousness is finally no paradox at all.
It's the story of John Hull, an Australian-born theologian whose acclaimed 1990 book Touching the Rock recorded his experience of going blind. Hull had had problems with vision since childhood, and the film opens in the early 1980s with doctors telling him that no further operations can improve his condition. By then, he's happily married, to Marilyn, with a young daughter and four more children to follow, and professionally settled as an academic at a British university: he was at Birmingham for many years. He died in July 2015, as the film itself was being made.
Referring to this as 're-enactment' in any artificial sense feels completely wrong
Touching the Rock records the loss of sight, and the experience of being blind, but is also a meditation on many other things, meditative in something of the sense of WG Sebald. It was originally dictated on to the tape recorders that became a crucial part of Hull's life: he used them not only to record his own thoughts, but to listen to books (the initial paucity of choice, particularly of the "big", serious books he needed, had him recruiting ranks of volunteer readers to transfer such material onto cassette). Middleton and Spinney's script transposes Hull's words, both the solo voiceover monologues and group scenes with his wife and family; it also includes interview material especially recorded by the two directors – they made two earlier short documentaries about Hull – and from other sources.
If we're looking for cinematic precedent for this kind of verbatim dramatic adaptation, Clio Barnard's 2010 film The Arbor, about the playwright Andrea Dunbar, offers something similar, but finally comparisons are very approximate. Notes on Blindness has actors Dan Skinner (as John) and Simone Kirby (Marilyn, pictured above) lip-syncing over the recordings. But referring to this as "re-enactment" in any artificial sense feels completely wrong – the result is as fresh as any original narrative, revealing itself utterly spontaneously, Skinner's "management" of the script a triumph of dramatic monologue in its own right. Such undercutting of the foundations of documentary isn't the only element that strikes: as well as filming Hull's everyday life – plentiful intimate family moments, elements of his professional environment – Middleton and Spinney are also effectively creating (recreating?) the visual world that their sightless subject can only now "picture" in words.
It's a complicated balance, brought together and mediated brilliantly in Skinner's quiet, somehow querulous narration. The visual world denied to Hull in his blindness (the blank screen that comes up episodically before us) is mitigated at the beginning by the tiny elements of vision that remain, then later by memories he has preserved from his sighted days (TS Eliot's "fragments I have shored against my ruins" come to mind, but even they appear to fade with the passing of time). Hull's dreams provide a final element, ambiguous consolation in that they prompt the realisation, "Every time I wake up, I lose my sight." These varied elements, involving slow motion, blurring, angles and accentuated colours, are originally captured by Gerry Floyd's cinematography.
As well as deprivation, Hull's blindness can also bring stupendous insight. Most remarkable is that evoked for him by the sound of falling rain, the way it redefines the surrounding world, like "a blanket of differentiated and specialised sound"; it leads to fantasies – in image terms somehow recalling Andrei Tarkovsky – of rain falling not only outside, but over the interior scenes too (pictured above right). Gradually a wider narrative imposes itself, as this journey that had seemed so random and hopeless initially receives a new pattern: from stubborn denial, through a sense of devastating "enjoyment" (Hull's own paradoxical word), and on to the absolute and existential despair at the likelihood of losing all contact with the known world, and complete separation from loved ones (there's surely an equivalence to the terror of Alzheimer's felt in that stage), before a closing crystal clarity.
That denouement is the only moment in Notes on Blindness that alludes to Hull's religious faith, bringing with it a sense that this "purging" has offered a choice, between destruction and renewal. Hull was able to choose the latter, reaching the end of his agonistes with supreme insight, and a sense of grace that he expressed simply in the words, "God was approaching me." For believers, it's a conclusion as powerfully Messiaenic as the music that accompanies it. But for those without faith, there's another higher power here surely, the "god of small things", a deity of the transcendent details – here both very English, and somehow out of time, evoked in way that pays almost no direct attention to the film's immediate context, the 1980s – caught unforgettably by all involved in the production of this remarkable film: in the music from composers James Ewers and Noah Wood, editing by Julian Quantrill, and particularly, given its importance, the sound design of Joakim Sundstrom. As well as insight into darkness, Notes on Blindness has a profound sense of the unbearable lightness of being.
Overleaf: watch the trailer for Notes on Blindness
'Touching the Rock' records the loss of sight, and the experience of being blind, but is also a meditation on many other things
rating
Explore topics
Share this article