Phaedra(s), Odéon-Théâtre de l'Europe, Barbican |

reviews, news & interviews
Phaedra(s), Odéon-Théâtre de l'Europe, Barbican
Phaedra(s), Odéon-Théâtre de l'Europe, Barbican
Huppert and Warlikowski create spellbinding lyric-epic theatre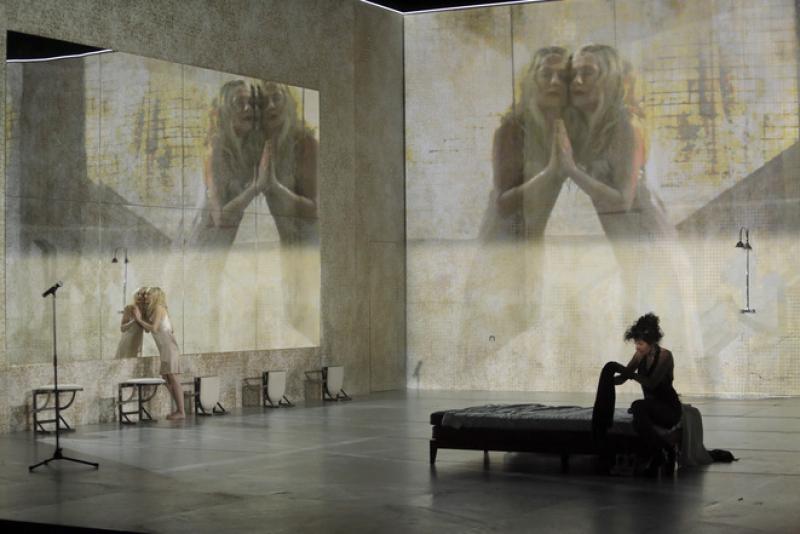 The passion of Isabelle Huppert's Phaedra 1 observed by Norah Krief's Œnone
Britten fathomed Phaedra's passion for her stepson in a shattering quarter of an hour's dramatic cantata. Euripides' Hippolytus takes about 90 minutes in the playing. Director Kryzsztof Warlikowski's fantasia on the Phaedra myth is more than twice that long, but it's worth every riveting or disconcerting minute thanks largely – but by no means exclusively – to the encyclopedic range of Isabelle Huppert.
"Star vehicle" may be a term at odds with this sort of total ensemble theatre, but that's in part what it is for Huppert (pictured below). This is a triptych like no other, a kind of Sarah Kane sandwich. Huppert gets to play a vampish Aphrodite; a Phaedra in almost unwatchable heat as Wajdi Mouawad and Warlikowski fillet Seneca and Euripides, among others, and shape them into astonishing poetry; the outwardly cooler stepmother of Kane's devastating, sharp and funny prose; and finally – almost – J M Coetzee's Elizabeth Costello, discoursing with wit and wisdom on how the gods envy or play with human passion. There's one final surprise in store which I sense from the programme Warlikowski may not want to disclose; suffice it to say that at the three-hours-20-minute mark I could have watched the whole of Racine's Phèdre in French.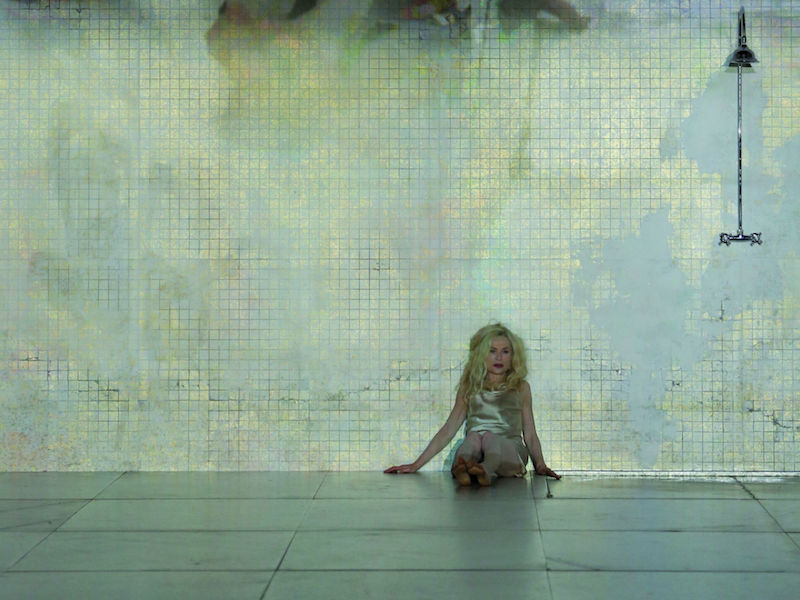 This is total stage-goddess territory for Huppert after her half-successful Mary Stuart at the National Theatre 20 years ago. Hampered then by limited vocal projection and some odd nuances in her French-accented English, here she's playing in her original language, using the voice over several octaves albeit with bafflingly reverb-laden amplification. No need for that, surely; there's rarely competition from Pawel Stakiewicz's tense, atmospheric electronics to make miking of the actors necessary. The musical numbers are certainly loud, but given over entirely to Arab singer Norah Krlef (doubling as a fine Œnone), accompanied by Gregoire Léauté's electric guitarist, and to Rosalba Torres Guerrero's Arab Dancer, embodying other aspects of a woman's raw passion.
There's also the initial problem of video projection poorly synched with its subjects. At first I felt I was in a second-rate version of all the techniques at the disposal of Ivo van Hove in his shattering Kings of War, another Barbican risk. But very soon this one paid off completely, too, with Malgorzata Szczesniak's clinical set, variously and unforgettably lit by Felice Ross, playing a major part in this spellbinding production.
Sex and violent death are stylised. Ravaged, self-abusing Phaedra 1 finds peace in bed with a young Hippolytus (Gaël Kamilindi, pictured above with Huppert in the original Paris staging) – they orgasm side by side. Kane's Queen is restrained even in the blowjob she gives to her depressed, amoral stepson; much more telling is her declaration of love for someone who's "moody, cynical, bitter, fat, decadent, spoilt". "Not very logical," fires back Andrzej Chyra's Hippolytus (middle-aged, for some reason). "Love isn't," comes the reply.
We get nearly all of Kane's masterpiece split by an interval: the terse and initially very funny dialogues with the Doctor (Alex Descas, also Theseus and Priest), with stepdaughter Strophe (Agata Buzek, pictured below with Chyra) introduced by Kane to add a further dimension to a dysfunctional royal family, and finally between Hippolytus and Priest, Huppert adding dry descriptions which culminate in a dispassionate version of the awful denouement. The background of war and an angry populace is often present, but never laboured.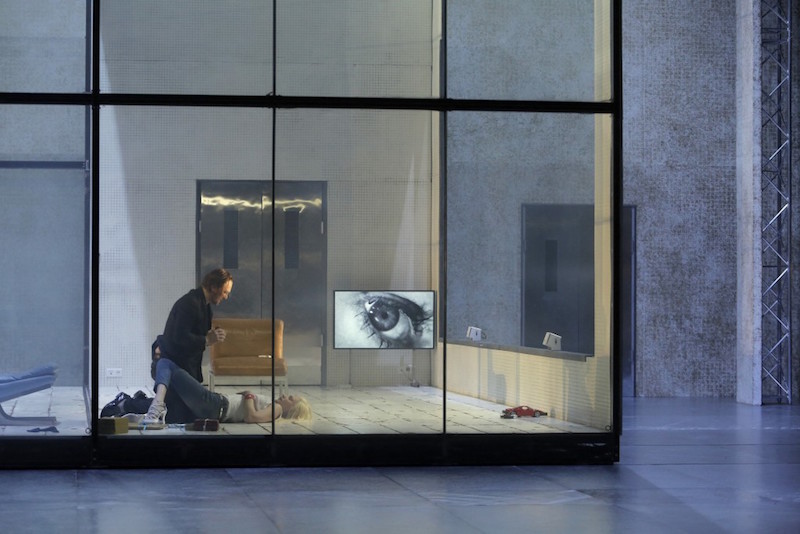 With a theatrical sense of pace more rigorous, I'm told, than much of Warlikowski's work to date, the violence explodes in Torres Guerrero's thrilling Salome-like dance before mirth takes over in Elizabeth Costello's interview with a very French lecturer (Chyra again). The most disconcerting violence is actually in a clip from the film Frances in which Jessica Lange's protagonist is lobotomised – the one point at which I had to hide my eyes.
Earlier, the shower scene from Psycho plays on an endless loop in the messy bedroom of Kane's Hippolytus, and we get another clip – from Pasolini's Theorem – before Huppert's finest, final 10 minutes. Much of it isn't easy viewing, and I was expecting some folk in the packed audience of all ages to leave at the interval; no one around me did. Go: this is essential theatre and, whether you actually like it or not, you'll witness a great tour de force from Huppert into the bargain. And you can only admire all the more an actor who stilled the strong applause last night by telling us that the rest of Europe loves us and doesn't want us to leave. Preaching to the converted, no doubt, but it was the icing on a very rich cake.