From the House of the Dead, Royal Opera review - Janáček's prison oddity prompts hot tears |

reviews, news & interviews
From the House of the Dead, Royal Opera review - Janáček's prison oddity prompts hot tears
From the House of the Dead, Royal Opera review - Janáček's prison oddity prompts hot tears
Hallucinatory intensity from Mark Wigglesworth and Krzysztof Warlikowski
Willard White's Gorjančikov experiences prison life in all its brutality
A political prisoner is brutally initiated into the life of a state penitentiary, and leaves it little over 90 minutes later. Four inmates reveal their brutal past histories with elliptical strangeness - each would need an episode of something like Orange is the New Black - and two plays staged during a holiday for the convicts take up about a quarter of the action.
I won't say that
director Krzysztof Warlikowski
makes complete sense of
Janáček'
s maverick take on Dostoyevsky's semi-fictionalised prison memoir - occasionally he even rather overloads it - but everything on stage has a feverish intensity equal to the extraordinary sounds we hear from the pit.
Which in the hands of Mark Wigglesworth, already a superlative Janáček conductor on the evidence of his ENO Jenůfa, and the Royal Opera players sometimes defy belief in what is, astonishingly and shamefully, the House's first run of this unique masterpiece (English and Welsh National Operas, Opera North and Scottish Opera have all done the feverishness proud). Muted horns buzz furiously against shrill high frequencies, instruments are forced to the extremes of their registers; and yet there are such sudden, surging moments of terrible beauty, though rarely any respite. The musical white-heat even overwhelms Warlikowski's interesting but not entirely successful attempt to counterpoint the Prelude with Michel Foucault's thought-provoking words on the prison system; the intellectual idea and sheer naked feeling provoked by the score don't mesh here, especially as Janáček moves to a liberating anticipation of the great freedom not so much as hinted at on the screen.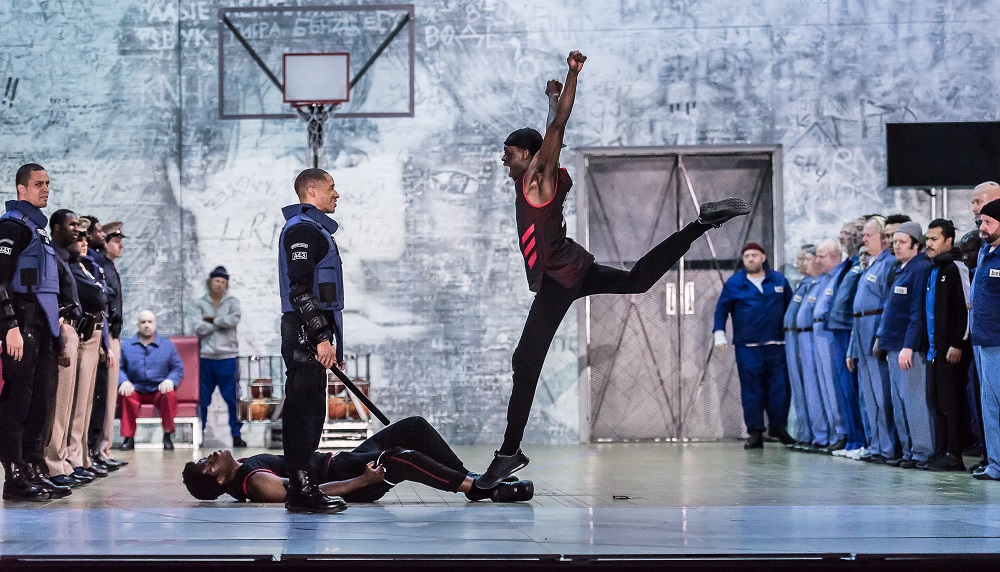 Around this, though, the set-up and follow-through are impeccable on their own terms. A young black basketball player (Salim Sai) stands for the wounded prison eagle (as "The Eagle") which finds its wings at the end of the opera; the frantic mime-dance of his friend (Jordan Ajadi, pictured above right) actually suits a score which, though composed in the late 1920s, seems to want to break out into hip-hop and, in the Act 2 "shows" Beyoncé. A cast of singers, sounding wonderful from chorus through small roles to the big guns, meshes perfectly with the actors; no stagy gestures or superfluous over-acting here.
Usually familiar faces like Peter Hoare, John Graham-Hall, Nicky Spence and Graham Clark - as the Old Prisoner who gets perhaps the most touching line ('he had a mother too") - are transformed beyond recognition. The first monologue, effortlessly introduced, belongs to Štefan Margita's Luka Kuzmič - crystal clear of meaning, strong of voice, balanced at the other end of the opera by the connected narrative of Johan Reuter's equally compelling Šiškov about the abused but deeply loving Akulka, one of the many invisible tragic heroines of the drama (Margita and Reuter pictured below). Here, at last, there are pauses for reflection in the haunting wordless chorus and the warmer colours the composer brings to a tragic love-triangle.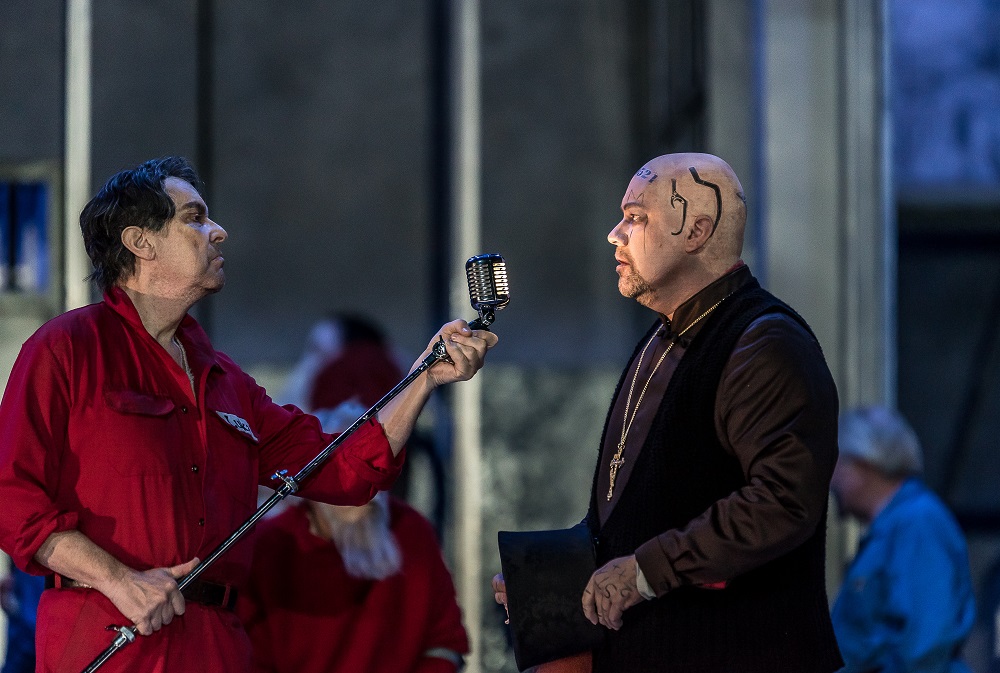 Akulka, in fact, is not quite invisible in this production; Allison Cook's Prostitute, the only woman in an otherwise all-male cast, uneasily takes on her role, just as an earlier village girl is portrayed by the feminine Tatar lad Aljeja - originally intended as a boy sung by a soprano but here, as in a baffling Prague production which actually deserved the boos inexplicably unleashed at the end of last night's performance, sung by a tenor, Pascal Charbonneau.
While a tender bond with homoerotic overtones is established between Alleja and Gorjančikov the political prisoner (Willard White, still in strong voice), women are traduced throughout, even if Janáček pours all his love into Akulka's music. The blow-up dolls of the Don Juan scene can be battered in grim fun, just as the murders of men who get in the way bring forth only red confetti. Warlikowski cleverly blurs the lines between acting and being before the two musical plays in the narrative of Skuratov (a striking Royal House debut from Czech tenor Ladislav Elgr, pictured below with Charbonneau).
Sound confusing? It could be, and sometimes we wonder where we are, but the wilful blurring of lines at high velocity is Janáček's, not Warlikowski's, and the recurrent themes the director manages to impose are always disciplined. Just as there are sparks of God in most of these beings - Warlikowski, who interestingly tells us he avoided re-reading Dostoyevsky in the cause of finding universality in the composer's lopsided shapes, prefers Genet's "gold in the mud" - so colour and movement fill Małgorzata Szczęśniak's malleable designs, the big sets equally pliantly lit by Felice Ross.

Like so much else in the short but relentlessly hard hitting evening, they elude easy description. Just go, and one thing's for sure: you should emerge feeling quite different from when you went in. Kafka's axiom that a work of art should be the "axe to the frozen ice within us" applies here not only to Janáček and Dostoyevsky, but also to Warlikowski and Wigglesworth. Despite those unfathomable boos, Warlikowski in his UK operatic debut lives up to the extraordinary standards of his Phaedra(s) with Isabelle Huppert. Like that dream/nightmare vision, this is not an experience that can be easily replicated.
There are such sudden, surging moments of terrible beauty, though rarely any respite
rating
Share this article