Des canyons aux étoiles, Los Angeles Philharmonic, Dudamel, Barbican |

reviews, news & interviews
Des canyons aux étoiles, Los Angeles Philharmonic, Dudamel, Barbican
Des canyons aux étoiles, Los Angeles Philharmonic, Dudamel, Barbican
Nature in Deborah O'Grady's photography outshines Messiaen's homage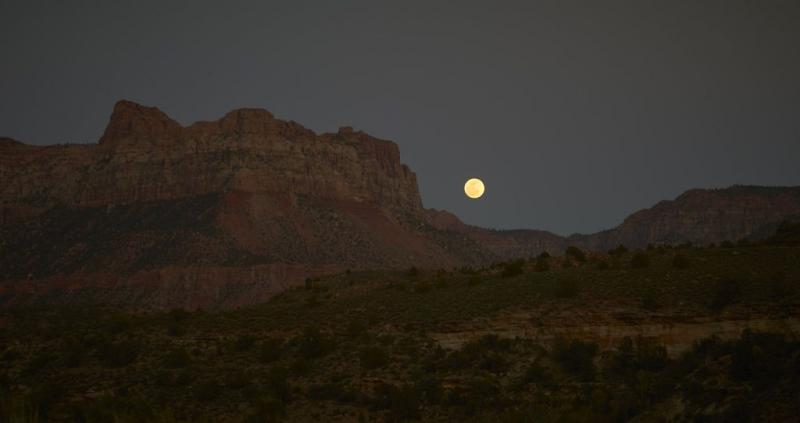 One of Deborah O'Grady's images for 'From the Canyons to the Stars'
Art can inspire music, and vice versa. When concert (as opposed to theatre or film) scores are accompanied by images, however, the effect dilutes the impact of both; above all, the imagination stops working on the visual dimension created in the mind's eye.
That had to be the case last night, though given Olivier Messiaen's tendency to outstay his welcome by at least three movements in his orchestral epics, Deborah O'Grady's nature photography carried on with its capacity to surprise and stun long after the music, in this second event of the Los Angeles Philharmonic's Barbican mini-residency, had spilled its few novelties.
The Messiaenic sound world – and already a limitation is implied in that overused term – deserves its place among the stars: his granitic brass chords, ecstatic strings hovering around a tonic and demented birdsong on wind and piano are like nothing else in the history of music. But as Prokofiev said of Scriabin's harmonic language, they become like a millstone around his neck, preventing real dynamism and motion. When O'Grady suddenly shows us a film of Utah landscape (pictured below) from a speeding car, it's incongruous with the immobility of the music. And her universe is bigger than Messiaen's, embracing environmental ravages and tourism into an ever-expanding picture. Little of this was evident when Messiaen went a-wandering in Utah during the spring of 1972.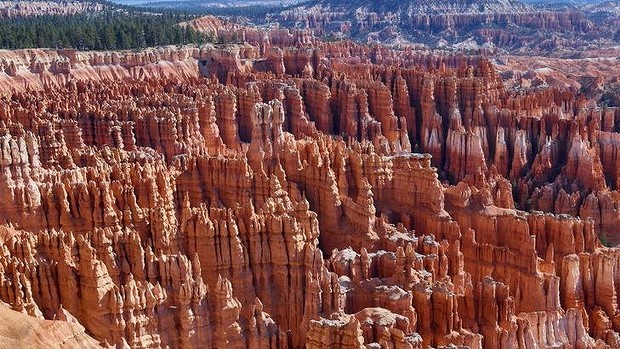 It's O'Grady's licence not to illustrate the music literally. Orioles do appear in the second movement, but birds don't always sing on screen when the music does. The most interminable movement, magnificently played like everything else by pianist Joanne Pearce Martin, has Messiaen's epic version of a mockingbird shrieking and plunging; O'Grady insists on perhaps her most beautiful image, a bright green tree rustling against a canyon wall – she travelled to Bryce and Zion Canyons and Cedar Breaks in April – before a slow journey alongside a verdant wood. Birds and animals in nature and in zoos flash crazily around the screen in the synthesis of "Omao, leiothrix, elepala, shama".
The best fusion of image and sound comes in the horn solo of "Interstellar Call" as accompanied by a full moon rising from behind a peak (full moon and ensemble last night pictured below by Keith Sheriff for the Barbican). Paradoxically, the most novel sound in the score actually dates back to 1971. It sounds like Messiaen's biggest step forward after Turangalîla in its extraordinary writing for this instrument, and Los Angeles Philharmonic principal horn Andrew Bain's odyssey – wolf calls, perfect intonation and warming vibrato included – was the stunner of the evening, living up to the promise of his resonant introduction. Unfortunately, his solo developed into a dialogue with a cougher in the balcony and the creaking of leather across the aisle from where I was sitting.
Gustavo Dudamel drew garish-beautiful sounds from his orchestra; as in his work on The Gospel According to the Other Mary, one was aware only of impressive artistic discipline, with none of the flash nor the extremes of tempo which can mar his readings of the great romantic symphonies. This was playing both fierce and luminous, which worked well with O'Grady's work and with Seth Reiser's lighting (singular in making the acoustic panels above the concert platform look like the work of Frank Gehry). Forgive me, though, if I go on to seek out O'Grady's images and not Messiaen's score. There has to be the prospect of her working on a cinema/theatre piece, devised as a unity from the start, with partner John Adams – a composer whose music really does fly through space as Messiaen's, for all its virtues, does not.
O'Grady's universe is bigger than Messiaen's, embracing the impact of tourism and industry on the environment
rating
Share this article