The Dazzle, FOUND111 |

reviews, news & interviews
The Dazzle, FOUND111
The Dazzle, FOUND111
Off-Broadway play doubly disturbing in London debut
Wednesday, 16 December 2015
Brotherly love: Andrew Scott (left) and David Dawson in 'The Dazzle'
The proverbial pond that separates the New York and London theatres has had a seismic effect on The Dazzle, Richard Greenberg's ironically titled play from 2002 that in every way seems darker, stranger, and more compelling in its British premiere than it did when I first caught it Off Broadway.
What previously played as a somewhat wearing Wildean pastiche here assumes creepier colours as a play about two brothers gifted with language who use words in part to forestall the bleakness that lies in wait when things go silent.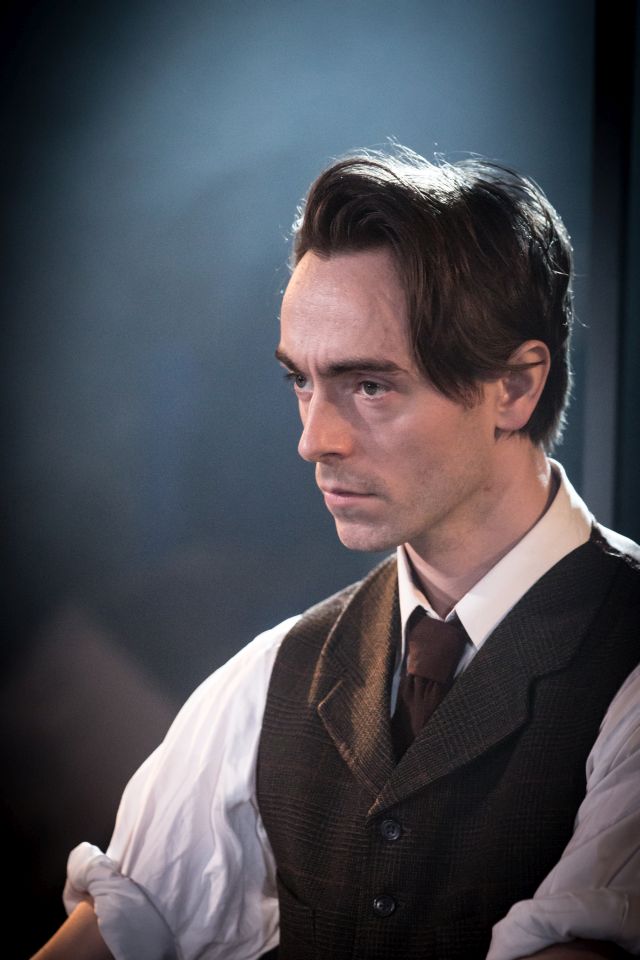 Simon Evans's production benefits enormously from two of the most distinctive actors this side of the Atlantic in Andrew Scott and David Dawson, both of whom have a stylised, heightened mode of performance that turns out to be ideally suited to Greenberg's verbally rococo landscape. As ever with this prolific writer, who was premiering The Dazzle in New York within months of the world premiere in London of the entirely different baseball-themed Take Me Out at the Donmar, words come naturally to characters who fold "persiflage" and "miasmic" into their discourse with ease.
Scott's Langley Collyer speaks, for instance, of "the next hour [being] smashed to smithereens" as if he had stepped out of a novel by F Scott Fitzgerald, and both that character and his brother, Homer, have names worthy of an author whose presence has long lingered over Greenberg's diverse output. But on the more fundamental level of human connection, Langley in particular runs aground in a production that makes clear virtually from the outset that the abiding theme of the play is damage, whereas in New York it seemed mostly to be about Allen Moyer's admittedly impressive set. (Dawson as Homer, pictured above)
Greenberg's source is the actual and startling tale of two Manhattan siblings, hoarders both, who died entombed amid the clutter of their Harlem brownstone in 1947; thematically, the play is of a piece with the forthcoming Southwark Playhouse British premiere of the Broadway musical Grey Gardens, itself a chronicle of the real-life fall from grace into squalour of a certain sector of the American upper-class.
But whereas critics in 2002 derided Greenberg for an author's note – reprinted in the London programme – in which he admitted to "know(ing) almost nothing" about the Collyers while nonetheless feeding their lives into his play, Evans and his ace cast make immediately clear that the play remains a fantasia, not a biography – a meditation on a surrender to a shared madness that both Scott and Dawson play for keeps.
Scott has always possessed a distinctive, somewhat dreamy vocal quality, which on this occasion allows Langley to talk, as he puts it, "in a kind of stream" while also drifting off into the unknown. His face at times is overtaken by a half-smile that makes you feel as if this apparently mild-mannered elocutionist might be capable of grievous harm, not least when the musically-minded "Lang" talks of "eradicating" the American composer John Philip Sousa. This is a man who speaks of having too many senses, and Scott communicates a gathering discomfiture that is deeply eerie to behold.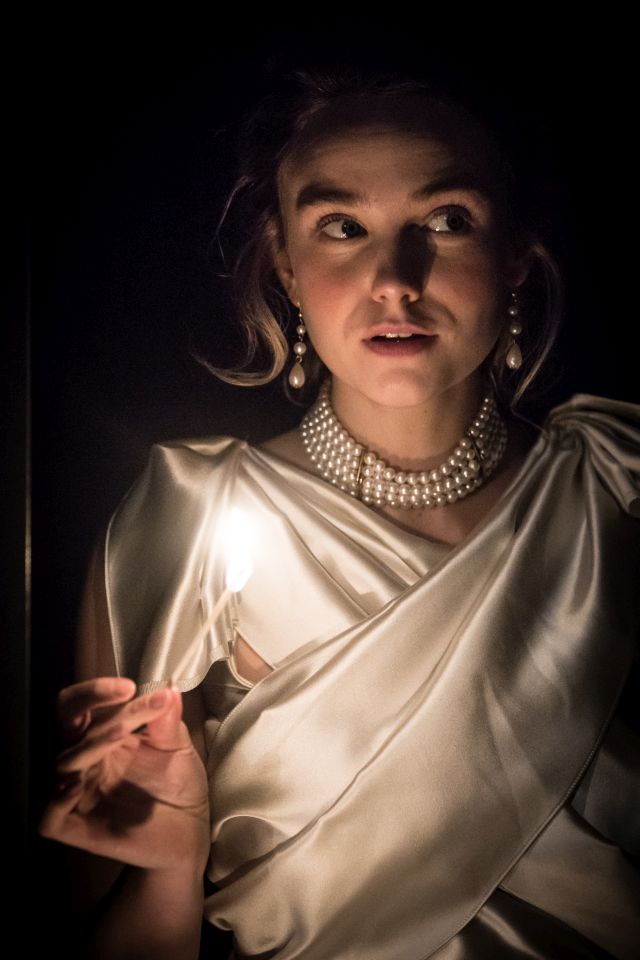 Dawson gives a shouty, larger-scale star turn – in musical terms, he's the timpanist of the piece – and there are moments when he seems to be pitching his performance to a far larger venue than the rather cramped, none-too-comfortable FOUND111. (Woe betide those who aren't seated at the end of a row.) But playing the reluctant, more pragmatic minder of a brother who exists in some cleanliness-averse netherworld all his own – Langley, we're told, wouldn't wash if it weren't for Homer – Dawson movingly suggests the carer who might like some care for himself.
A third character complicates the filial dynamic in the form of Milly (Joanna Vanderham, pictured above), an heiress who has returned from treatment of some unspecified sort in Vienna – paging Dr Freud! – and who shuttles between the affections of the brothers before herself meeting an untimely end. (Followers of Scott's career can connect this triangular relationship up to Design for Living, in which he starred at the Old Vic in 2010.) Tasked with the difficult assignment of playing a character described elsewhere as "boring", Vanderham is anything but, her physical beauty as evident as the emotional clarity that the actress lends to the post-interval revelation of Milly's past.
It's not her fault if one's prevailing memory of a production that seems to exist in a rolling semi-darkness as if to suggest the characters' half-lives is of one quiet if significant exchange between the brothers. "I love our life," says Langley in a momentary eruption of enthusiasm, to which Homer replies with the barely audible, immensely telling single word, "oh".
Langley speaks of having too many senses, and Andrew Scott communicates a gathering discomfiture that is deeply eerie to behold
rating
Explore topics
Share this article