Güeros |

reviews, news & interviews
Güeros
Güeros
Very bearable lightness of being in off-beat Mexican New Wave urban comedy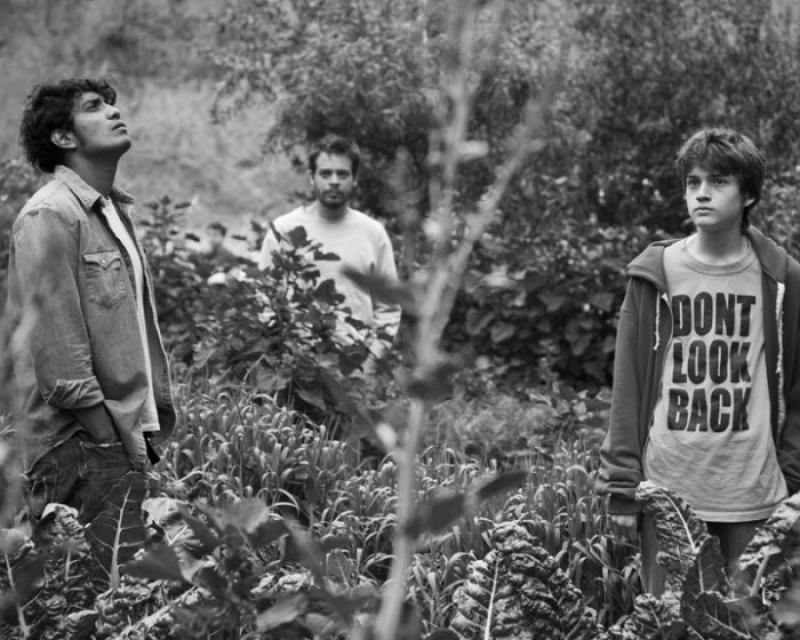 A garden in the heart of Mexico City? The protagonists of Mexican debut 'Güeros'
Mexico City itself is the dominant presence in Alonso Ruizpalacios' debut feature Güeros, a road movie that restricts its journey to that megapolis and its environs. It's not just the traffic that holds them up, more the fact that they don't really have a destination. As one of its initially dispirited student protagonists says, "Why go if we're going to end up back here again?"
Sombra (Tenoch Huerta) and Santos (Leonardo Ortizgris) are studying at Mexico's National University – except they're not, because it's 1999, when students there went on strike to protest the introduction of fees. The strike went on for a year, and apparently had an impact comparable to the protests of 1968. But while their fellows are on campus debating the issues (and running a radio station), these two existential slackers can barely leave their flat: they're "striking against the strike".
There's also a sense of absolutely charming, playful indie comedy
That's until their slothful rhythm is interrupted by the arrival of Tomás, Sombra's teenage younger brother, sent to visit by his mother down in Veracruz, who can't handle him anymore. That follows the opening episode in which Tomás (Sebastián Aguirre) and a pal are throwing water-balloon bombs off the roof for a lark, and one precipitates a palaver. Tomás is the film's central character: he's a very nicely realised, rather whimsical character, pensive about the new world being revealed to him, caught up in music, particularly that of a Mexican rock music classic who comes to figure prominently in their journey.
Tomás (pictured below) is also fair-skinned – that's the loose translation of the film's title – to a degree that makes almost everyone he encounters remark on it, and certainly lighter than his brother. That hints at racial issues, while we'll discover that one of the factors dividing the student movement is the differences of class among those whom it has attracted.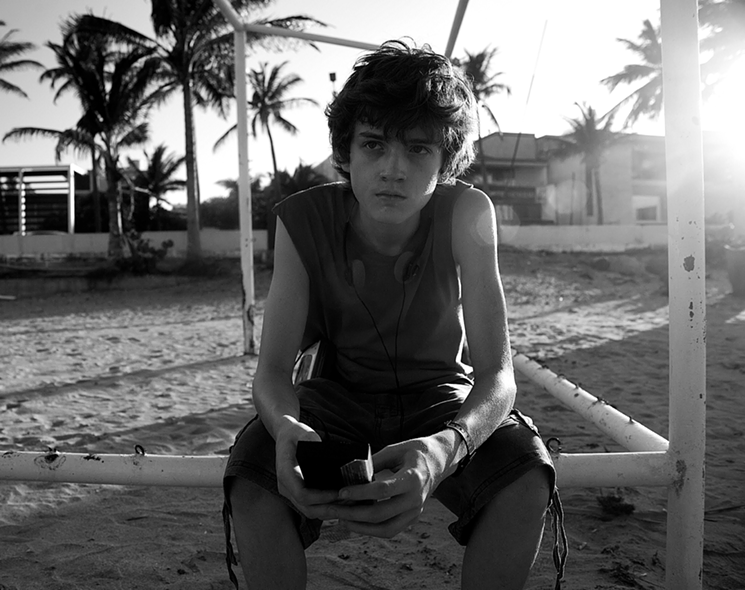 There's stress in the air. Ruizpalacios' opening scene (which has nothing at all to do with what follows) is frantic, as a woman hurries to get ready and take out her child. It gives a sense that this society is stretched, that for all the lethargy of the heroes, tension is bubbling underneath. And violence too, often unexplained, that's both experienced directly as when on their journey around town the trio take a wrong road into a rough barrio from which they're lucky to escape, and reported by outside characters. Sombra has his own demon – he calls it "the Tiger", a symbolic animal that won't leave his head, emblematic of his panic attacks: when they first leave the flat it's to take him to hospital, and Ruizpalacios beautifully images his disturbance through feathers that float (in his imagination) in the car.
But as an antidote to that darker side, there's also a sense of absolutely charming, playful indie comedy (not that distant in spirit from Spike Lee or Jarmusch – stick around through the closing credits to catch the very final track that's surely by Tom Waits, though it seems uncredited). Ruizpalacios' early shorts have won festival prizes, and he's clearly a director who enjoys playing with genre: there are meta moments too, including a drop-in scene to a film festival, where the word "precocious" comes up.
I don't think Ruizpalacios is that – there's too much hapless, innocent delight here, an improvisational feel too, though the script seems tight – but he's certainly proceeding on his own terms: Güeros is filmed in black and white, in the slightly old-fashioned box-like 1:1.33 ratio. Not a standard recipe for box office success, though with Gael García Bernal attached as a producer on the film, Ruizpalacios could very well take the future road towards Hollywood that's been followed by a number of young Mexican film-makers over the last couple of decades.
In Güeros, however, his eye is firmly on Europe, particularly the spirit of the French nouvelle vague. It's practicallyt a love affair to that style, caught in a number of ways – from quirks of camera work to the gamin heroine Ana (Ilse Salas, pictured below) who joins the three young men on their night-ride around town. She flits between the worlds of student revolution and high culture (and class), and there's clearly an element of romance with Sombra.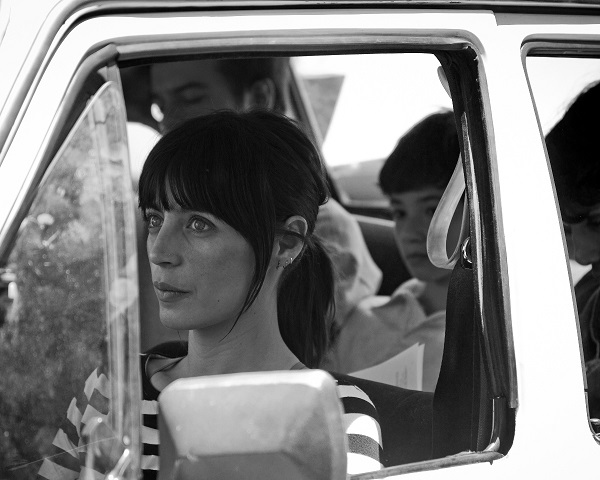 Damián García's cinematography flits nicely too, between the more static and traditional and some very jumpy handheld work when it's following the rushing protagonists. Ruizpalacios will add in a quirky visual touch at times just for the delight of it – Güeros is a young person's film in the best way – as well as throw in a blast of music or stretch an image for its sheer appeal. One of the loose motives for the charaacters' trip is to find an elderly classic of Mexican rock, whose music Tomás is obsessed by – like a talisman- inheritance from the brothers' late father – whom they do track down through an unlikely chain of coincidences. He was the singer, we hear almost as often as we're told that Tomás is fair-skinned, who made Dylan cry. (Ruizpalacios has spoken of the loose inspiration for that strand – a lovely story that also gives a sense of the director's cultural horizons – coming from a journey the young Bob Dylan took to see his hero Woody Guthrie when the latter was dying in a New York hospital.)
Like a road trip that sometimes takes the wrong turning – and everyone in the driving seat here seems to take a wrong road from time to time, but that doesn't stop the travellers from reaching the places that are important for them – Güeros just occasionally seems to stretch its 105 minutes. But Tomás and his friends are delightful companions on our journey through this somewhat stylised Mexico City location that's new for most of us.
Overleaf: watch the trailer for Güeros
These two existential slackers can barely leave their flat: they're 'striking against the strike'
rating
Share this article