Lee Miller, Imperial War Museum |

reviews, news & interviews
Lee Miller, Imperial War Museum
Lee Miller, Imperial War Museum
A fashion muse turned war photographer, and a surreal imagination turned to the horrors of the death camps
Irmgard Seefried, Opera singer, singing an aria from 'Madame Butterfly', Vienna Opera House, Vienna, Austria 1945
What a woman. Does the news that Kate Winslet is to play the polymath Lee Miller in a Hollywood biopic mean a kind of sanctified apotheosis of Miller's quite extraordinary life? The story is so dramatic it transcends any fiction. Her path was controversial, imaginative, accomplished, and in many ways profoundly sad, an emotional roller-coaster. But the legacy is astonishing, as more and more of her achievement as a photographer is revealed.
Lee Miller (1907-1977) is shown here with many previously unpublished photographs. Her commissions for Vogue, as both feature writer and a photographer of World War Two, are seen in her reportage of women at war, and its aftermath in the context of changing roles for women.
In America, Miller had had a troubled childhood, involving sexual abuse, indeed rape, when only seven by a family friend, followed by potentially suspect, never mind inappropriate, photographs of Lee nude by her father through her adolescence and even into her early 20s. She became a fashion model in New York; muse, model and assistant to Man Ray in Paris – with some dispute still on going on about how much she may have contributed to his innovative photography; and she herself was painted and photographed by the leading avant-garde practitioners of the day.
Miller led an extraordinary life in Paris with Man Ray, at the heart of the surrealists. She spent time in Egypt, complete with Egyptian husband, and then an affair and marriage to the artist, collector and biographer of Picasso, Roland Penrose, which did not preclude other attachments, both temporary and more substantial. Not to mention what might justly be called post-traumatic stress syndrome after her unprecedented achievements as an accredited American war photographer, one of only four women, including Margaret Bourke-White whose photograph had graced the first cover of Life magazine. Her sometime companion, the American photographer David E Scherman saw that all her hypochondria, putative allergies and fastidiousness was completely subsumed by her wartime artistic activities, when she indeed became one of the boys.
There are complex, nuanced images of the consequences of both defeat and victory
Although Miller only experienced the front line once – the American assault in St Malo – the horrific experiences of photographing in Dachau and Buchenwald after their liberation were profoundly traumatising. She was hardly alone; as she reported herself, battle-hardened soldiers were overcome at what they found.
After her death, her son, Antony Penrose, discovered a huge hidden archive of his mother's work: 60,000 photographs, 20,000 negatives, and much ephemera – letters, articles etc. Buried in more ways than one, she evidently had never spoken about it. He remembered his mother as a demanding alcoholic, and modern diagnoses would presumably have found Miller suffering from unresolved and untreated psychological damage. She was rescued to an extent by a love for cooking, particularly to surreal recipes, and the extraordinary hospitality of the family home at Farley Farm, Sussex.
She was, so to speak, on three sides of the camera. She was a model herself; then not only an assistant to Man Ray, but also his collaborator, becoming familiar with the ins and outs of darkrooms and equipment – together they are said to have developed various innovative techniques, including solarisation. These experiences fed into her acute visual intelligence. Nor as a war photographer did she work in isolation, although her vision was her own. And her great disadvantage, her lack of experience compared to such as Robert Capa, may have paradoxically contributed to the results seen here, characterised by her original, sympathetic but wholly unsentimental eye.
Miller documented the chaos of liberation in France, Belgium and Holland, as well as her penultimate horrific sequence of the aftermath of the camps, and then, with Scherman, the surreal coda – for which her sensibility was a natural – of the suicides of German officers and civilians, and her foray into Hitler's private apartments. An iconic photograph, taken by Scherman and often reproduced but still startling, is Miller bathing in Hitler's bathtub (pictured below), her filthy combat boots, coated with earth from Dachau demurely on the mat, and one of those bland mini-statuettes of a nude looking on, as well as a stylised photograph of Hitler himself on the bathtub shelf.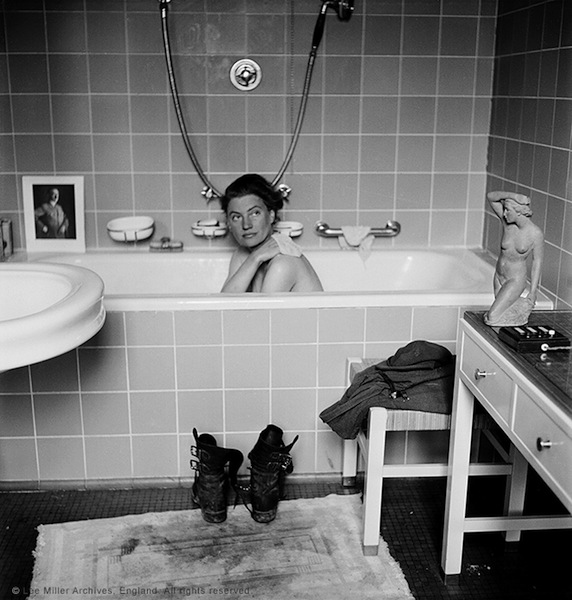 Vogue had been thought too frivolous by some MPs, to be allowed to continue publishing during wartime, but saner voices prevailed and Vogue was to work closely with the Ministry of Information. There is a charming instance of the irrepressible urge to stay well groomed in Miller's particularly stylish photograph of two young women in their fire masks at the entrance to a shelter in Downshire Hill. We witness Irmgard Seefriend singing in the ruins of the Vienna Opera House (main picture), although Miller thought the Viennese commitment to music was a kind of madness; two German women sitting in the desolate ruins of Cologne, surrounded by extraordinary devastation; an intent and immensely elegant young Polish woman in the cockpit of a Spitfire. There are complex, nuanced images of the consequences of both defeat and victory: a nun comforts a skeletal baby dying of malnutrition in a Viennese hospital, and Miller wrote, unbearably, "This tiny baby fought for his only possession, life, as if it might be worth something."
We are also treated to Picasso's evocation of Miller, from memory, as L'Arlésienne, 1937, the face a radiant yellow, undoubtedly a reference to her charm, energy and charisma; and her husband's bleak interpretation in paint of her postwar depression, all in greys.
Does the biography matter? The usual response is to say simply that the work is what matters, but in this case there is a fascinating symbiosis. Lee Miller was in control when she took to the camera as a photographer, transcending the normal role for women, and this control was important. But although her character was so often described as difficult, mercurial and volatile, and she was perforce both feminine in the conventional sense and tough, the thousands of images she produced are profoundly empathetic.
Two important publications of her photographs came out in the war, their titles indicating the social changes taking place: Grim Glory: Pictures of Britain Under Fire and Wrens in Camera. Her sequence of images of Women in Uniform, from searchlight operators to Margaret Bourke-White crouching under a US bomber at a RAF base, is a remarkable and memorable testament to the ways in which women were deployed.
Miller received a once-in-a-lifetime opportunity. She seized it, and in the process produced a highly individual oeuvre of the highest quality, communicating scenes which moved from wartime fashion for Vogue to scenes of the Home Front in all its diversity, and the devastation, distress and at times poignant and terrifying beauty of the zones of war, and the aftermath of the complex peace.
Miller documented the chaos of liberation, as well as her penultimate horrific sequence of the aftermath of the camps
Explore topics
Share this article