Queen & Country |

reviews, news & interviews
Queen & Country
Queen & Country
ls this belated sequel to 'Hope and Glory' John Boorman's last stand?
Bill Rohan (Callum Turner) greets his long-lost sister Dawn (Vanessa Kirby)
In Hope and Glory, John Boorman revisited the Blitz-battered London of his childhood, and managed to find infectious humour and optimism among the wreckage. Now, 28 years later, he travels back to the early Fifties for this belated sequel, depicting a Britain still exhausted from the European war while the conflict in Korea hinted at a different and scary new world.
Not that Boorman brings us to any gore-sodden battlefields or strategic command bunkers. His focus is strictly personal and intimate, as he takes his protagonist Bill Rohan (Callum Turner) – nine years old in the first film, and now 18 – from an idyllic life at his family's island home on the Thames to conscription into the Army. Though the danger of being sent to Korea looms in the background, it's just something that happens to other people. Bill's life in the military turns out to be a kind of bittersweet sitcom peopled with some popular archetypes of the era – the skiver, the troublemaker, the effete upper-class officer (Richard E Grant, custom-bred for the job), the draconian Sergeant Major obsessed with microscopic breaches of Army regulations. The latter, played with disturbing intensity by David Thewlis, is the film's standout performance. Meanwhile Bill, instead of being shelled by the Chinese, finds himself teaching typing, in somewhat anarchic fashion, to new recruits, alongside his new buddy Percy (played in entirely the wrong key, with wildly ill-fitting accent, by Texan actor Caleb Landry Jones). The developing Cold War is just an occasional ghostly flicker in the peripheral vision. (Pictured below, Thewlis flanked by Jones and Turner)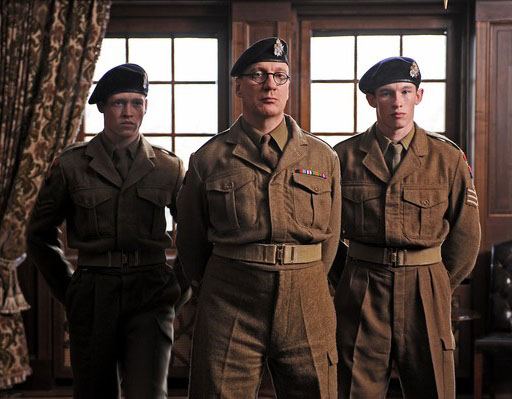 It's all diverting enough, and the military's exasperating mixture of boredom, futility and bureaucracy is deftly caught, but there's a pervading sense of why this, and why now? Too many years have elapsed for this to feel closely linked to Hope and Glory (unless you happen to be an eager student of the Boorman oeuvre), and while Boorman says most of the events portrayed really happened to him, very similar ones happened to a lot of other people too. It feels like being dropped into series five of a long-running TV drama, where the characters keep doing pretty much what they've always done but you haven't been part of the journey.
None too inspiring, either, are the depictions of the love lives of Bill and Percy. Their late-night romps with a couple of willing nurses aspire merely to Barbara Windsor-esque tittersomeness, while the neurotic posh girl Ophelia (Tamsin Egerton, pictured below) with whom Bill becomes infatuated isn't so much fascinatingly damaged as just extremely tiring. Still, Ophelia does assist the underlying theme of Bill's burgeoning love for cinema with her bracing critique of Kurosawa's Rashomon.
Queen & Country perks up a bit when Boorman takes us outside the camp's Carry On Sergeant environment and fills in some detail about the Rohan family's lives. There are wistful ruminations on the wartime fling conducted by Bill's mother Grace (Sinead Cusack, replacing Sarah Miles from the earlier film), with Grace now only glimpsing her former lover as he passes by on the other bank of the river, while Vanessa Kirby's performance as Bill's sexy sister Dawn, back in England after leaving behind a failing marriage to a Canadian serviceman, delivers a sizzling jolt of New World energy to light up the drab monochrome of Fifties Blighty. Boorman has tried to build some youthful anti-establishment idealism into the character of Bill, but the scene of the family gathering round a temperamental TV set to watch Elizabeth II's coronation rubber-stamps the essential conservatism of the piece.
This may or may not be Boorman's final film. If it is, it seems a strangely low-voltage way to sign off on an epic career.