Point Blank |

reviews, news & interviews
Point Blank
Point Blank
Further proof that director Fred Cavayé has this thriller malarkey nailed down
Nadia and Samuel (Elena Anaya and Gilles Lellouche) are about to embark on a wild ride through the Parisian underworld
You could reduce the theme of Fred Cavayé's Point Blank to "man races to save kidnapped wife", but that wouldn't give you the full flavour of the movie's remorseless pace or devilishly wrought internal mechanism, or the quality of its performances.
Thanks to a seasoned cast who are adept at conveying the essence of a character with minimal dialogue,
Point Blank
(or
À bout portant
in French) lifts itself above cliché - well, most of the time - and enhances its essential thrillerishness with glimpses of emotional light and shade.
Not that its individual components are especially revolutionary. Gilles Lellouche plays Samuel Pierret, who's training to become a registered nurse in a Paris hospital. His glamorous wife Nadia (Elena Anaya) is expecting their first child and is urged to lie back and take it easy in preparation for the new arrival. But little do the couple know that the arrival in Samuel's hospital of an accident victim, Hugo Sartet (Roschdy Zem), is about to bring a tornado of conspiracy, murder and corruption thundering through their happy home.
We've already seen the injured man fleeing from a couple of sinister gunmen, from whom he was rescued by having the great good fortune to be knocked down by a speeding motor scooter, and his life is still in danger. Samuel spots a shadowy figure lurking by his hospital bedside, finds that Sartet's oxygen tube has been cut, and manages to save his life in the nick of time. When he gets home, he's regaling the missus with the tale of his heroic rescue when somebody whacks him over the head and the lights go out.
Thereafter, the stopwatch is running and events move with chaotic, disorientating speed. The bad guys have taken Nadia, and they'll kill her if Samuel doesn't extricate Sartet from the hospital under the noses of his police guards. Snag is, it turns out that there's more than one set of villains, and as Samuel flees in panic through the Paris métro, it begins to look as if he may be forced to rely on Sartet to save them both.
The flick is no relation to John Boorman's 1967 Point Blank, but Cavayé-watchers may detect some similarities to the director's previous effort, Pour Elle (which was remade as the Russell Crowe vehicle The Next Three Days), in which a hapless schoolteacher finds himself on the wrong side of the law as he tries to extract his wrongly convicted wife from jail. Both movies were also co-written by Guillaume Lemans. But there's no time to worry about any of that as the action whirls you along with it like a monstrous tumble dryer, plunging down tunnels and leaping out of windows. The viewer doesn't know much more about what's happening than the hapless Samuel does, so you feel caught up in his panic and confusion as he tries to piece together flying fragments of information and save his pregnant wife. Cavayé mostly avoids large-scale set pieces in favour of a remorselesslly stampeding narrative, but the climactic scene where multi-dimensional chaos erupts inside a police station is worth waiting for.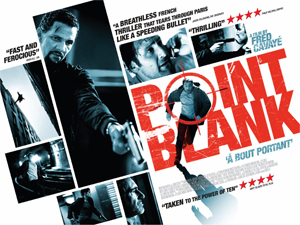 Lellouche is smartly cast as Samuel, effectively evoking the bemused ordinary guy's mix of terror, incomprehension and desperation, but Zem is majestic as Sartet. He radiates menace and a kind of inner control merely by standing dead still and aiming a sardonic, penetrating gaze into the camera. He's almost matched by Gérard Lanvin as the inscrutable police commandant Werner, who leverages maximum threat from a fairly meagre quantity of screen time, while Cavayé's Paris often evokes the gnarly dankness of French TV cop show Spiral. Hollywood will probably want to remake this movie too, but they need to know when they're beaten.
Watch the trailer for Point Blank