Little White Lies |

reviews, news & interviews
Little White Lies
Little White Lies
In Guillaume Canet's comedy a starry ensemble come together and fall apart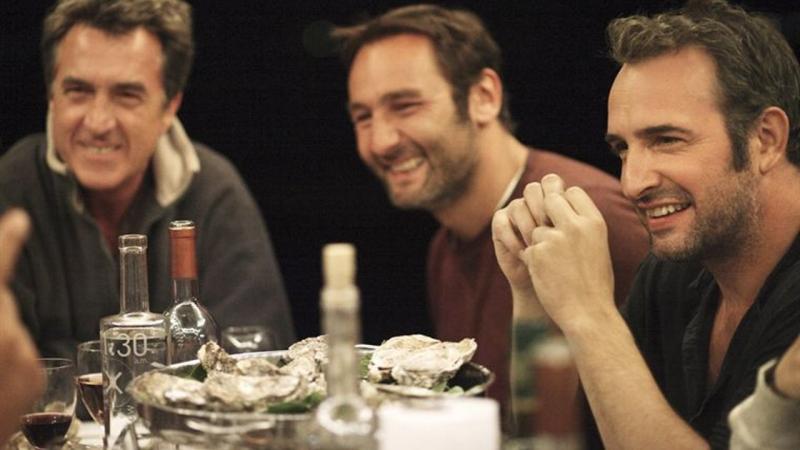 The secrets and lies, delusions and foibles of a group of thirty-, forty- and fiftysomething friends are laid bare in French director Guillaume Canet's third feature, following his breakthrough international hit Tell No One (2006). This alternately genial and scathing comic drama explores the dynamics of friendship and the fragility of romantic relations.
It's a story fuelled by the friction and frissons between companions, who come together in the aftermath of a tragic accident, and take off on a misguided getaway which becomes a fortnight of reverie and recriminations.
Little White Lies is a terrifically entertaining - if rather indulgent and sentimental - ensemble drama in the mould of Peter's Friends (1992) and The Big Chill (1983). Its sporadic use of broad humour, a prominent and emotive English-language soundtrack and the high-profile French cast (including Academy Award-winner and Inception star Marion Cotillard) give it considerable mainstream appeal. While it hardly offers original or penetrating insights and its moralising can intermittently jar, it is very funny, occasionally moving and, best of all, contains wonderful, complementary performances; there's a real energy, affection and believable interplay between the assembled talent.
Its story begins in Paris with a violent jolt, when the hedonistic Ludo (Jean Dujardin) is seriously injured on his way home from a characteristically wild night out. This distressing event brings his friends together just ahead of their annual retreat to Cap Ferret. Despite his grave condition they, somewhat insensitively, decide to proceed with the getaway as planned. The holiday villa is owned by one of the group, highly-strung businessman Max (François Cluzet), who is somewhat older than the rest of the party, and his nurturing, more level-headed wife Véro (Valérie Bonneton). The house turns out to be infested by weasels, which amusingly drive Max to distraction.
A further complication for Max is that shortly before the break one of the gang - Vincent (Benoît Magimel) - has confessed feelings for him, though Vincent is also married, to the sexually frustrated Isabelle (Pascale Arbillot). The clique is completed by the romantically challenged Antoine (Laurent Lafitte), who is comically hung-up on his ex, and Marie and Éric (Marion Cotillard and Gilles Lellouche), long-term friends who are comparably promiscuous but have never been romantically attached.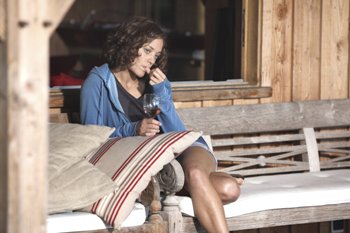 Little White Lies was a hugely personal project for popular French actor and the film's writer/director Canet, which came about after an emotional crisis and subsequent period of soul-searching. He has confessed that there's a little bit of him in each character. It features many actors whom Canet has directed and acted alongside previously: Cluzet, Lellouche, Laurent Lafitte, Joël Dupuch and Anne Marivin. Cotillard (pictured left) is his partner and a former co-star, and Canet and Dujardin had attended kindergarten and primary school together. Such associations enhance the credibility and warmth of the ensemble's interactions. Furthermore, a couple of months ahead of the shoot Canet assembled his cast to spend five days in the house in Cap Ferret where the movie would be predominantly shot, which allowed them to hone their dynamic and familiarise themselves with the space.
Although it comes in at a rather unwieldy running time of nearly two and a half hours, it's still worthy of your time and money. Canet directs a little unevenly, with both a light touch and a heavy hand, whilst the gay subplot is crassly handled (albeit vaguely redeemed by sterling work from Magimel). However, for the most part it's absorbing, emotionally engaging and highly amusing; it should have a broad appeal - perhaps converting a few committed mainstreamers to cinéma francais. As imperfect as its characters, Little White Lies remains thoroughly likeable escapism with heart and soul, gorgeous sun-drenched locations and tremendous, compassionate performances from its effervescent, attractive cast.
Watch the trailer for Little White Lies
As imperfect as its characters, Little White Lies remains thoroughly likeable escapism with heart and soul
Explore topics
Share this article