DVD: The Artist |

reviews, news & interviews
DVD: The Artist
DVD: The Artist
Michel Hazanavicius' awards-scooper loses none of its wry magic on the small screen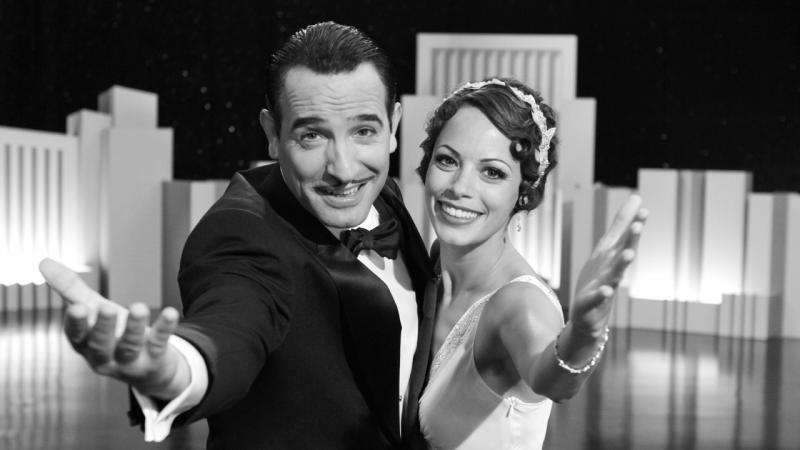 Former star George Valentin (Jean Dujardin) and rising star Peppy Miller (Bérénice Bejo) strike a pose
What, honestly, is left to say about The Artist? For better or worse, Michel Hazanavicius' warm, wry, subtly audacious love letter to silent cinema dominated conversation, headlines and awards ballots for a good three months, during which time everything from rapturous praise to derisory jibes were tossed at its unsuspecting, perfectly coiffed head.
But the important point is this: to dismiss the film, as many did once the inevitable backlash began, as "a simple story, well told", or worse as "a simplistic and predictable story, competently told", is to ignore the wealth of wit, specificity and cinematic ambition in Hazanavicius' direction. There are scenes here with the potential to become genuinely iconic.
Take, for instance, appropriately named ingénue and soon-to-be rising star Peppy Miller (Bérénice Bejo) sneaking into the dressing room of debonair silent star and soon-to-be has-been George Valentin (Jean Dujardin) and sharing an embrace with his hanging coat. It's a peculiarly moving and entirely unique moment, the kind that sends shivers down your spine on the first viewing and the 50th. Valentin's nightmare, in which the world around him becomes loud while he can't make a sound, holds a similarly vivid and surreal magic. At the risk of sounding like a tagline, this is the language of cinema that goes beyond silent or talkie.
Much as this is Hazanavicius' show, the nuance of Dujardin and Bejo's lead turns shouldn't be overlooked. Both bring depth and humanity to parts that could easily be one-note – Dujardin is appropriately charming and cocksure in the early scenes where Valentin's on top, and imbues his gradual, bitter descent into obsolescence with such pathos that he never becomes too flawed to love. Bejo's Peppy has even more potential to grate, as the bright young thing with the charmed life and seemingly boundless talent, but there's a beguilingly gawky, off-kilter edge to her presence, the sense that for all her beauty and effortless charm she is no less strange than Valentin.
Forget the hype, forget the backlash. This is the very purest of pleasures, and loses none of its sweeping power on the small screen – a bold, quick-witted and unashamedly joyous experience that's all the more joyous for the moments of darkness it encompasses.
To dismiss The Artist is to ignore wit, specificity and cinematic ambition in Hazanavicius' direction
rating
Explore topics
Share this article