We Made It: Digital Knitters Knyttan |

reviews, news & interviews
We Made It: Digital Knitters Knyttan
We Made It: Digital Knitters Knyttan
Digital technology and craft principles creating one-off designs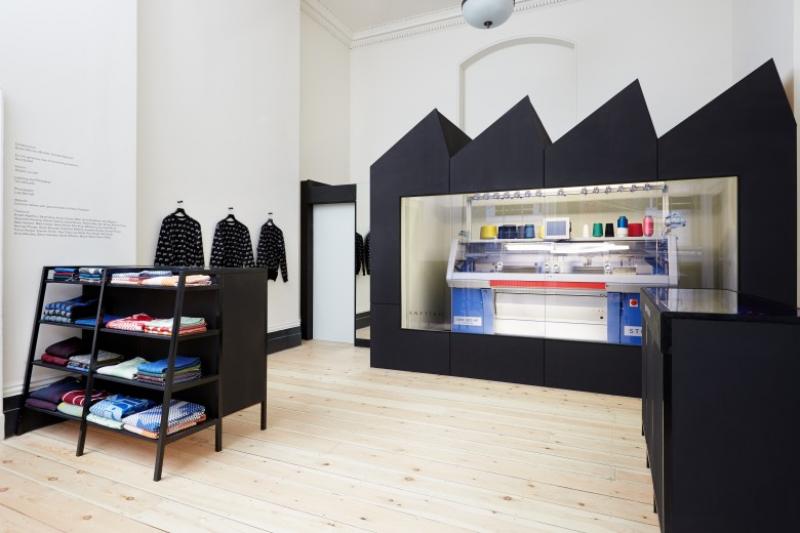 Knyttan's "Factory" in their Somerset House pop-up
Hand knitting has had a bit of a moment recently. Making your very own jumper was suddenly fashionable, but the knitter still had to follow, stitch by stitch, a pattern invented by someone else. And then, in 2013, along came Knyttan. Here was something quite different: the individual now contributed to the design rather than the making and the resulting garment had a professional finish.
Knyttan was started by three Royal College of Art graduates, all still in their twenties, Ben Alun-Jones, Hal Watts and Kirsty Emery. Their original idea had been to develop products by the most up-to-date means but which recaptured the unique, personal qualities of pre-Industrial Revolution craft. Their first design company called Searu (Old English for "device" or "work of skill") was sufficiently successful to provide set-up funding for Knyttan, another Anglo-Saxon word with a more obvious meaning.
Searu had some prestigious clients - Google and will.i.am among them - but it was as a result of researching performance clothing for UK Sport before the Olympics in 2012 that they encountered modern industrial knitting machines. Alun-Jones says that that was "a light-bulb moment". Here was something which could be adapted to work a bit like a 3D printer for wool, coded to produce different outcomes every time. That ideal of combining the personal with slick production – Alun Jones quotes Stan Davis's definition, in his book Future Perfect, of "mass customization" – became a possibility. In 2013 Searu ceased to exist and Knyttan was incorporated as a company.
Now Knyttan's creative director, Ben Alun-Jones began by studying electrical engineering at Imperial College, London, sponsored through his course by - rather surprisingly - the Ministry of Defence. Later he found researching for them in video surveillance, algorithms etc "conceptually interesting" but not entirely fulfilling. After encountering United Visual Artists, pioneers in using technology in London, "I realised I could use the same things for a different output".
Hal Watts was also at Imperial, studying mechanical engineering, but the two didn't know each other until they met as graduates on a design course at the RCA. Kirsty Emery was Hal Watts's flatmate and was finishing a women's wear course at the college. Already friends, the three got together professionally after the two men had design consultancy experience under their belts and Emery had been working for Parisian fashion houses. A newly invented code, a special language to programme the machine so that designs could be adapted at a finger's touch, brought their unique blend of technological savvy and creativity to fruition.
Until last month Knyttan could be found running a six-month pop-up retail outlet at Somerset House, where they still have their studio-cum-office. For the first time, customers could choose in person from a series of basic designs (or "style guides") for jumpers, scarves and blanket scarves and alter them as playfully as they liked by touching a tablet screen. Examples of finished work in every size, so that customer-designers could try them for fit, were displayed along with a wide range of high quality coloured Merino wools.
Style and colour decisions made, the orders were placed and the "factory", the machine in the corner of the room, would produce a jumper in 90 minutes plus 45 minutes assembly time. Each garment was fitted with a unique label marked with the name of the purchaser and a number to indicate its place in the line of Knyttan productions from the very first thing they made. Each design is recorded so an owner can refer to the company in future if they want an exact copy. Until another retail outlet is established in a few months' time the process continues via Knyttan's website.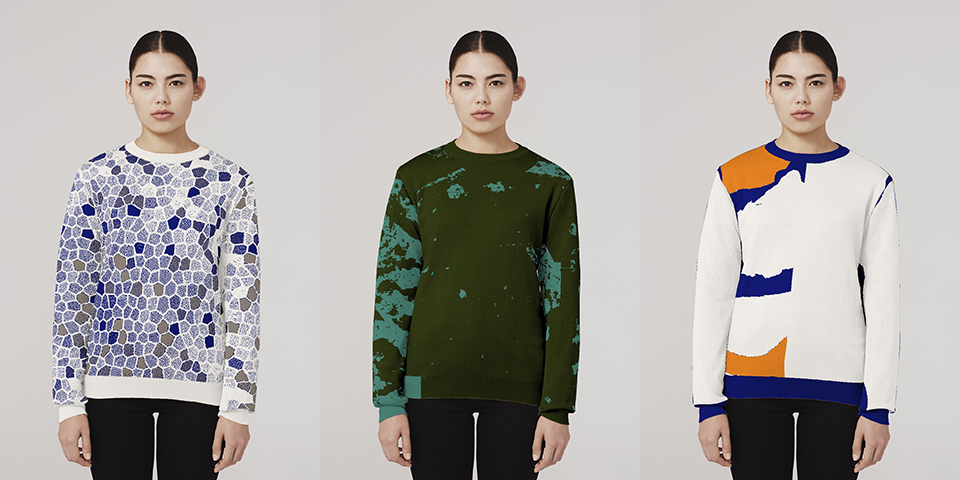 A jumper costs £200, but Alun-Jones emphasises the outstanding quality of the yarn, the uniqueness of each garment and the fact that everyone who works for them receives proper UK wages "which isn't true of everyone in this business". Meanwhile, the company is growing fast – the original three founders have been joined by four others – and they are raising their "first ever proper investment". They expect to double in size by the end of the year. Innovation being part of their raison d'être, they are always ready to try new things. Recently, they have been experimenting with the Sprout, more interactive technology.
But what do professional designers think about customers invading their territory? Alun-Jones admits that a few "have issues" but most "find it really exciting. Knitwear is the most complicated garment type and you usually need a minimum of 120 units to make a design pay". This system is seen to be liberating.
Knyttan is a pioneering company with a distinctive philosophical outlook. They will not deliver beyond Europe because they believe in local production. Alun-Jones points out that about 10 % of the fashion industry's output is not used or sold, while Knyttan generates no waste at all. Beyond that, their ambition is nothing less than to try "to change the way retail works, using technology to create something but not seeing technology as the main thing".
That ideal of combining the personal with slick production – Stan Davis's "mass customization" – became a possibility
Explore topics
Share this article