Wellington: Triumphs, Politics and Passions, National Portrait Gallery |

reviews, news & interviews
Wellington: Triumphs, Politics and Passions, National Portrait Gallery
Wellington: Triumphs, Politics and Passions, National Portrait Gallery
A masterly portrait of the Iron Duke that draws out a contradictory personality
Francisco de Goya, Arthur Wellesley, 1st Duke of Wellington, 1812-14
One masterpiece and two superb portraits both dominate and sum up in vivid fashion the complex personality, long life and astonishing trajectory of the first Duke of Wellington
There were something like 200 portraits done in his lifetime. The haunting Goya portrait of 1812-1814 (main picture), altered several times to allow for more decorations on his uniform, was painted in Madrid when the British occupied the Spanish capital at the end of the horrible five-year slog of the Peninsula War. As the general once said, "Nothing except a battle lost can be half so melancholy as a battle won" – and he had by this time plenty of experience of both.
Goya portrayed Wellington three times, in fact, and presumably knew him well. With his experience of over-decorated royals, he knew just how to capture Wellington's medals, but compared to the sitter's face, haunted and marked by experience, the decorations are negligible. Wellington is in his mid-40s, and his gaze is an irresistibly compelling amalgam of confidence and directness, and a kind of poignant vulnerability. It is a marvel.
There are also outstanding images by Sir Thomas Lawrence, still perhaps one of Britain's most seriously underrated artists. One, from 1821, shows Wellington in civilian clothes – though wearing the Order of the Golden Fleece. He is dignified, inscrutable, perhaps also immovable. Another is an unfinished study, painted when the Duke was 60, the bony prominent nose clearly delineated, the face even more pared down. The first was commissioned by very close friends, the Arbuthnots, the latter by the political hostess Lady Jersey. Everyone wanted him with them in one way or another. (Pictured below: Thomas Lawrence, Arthur Wellesley, Ist Duke of Wellington, 1817-18; Apsley House, London)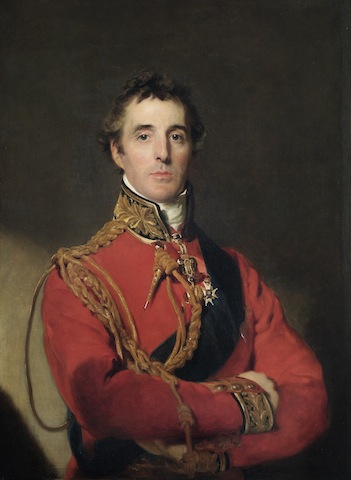 Some of the women in his life are also shown, including his wife Kitty Pakenham. Their marriage was subject to public and private stresses and strains, and his numerous liaisons – with actresses, singers, society women – were public fodder. His friendships with women were also substantial, even legendary. Here is the intelligent Harriet Arbuthnot, the richest non-royal in England, in a 1817 portrait, also by Lawrence, her charm almost palpable; here too is Angela Burdett-Coutts, who proposed marriage to the Duke when she was in her 30s, and he in his 70s. He declined.
It is the 200th-anniversary year of the allied victory at Waterloo, much of the site now just a bumpy, slightly hilly meadow near Brussels, curiously nondescript for such a horribly bloody war that changed the course of events so irrevocably. And yet, as Wellington described it, it was "the nearest run thing you ever saw in your life". Thirty-thousand men or more, it is thought, were lost on the Allied side. And so the NPG has initiated the national commemoration obliquely, with one of its characteristically finely tuned concatenations of material objects to provide a visual biography of, in the poet laureate Tennyson's emotive phrase, "the last great Englishman".
He was a soldier more than attuned to the horror of war, hardened by campaigns in India and the long Peninsula War. As a young man his family did not quite know what to do with him. He was highly intelligent yet no academic. It was his time, when still a teenager, at the St Cyr military academy in France – ironically in view of the 25 years of Napoleonic wars to come – that was the making of him.
His was a contradictory personality, well brought out in this dazzling gem of a show. He was Anglo-Irish, and against all the odds saw through Catholic Emancipation, yet his veneration and approval for hierarchy, tradition, and monarchy made him implacably opposed to reform, let alone the great Reform Bill of 1832. He has been the only general to be Prime Minister, and he never managed to utilise the power of debate and discussion as opposed to clear-cut orders. He was the Iron Duke not because of Waterloo, but because of the iron shutters put up at Apsley House – also known as No 1, London – to protect his London home against the mob. Famed for his charismatic, powerful presence, the veneration accorded the Duke was overwhelming – as was the controversy over his high Tory political views. Even when retired he received so many requests for help and advice that he was an early pioneer of pre-printed responses in return, and we are shown one of these too.
Wellington's funeral in 1852 was the greatest ever accorded a non royal, here marked by a selection of the 67ft panorama created by Samuel Henry Gordon Alken and George Augustus Sala in 1853 (pictured above) – it takes eight minutes for the accompanying video to show it all. The whole will be unveiled in its entirely at the NPG on 18 June, which is the actual anniversary day of Waterloo. A million and half lined the streets for the funeral procession as it wound its way to St Pauls (where Alfred Gilbert's huge memorial may be seen).
The variety of visual material, from caricature – the Duke in a Wellington boot as the head of the army – to Waterloo souvenirs and a daguerreotype, of the Duke himself when 75 – makes the display particularly intriguing. From Wellington, New Zealand, to Waterloo Station, the Duke and the war created a worldwide phenomenon. This captivating show imparts a mass of factual information in a wholly absorbing show-and-tell that the NPG has made its own.
His gaze is an irresistibly compelling amalgam of confidence and directness, and a kind of poignant vulnerability. It is a marvel
Share this article