UKIP: The First 100 Days, Channel 4 |

reviews, news & interviews
UKIP: The First 100 Days, Channel 4
UKIP: The First 100 Days, Channel 4
A restrained but chillingly plausible cautionary tale
Tuesday, 17 February 2015
Priyanga Burford plays Deepa Kaur, UKIP's only female Asian MP
As worst-case scenarios go, the prospect of a UKIP government in a little under three months' time is a frightening but unlikely one – isn't it? That they have only two MPs, and leader Nigel Farage is yet to find a seat, has done nothing to stop UKIP setting the political agenda, bulldozing its way to centre stage to demand a place in the forthcoming televised election debates.
And while the pantomime buffoonery of Farage and Godfrey Bloom has provided endless scope for ridicule, the very existence of Channel 4's fictional documentary, set in an imagined but uncomfortably near future, suggests that maybe it's time to stop laughing.
Predicated on UKIP having won a slim majority by taking seats from all the other parties, the key to the chilling plausibility of this intense drama was its reliance on genuine footage. Michael Sheen had been the bookies' favourite to play Nigel Farage, but with the UKIP leader's own rabble-rousing invective already on record, who needs actors and scripts? Why bother with fiction when Neil Hamilton – imagined here, God help us, as Deputy Prime Minister – has shrilly warned: "We are under siege in this country, millions and millions of people from the third world want to come here."
That the worst of it has, perhaps, already been said should be a wake-up call not least because it suggests that intellectually, if not practically, all we have to do to land up with Mr Farage (pictured below left) running the show is just to carry on as we are. The shocking truth is that for racist policies to gain traction, we don't all need to start hating immigrants. Instead, just enough of us need to accept UKIP's so-called common sense approach and to take the well-worn view, like one caller on the LBC-like "LDW" radio phone-in: "I'm not racist, I'm just saying there's too many of them everywhere."
As any good communications advisor knows, there can be no better way to finesse a racist agenda than to have "one of them" as its ambassador. Deepa Kaur (Priyanga Burford), the newly elected representative for Romford East and UKIP's only female Asian MP, seemed a decent enough woman, convinced that by addressing illegal immigration she could heal the rifts in her own "deeply divided community" (main picture).
But as the government's crackdown on illegal immigration got underway, with homes and workplaces subjected to terrifying night-time raids by squads of ex-soldiers, and people being stopped and searched on the streets, it became clear that Deepa was being used to sanitise a campaign of victimisation and harassment.
Further ratcheting up the tensions not only in Deepa's community but also within her own family was the announcement of Brexit, the UK's departure from the EU. Almost immediately, Airbus withdrew from the UK and Harpwood Technologies, a firm making parts exclusively for Airbus and Romford's biggest employer, announced its closure, resulting in over 1500 job losses, including that of Deepa's brother, Das.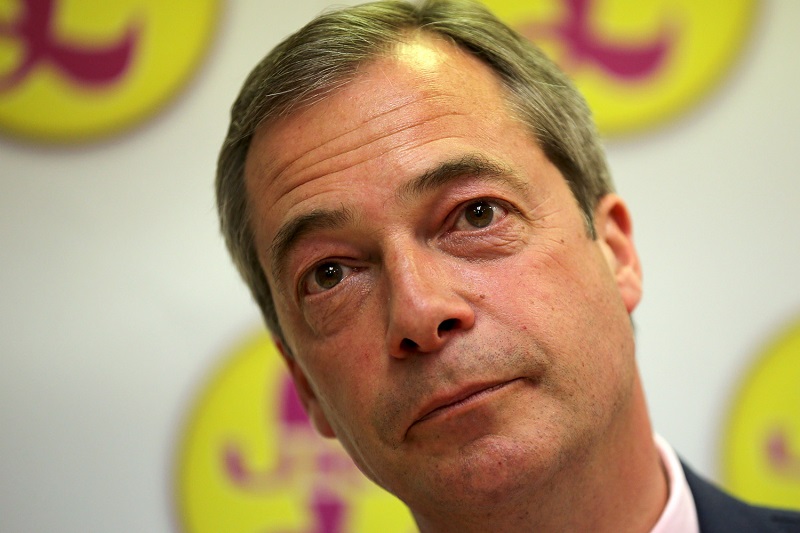 As Deepa became the focus of anger about both the job losses and the immigration raids, Farage himself became an increasingly distant figure. News flashes reported the latest policy announcements from the Prime Minister, but Parliament was conspicuous by its absence. As no footage exists of Farage in the Commons, this was of course born out of necessity as much as it might have been a writing decision, but the effect was horrifying. Not only had we saddled ourselves with a UKIP government, but the only meaningful opposition was coming not from Parliament but from the public, campaigning via social media and engaged in increasingly volatile street protests.
At the beginning, we heard Cameron and Clegg's reaction to the UKIP victory, comments that were recorded, if memory serves, after last year's European elections. Cameron called the result "disappointing", while Clegg said it was "gutting". That we had heard these vacuous reactions before, and will almost certainly hear them again, only served to underline the bland impotence of what Deepa called "these clapped-out politicians", whose tiresome platitudes have provided Farage and his willingness to "say it how it is" with all the fuel it needs.
As Deepa's conscience eventually got the better of her, we were left with something that looked a little bit like a happy ending. But with UKIP still in power, and now without the moderating influence of a well-meaning if naïve MP, it might well have been anything but.
The only meaningful opposition was coming not from Parliament but from the public
rating
Share this article