Annie |

reviews, news & interviews
Annie
Annie
Quvenzhané Wallis shines in largely superfluous musical remake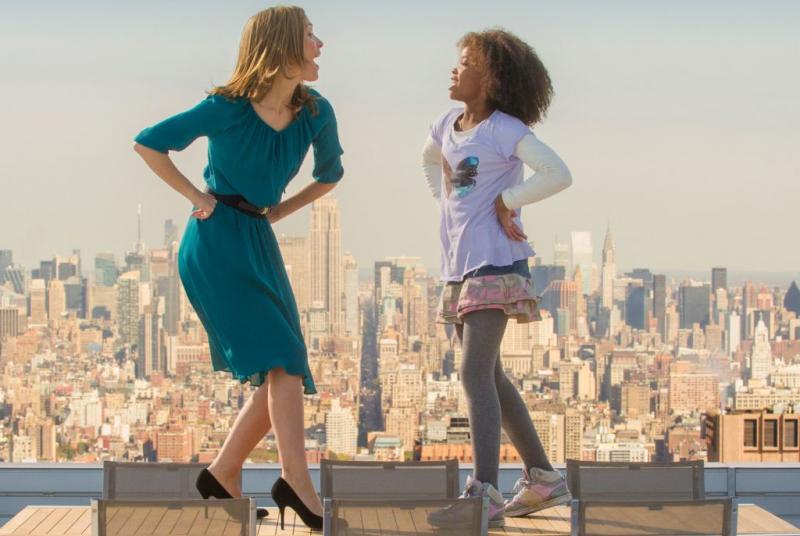 New York state of mind: Rose Byrne and Quvenzhané Wallis in `Annie'
A lot of harsh words have been and will continue to be written about the new movie musical remake of Annie, the Broadway mainstay about the Depression-era tyke who exists to teach her elders a few life lessons on the way to a sun-drenched "Tomorrow" (to co-opt the title of the show's best-known song). But from where I'm sitting, a disproportionate share of the film's self-evident faults are swept away by its impossibly irresistible young star, Quvenzhané Wallis.
As long as Wallis is onscreen, it's damn hard not to smile in return and save one's gripes for later.
Now all of 11 years old, Wallis takes to the rooftops of New York with scarcely less flair than she did to the New Orleans backwater she trawled in her 2013 Oscar-nominated turn as the six-year-old Hushpuppy in Beasts of the Southern Wild (she remains the youngest Best Actress Academy Award contender ever). Confident without seeming overly cocksure, endearing without swamping the audience in unearned sentiment, Wallis more than confirms the promise she so blazingly projected in Beasts, here playing a New York foster child who gets a giddy taste of Manhattan's high life when she ends up in the care of telecommunications magnate Will Stacks (Jamie Foxx), who happens to be running for mayor.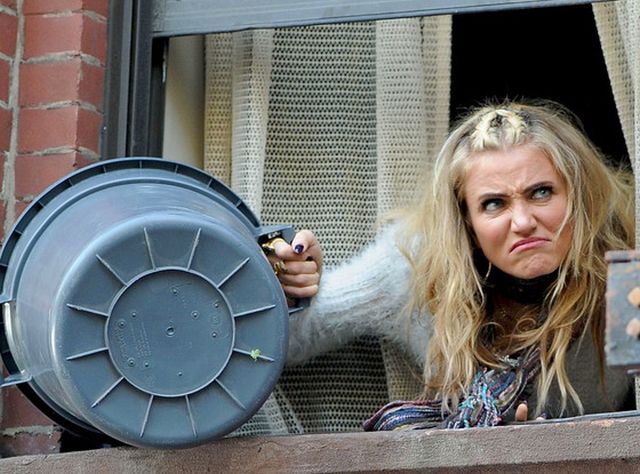 What in heaven's name does this have to do with the American comic strip of legend that spawned the long-running Broadway and London stage musical about the curly-haired moppet who falls under the life-changing paternal patronage of Daddy Warbucks? Surprisingly little, given that Aline Brosh McKenna's screenplay doesn't so much transplant the material to the here and now as much as overhaul it pretty well altogether.
Most galling, for musical theatre buffs at least, will be the large-scale bowdlerisation that has been carried out on the popular Charles Strouse score whose lyricist, Thomas Meehan, gets a wry namecheck on the chalkboard of the classroom where the current film begins. A few of the best-known numbers remain largely intact (though "It's the Hard Knock Life" has been given the Stomp treatment, for much the same reason presumably that the current West End revival of Cats goes big on rap), but the majority of the songs have either disappeared or are rendered barely distinguishable in performance. You don't have to have seen the late, great Dorothy Loudon - the originator of the Trunchbull-like Miss Hannigan - snarl her way to a Tony Award with the knockout solo "Little Girls" all those years ago on Broadway to glean that the same role's present occupant, Cameron Diaz (pictured above), can't cut it.
In fact, this synth-heavy, anaesthetised account of the score – virtually all the singing voices seem to have been put through a computer program designed to drain them of any distinctive character – comes with new songs from the team of Sia, Greg Kurstin, and the film's director Will Gluck that sound like instant Muzak (though one of the new ones, "Opportunity", is a Golden Globe nominee). There's yet another reason to commend Wallis (pictured below) for rising above the processed feel of the whole to assert her individuality.
Playing someone who "only knows the word yes", Wallis seems miraculously to have escaped the precocity trap too often attendant upon pre-teen stars. Her smile, too, functions as an unforced emblem of hope in accordance with this multi-racial reworking of a prototypically all-white fable that finds Foxx playing the screenplay's black equivalent of recent New York mayor, Michael Bloomberg: another moneyman-turned-politico though never as photo op-minded as the Stacks figure here. There's something heartening about the message sure to be imprinted on young minds by the burgeoning romance between Foxx's tycoon and his trusty VP (a winning Rose Byrne), next to both of whom Diaz's unrepentant termagant is a crushing and over-the-top bore. (We won't dwell on the continual decline of Diaz's film career, a rather startling phenomenon that is a whole separate story.)
There's a weird meta-moment where Diaz's nymphomaniacal careerist (this Hannigan is a singer on the skids) talks about "people loving musicals for no good reason", which may be intended to justify the inherent oddity in movie terms when people start to sing and dance onscreen. In which case, it's probably best not to over-analyse what essentially is a superfluous third celluloid account of a single stage source. Whereas Aileen Quinn – who starred as Annie in the (pretty poor) John Huston film version in 1982 – has all but faded into oblivion, on this evidence Wallis's star looks poised to continue its remarkable ascent.
Overleaf: watch the trailer for Annie