Matilda the Musical, RSC/Stratford-upon-Avon |

Theatre reviews, news & interviews
Matilda the Musical, RSC/Stratford-upon-Avon
Just in time for Christmas, a new musical for all seasons - and audiences
Hello, Dahl-y: Kerry Ingram is one of several alternates in the title role of Matilda
A lot of ink gets spilled about the quest for the next great new British musical, which results in pedestrian endeavours - you know who you are - being elevated beyond all common sense. And now, along comes Matilda, a holiday entertainment about a surpassingly smart young girl who is capable of magic, and guess what? The show itself is as smart and magical as its pint-sized, eponymous heroine, and something more than that, as well. Indeed, watching as playgoers left last night's Royal Shakespeare Company premiere on a bitingly cold Warwickshire night, I was struck by the sight of many a child grinning as openly as their adult companions were wiping away tears.
That's one way of describing the affect of a Roald Dahl-inspired musical reaching not just the proverbial child within all of us but containing emotional resonances and reverberations that children - bless them - will have to wait several decades to fully understand. There are other works, of course, that possess this sort of dual appeal, from Alice in Wonderland and Grimm Fairy Tales through to A Midsummer Night's Dream and, for some I suppose, the Harry Potter franchise. But I'm not sure I have ever seen a stage production so squarely pitched at the family market - the programme itself will keep any young 'uns occupied during the drive home - that delivers to the post-pubescent portion of the house so amply, as well.
Minchin's buoyant transfer of disciplines was worth the wait
For that, credit for starters goes to an extraordinarily generous and open-hearted production from Matthew Warchus that ranks alongside the London/Broadway revival of The Norman Conquests as one of the signal achievements of this director's singular career, not to mention a team of collaborators that couldn't seem more eclectic and yet turn out collectively to be on the same page in allowing the material's shifts from grotesquerie to grace their due. All involved will need to start clearing space in diaries now if they want to be present at this project's gratifyingly inevitable onward march.
Like many good stories, Matilda concerns itself with storytelling, specifically a girl-genius - diminutive in size but capacious of both intellect and empathy - who is scorned by parents that never wanted her and browbeaten at school by a lunatic headmistress, the leggy battle axe that is a cross-dressing Bertie Carvel's utterly sublime Miss Trunchbull - first name, 'natch, Agatha. Where to turn for comfort? The kindly library worker, Mrs Phelps (Melanie La Barrie), at least understands the appetite for language and literature of a child who seems to have devoured a fair share of the literary canon in the time it might take her classmates to gobble a Big Mac. (Among the tomes Matilda casually admits to having read is The Lord of the Rings, which allows Warchus to pay fleeting homage to a far less successful musical adaptation from his past.)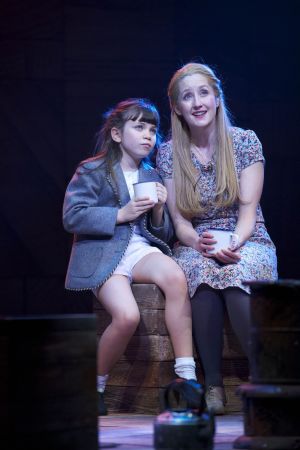 Matilda finds an abiding soulmate in a teacher, Miss Honey (Lauren Ward, pictured right with one of the other Matildas, Adrianna Bertola), whose own past turns out to dovetail factually with the prolonged exercise in putative fiction that Matilda returns to throughout the show, the two narratives conjoining in a climax that itself plays with expectations of a happy ending - only to clinch matters with nothing more elaborate than a cartwheel! Along the way, 11-year-old Kerry Ingram - the principal of one of three sets of children who, Billy Elliot-style, alternate performances throughout the run - gets to demonstrate her command of Russian (clue: consider the final syllable of the character's name), stand up to cruelty and injustice, and carry with ease considerable portions of Australian comedian Tim Minchin's debut musical-theatre score.That Minchin's buoyant transfer of disciplines was worth the wait is clear from songs that possess nearly Lloyd Webber-esque ease at sustaining a musical motif alongside the sort of "I want" and "make-over" numbers that are musical theatre catnip, here re-minted so that they seem entirely fresh. (The first-act "Loud", for instance, could well be Minchin's cunning variant on "Popular", from Wicked.)
Dennis Kelly's book for the piece complicates its beloved source without tying itself into knots and is not afraid to be highbrow in its embrace of erudition and learning while having cheeky, low-down fun along the way. The writing embraces the verbally playful ("It's probably for the best if we're best friends," Matilda is informed by a classmate) and the crude - a gigantic burp towards the end of the first act is worthy of the classic Rob Reiner film, Stand By Me. Best of all, none