Gotham, Channel 5 |

reviews, news & interviews
Gotham, Channel 5
Gotham, Channel 5
Batman origin story makes a promising start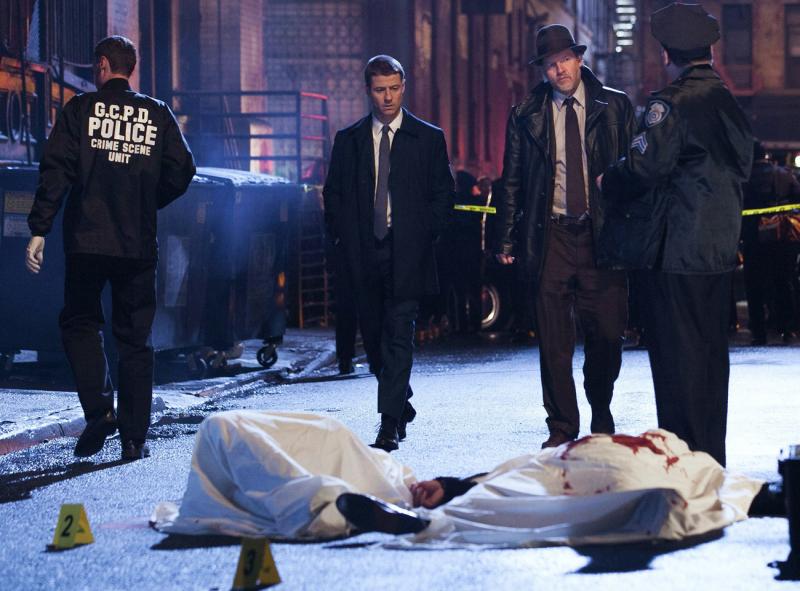 CSI Gotham: detectives Gordon and Bullock investigate the slaying of Bruce Wayne's parents
Michael Keaton, Val Kilmer, George Clooney, Christian Bale and (coming soon) Ben Affleck have all had a go at playing the fully-formed Caped Crusader, though for some Adam West's ludicrously campy Sixties incarnation remains the score to beat. But apparently that's still not enough.
Hitched firmly to the ongoing craze for exploiting any nook and cranny of superhero folklore,
Gotham
whizzes us back to the story's embryonic days, when 12-year-old Bruce Wayne has lost his parents in a seemingly random double murder and has yet to emerge in his full Dark Knight regalia.
The challenge here was to update the Batman origin story while trying to hang on to the macabre and grotesque qualities of the original DC Comics, which had a grand guignol, midnight-at-the-haunted-fairground quality about them. Location-wise, they've reached a reasonable compromise by recreating Gotham City using a New York seemingly tarted up with a bit of gothicky CGI to lend it a vaguely spectral air. To start with at least, young Bruce (David Mazouz) is a fragile and traumatised presence, so the emphasis swings to the efforts of the law enforcement community to track down the Waynes' killers.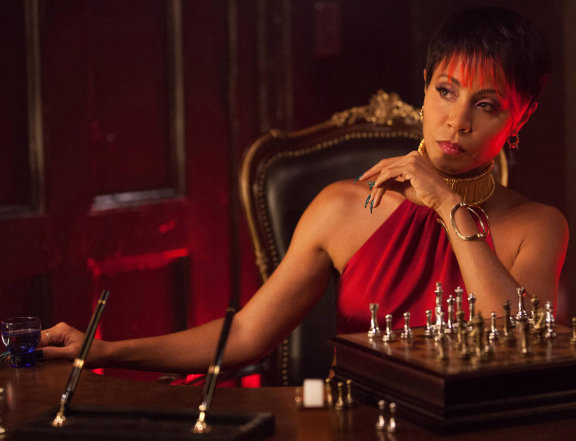 Part of the fun is spotting early incarnations of characters we know from the later Batman stories. Most prominent among them is fresh-faced young Detective James Gordon (Ben McKenzie), destined to become Commissioner Gordon but here pounding the sidewalk with his older, more cynical and hugely corrupt partner, Harvey Bullock (Donal Logue). Meanwhile, up at stately Wayne Manor, the adolescent Bruce is being looked after by the faithful family retainer Alfred Pennyworth, played by Sean Pertwee with a gruff Cockney accent redolent of a 60-a-day Woodbine habit. Oddly, Alfred seems no less elderly than he will be in a couple of decades' time.
Also leering his way through the action is Oswald Cobblepot, one of the low-life henchmen of ruthless nightclub owner Fish Mooney (played dominatrix-style by multi-tasking Jada Pinkett Smith, sometime heavy metal shantoozy and Will Smith's wife, pictured above). When Fish addresses Oswald as "my little penguin", you get the picture. Also smirking with intent is geeky Edward Nygma (Cory Michael Smith, pictured below), destined to find immortality as The Riddler.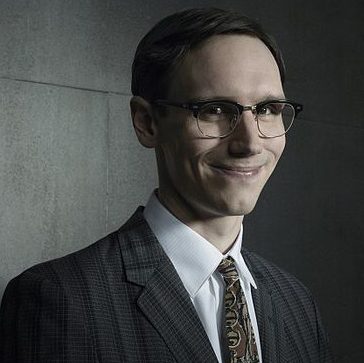 Much of this opening episode was more concerned with police procedure than nascent superheroism, but its depiction of a squalid Gotham seething with corruption reaching into the heart of the police department laid the groundwork for the crimebusting challenges that lie ahead. Detective Gordon, the son of a war hero and a po-faced, straight-arrow kind of cop, has taken the orphaned Bruce under his wing ("there will be light," he promised him). He also had to think quickly when he was tasked with bumping off Cobblepot in return for being rescued from the Mooney gang by mobster Carmine Falcone (John Doman), though little did he realise how much future trouble he could have saved himself by going through with it. All told, this was a vivid, entertaining start. Can they keep it up?