theartsdesk in Helsinki: Niubi Festival |

reviews, news & interviews
theartsdesk in Helsinki: Niubi Festival
theartsdesk in Helsinki: Niubi Festival
Head-spinning Mongolians, intense Indonesians and bull-roaring locals at the festival building bridges between Finland and east Asia
Sunday, 14 September 2014
Mongolia's astonishing and hypnotic Tulegur Gangzi at the Niubi Festival
Tulegur Gangzi describes his music as "Mongolian grunge" and "nomad rock." Thrashing at an acoustic guitar, the Inner-Mongolian troubadour is singing in the khomei style, the throat-singing which sounds part-gargle, drone and chant – or all three at once. His approach to the guitar is just as remarkable.
With his left hand sliding up and down the neck, the open tunings he employs set up a sibilant plangence nodding to the trancey folk-rock of
Stormcock
Roy Harper. The slashing, descending guitar which kicks in near the close of Led Zeppelin's "Stairway to Heaven" appears to also be in this whirpool. The sound is astonishing. Hypnotic, too.
Gangzi might be a one-off – just how many Mongolian throat-singing, trance-folk-rockers can be out there? But he wasn't the only head-spinning marvel playing Helsinki's Niubi Festival. Psychedelic Chinese explorers and atmospheric Indonesians with a hymnal power battled it out with bowed lyre-playing and relentless synth-disco Finns.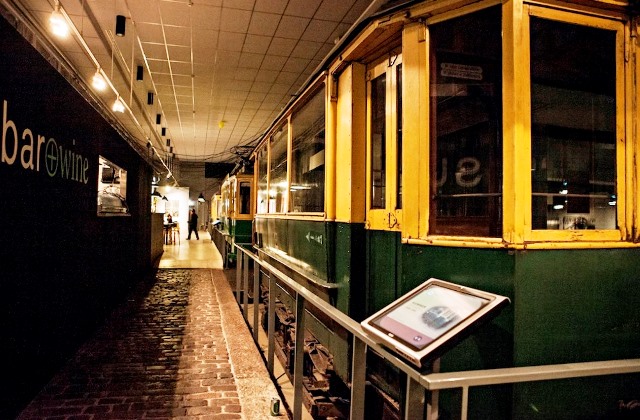 For its follow-up visit to Finland after the recent Flow Festival, theartsdesk checked out an event which has grown out of the Club Niubi nights where bands and musicians visit Helsinki from East Asia to play bills with local acts. The focus is on what the organisers describe as "alternative bands". In effect this means out-there rock and experimentation rather than traditional music. The festival's host venue was the delightful Korjaamo Cultural Factory, a converted tram maintenance works in the Töölö district, now used for arts events and also the home to a fine museum devoted to the history of Helsinki's handsome trams (Pictured right: photo © Hilla Kurki).
Niubi itself translates from the Mandarin pinyin to literally mean "cow pussy" when the two pictogram characters 牛 屄 are written separately. As wacky as that is, combined as 牛屄 they become a colloquialism equating to awesome or arrogant. Niubi is a cry Chinese audiences yell at a particularly arresting guitar solo.
This musical bridge-building between Finland and the Far East comes at an ironic moment. Immediately east of Helsinki is the border with Russia across which bridges are sadly crumbling like a vampire exposed to sunlight. The connection between Russia and Finland is usually strong and mutually civil. Saint Petersburg is only 190 miles away. On a Saturday afternoon in Helsinki's busy department stores, indoor malls and shopping streets, Russian is heard alongside Finnish. Day trippers from Russia take advantage of lower prices than at home and – it seems – more desirable consumer durables than on their doorstep. In the pet shop chain Musti & Mirri, a Russian couple buy dog food bowls.
Yet despite the outward normality, things have changed in Finland during the few weeks between the Flow and Niubi festivals. At the end of August, Finnish national broadcaster YLE reported that Finland's air force had "moved some equipment to the Helsinki-Vantaa international airport." Finnish officials were quoted as explaining that their "enhanced readiness was based on a recent spate of airspace incursions by Russian aircraft". Although not a member of NATO, whether Finland should or shouldn't be is a hot topic. The Paasikivi-Kekkonen line, enshrined in the 1950s, under which Finland is actively neutral and a good neighbour to Russia, is being discussed and might be abandoned. In the meantime, sanctions against Russia, in the hope that they will have an effect on the situation in Ukraine, have been beefed up. (Pictured left: Niubi Festival makes it presence felt. Photo © Jussi Helttunen)
Business as usual might be the order of the day, but anxiety about Russia's next move and Finland's future position are unavoidable. The television news is chock-full of the issue. President Obama's flying visit to Estonia, the nearest country sharing a border with Russia, is seen in real time. But Estonia was occupied by Russia until 1991 while Finland ceased being an autonomous Grand Duchy of the Russian Empire in 1917. Although Finland has been fully independent for longer than its southern neighbour, America seems to have forgotten it is currently in a tricky position, albeit not as much as Estonia where the concern is that President Putin has his eye on the eastern border city of Narva.
While what's going to its immediate east hangs heavy, Niubi Festival reaches out as far east as possible. It feels like a tacit nose-thumbing at Russia. This extraordinary event lays on its surprises thick and fast but doesn't make it easy for the visitors. The local acts they are billed with are amongst Finland's most impactful and idiosyncratic. (Pictured right: Pekko Käppi, photo © Hilla Kurki)
Prime among these is the trio Pekko Käppi & K:H:H:L. Kappi's instrument is the jouhikko, the Finnish-Karelian bowed lyre (the Karelia region straddles the Finnish and Russian borders). His singing draws from the Finnish runo-song tradition, where vocals have a narrow range and stick to rigid time signatures. Despite all this, Käppi has little time for the niceties of tradition. With K:H:H:L, he bull-roars a blues closer to a nightmare take on Tom Waits than what might be expected from a man with a lyre wedged between his knees. His compelling, sensational performance is one of those rare live-music experiences which occupies its own space and wipes out all thoughts of what came before and what may come next
In the event, the festival has numerous such moments. Siinai, a percussion heavy, mostly instrumental outfit who draw from the ecstatic Krautrock of La Düsseldorf appear to be entirely enclosed within themselves – their countenance is of the hypnotised cast of the Werner Herzog film Heart of Glass – as they power through a set drawing heavily from the recent album Supermarket: a concept piece inspired by the transcendental nature of shopping. (Pictured left, Siinai, photo © Jussi Rastas)
Power unites the best of the Finnish bands gathered. theartsdesk met Mr. Peter Hayden on its last visit to Helsinki. On second viewing the conclusion is unchanged: their symphonic take on sludge-metal is unique and marks then as a world-class band. Aavikko are as persuasive but something else entirely. A three-piece, they have to be the most relentless disco-influenced band ever and would make mincemeat of Daft Punk. In custom-made, Russian-style military uniforms their two synth players (no lazy programming) flank a hard-hitting metronomic drummer who plays "Shaft"-style but at quad-speed. They take in Giorgio Moroder's work for Donna Summer, early Depeche Mode and Kraftwerk, but it's all delivered at so mighty a pace and with such force that seeing them is like being chucked into a synth-disco wind tunnel.
Gangzi holds his own against such competition, but the other Asian visitors are no less fantastic. The hair-swinging Japanese known-quantity Bo Ningen's berserk hybrid of Can, Ash Ra Tempel and their country-folk Les Rallizes Dénudés has the audience bouncing off walls. (Pictured right: Chui Wan, photo © Jussi Rastas)
But it's the unknowns which have most effect. From Shanghai, Chui Wan are in or barely out of their teens. Their music is recognisably psychedelic, but put together in such a way it takes some brow-furrowing to tune in to their wobbly, slippery aural confection. Once the brain is readjusted, it gradually comes into focus that The Velvet Underground are in there. So are The United States of America (the Sixties avant band) and the pre-Mazzy Star outfit Clay Allison. Really oddly, the band they most evoke through their wooziness – but don't actually sound like – are Belgian post-punkers The Names. Chui Wan do make things easier with a violin-driven song which appropriately sounds like a fragmented version of Mazzy Star: as if the whole has been thrown in the air, then come down broken and reassembled to make a new, random though seamless pattern. One to watch.
The non-Finnish hit of the festival were The Trees and the Wild, an incredible, mind-melting Indonesian band of such magisterial intensity the only possible comparison is prime, Ágætis byrjun-era Sigur Rós. But again, as with Chui Wan, they do not actually sound like anything they evoke. The Trees and the Wild's pieces – they aren't songs – begin quietly with aqueous guitar and build unremittingly to sustained, breathless, peaks. Yet another world-class band which needs to be heard, and heard widely. (Pictured left: The Trees and the Wild, photo © Jussi Rastas)
In bringing together a gathering of such stunning – if not yet well-known beyond their borders – bands under one umbrella, Niubi Festival more than did its job. And by matching local Finns to the visiting Asians so sympathetically, the festival displayed an enviably sure hand. Considering what is happening to Finland's near east, perhaps the same could be done with Russia – to build bridges through music and share the experience. The chance would be a fine thing. Hopefully, it is not too late.
The non-Finnish hit were The Trees and the Wild, an incredible, mind-melting Indonesian band of magisterial intensity
Share this article