theartsdesk in Helsinki: Flow Festival 2014 |

reviews, news & interviews
theartsdesk in Helsinki: Flow Festival 2014
theartsdesk in Helsinki: Flow Festival 2014
Manic Street Preachers, Janelle Monáe and a past that's always present at Finland's memorable urban festival
Mirel Wagner at Flow Festival 2014: wraith-like
An expectant audience isn't the only thing which can be seen from the main stage of Helsinki's Flow Festival. Janelle Monáe, Manic Street Preachers and OutKast are also greeted by a gas holder looming ominously before them. This brooding remnant of the festival site's former use as a gasworks brings a unique flavour to Flow. The setting and site are unlike that of any other festival.
In its 11th year, Flow 2014 balanced big international names against edgier artists and Finns of all shapes, sizes and styles. With great food, a kid-friendly third day and art installations, the festival is a counterpart of Britain's Latitude but differs markedly by being held in the city on a gritty, resolutely urban site.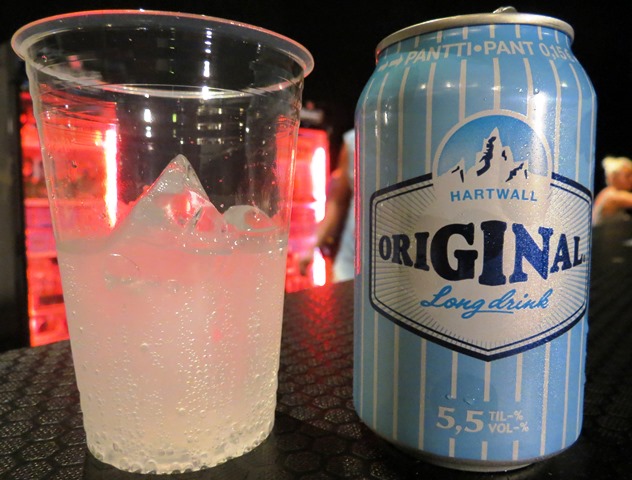 As the three days unfold – non-traditionally, Flow runs over Friday, Saturday and Sunday – it becomes increasingly clear that some local touches are distinctively Finnish. Heineken as a main sponsor means that apart from one bar the beer on offer is depressingly limited to the Dutch fizz. But home-grown flavour comes with lonkero (long drink), a gin and grapefruit mixture created for the 1952 Olympics which were held in Finland. The country needed a new snifter to welcome the sporty visitors and the delightful lonkero quickly became and still is a mainstay of Finnish drinking culture. (pictured right: lonkero)
Strolling about Flow, lonkero in hand, all feels right with the world despite the hard surfaces which tire feet quickly and play hell with the lower back (NB Flow organisers – more seating please). Temperatures in the mids-20s centigrade, a good-natured crowd, no tortuous journey home and a variety of music which can't fail to feed any craving make this a terrifically user-friendly festival.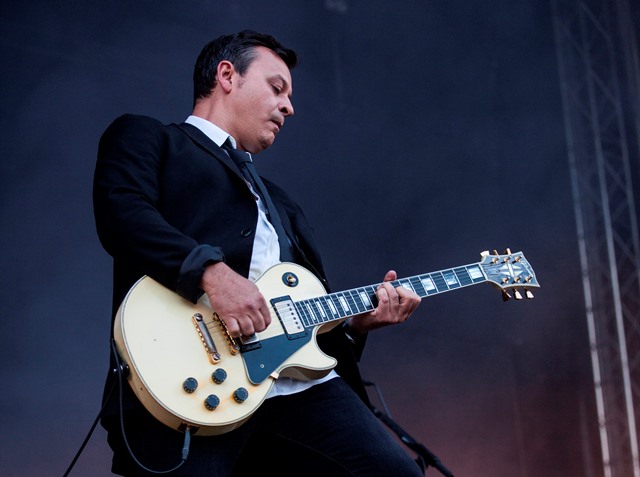 As Manic Street Preachers hit the main stage in blazing sun and rip into "Motorcycle Emptiness", it's instantly apparent they've got this festival thing down to a tee. With no fuss, and little talk they don't let up. Songs from new album Futurology and classics like an abrasive "Revol" and a swinging "Design for Life" (about "working-class emancipation" according to bassist Nicky Wire) stress that though well-drilled they remain winningly individual. A short break to sort out singer James Dean Bradfield's electric shock-emitting microphone causes him to comment that Helsinki would be good place to go. A great set. (Pictured left: Manic Street Preachers' James Dean Bradfield at Flow Festival 2014)
Contrastingly, OutKast's bombast and revue-style show on the same stage soon wears out its welcome, especially with an emphasis on sledgehammer rhythm over song and a presentation which goes beyond the burlesque into t-and-a tackiness, especially with its knicker-removing back projection.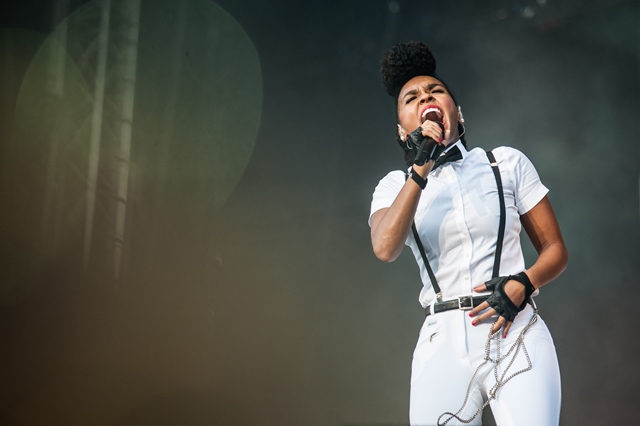 OutKast were preceded by a bang-on Janelle Monáe, who their Big Boi helped on the way to her current success. She could have given them a few tips on nuance and panache. Mixing picks from last year's The Electric Lady and its predecessor The ArchAndroid seamlessly, Monáe never stopped moving yet still sang with expression and modulation. If Sly Stone had ever fully conceived a science-fiction, space-age soul, this was it. (Pictured right: Janelle Monáe at Flow Festival 2014)
Although the outdoor main stage was the big draw, Flow sports two other big stages in tents and an in-the-round outdoor stage, the Balloon 360 Stage (pictured below left), around which scaffolding mimicking a gas holder supports a white sphere (four tiers of seating surround the stage). Whether the Balloon 360 Stage is a good thing depends on who's performing. Sweden's Jenny Wilson had obviously cased the joint beforehand and prowled and bounced, using the whole circumference to showcase a rockabilly-esque take on her recent Knife-ish Demand the Impossible! album.
But with local sensation Mirel Wagner (main picture) the Balloon 360 Stage was a problem. So understated a performer, she says barely anything, hardly shifts on her chair and doesn't look the audience in the eye. Her Flow appearance was a big deal as it was a chance to see her the weekend before the release of her second album, When the Cellar Children See the Light of Day. The chair she was rooted to was static, meaning only a quarter of the audience could see her face-on.
Also difficult was noise bleed from other outdoor stages which rendered her barely audible beyond the edge of the stage. Nonetheless, Wagner effectively telegraphed the bleakness of her album's minimalist, parched take on Mark Lanegan's Winding Sheet, as she intoned disquisitions on black water, corpses, devils and death. At the end of the set her sole spoken word was kiitos, Finnish for thank you.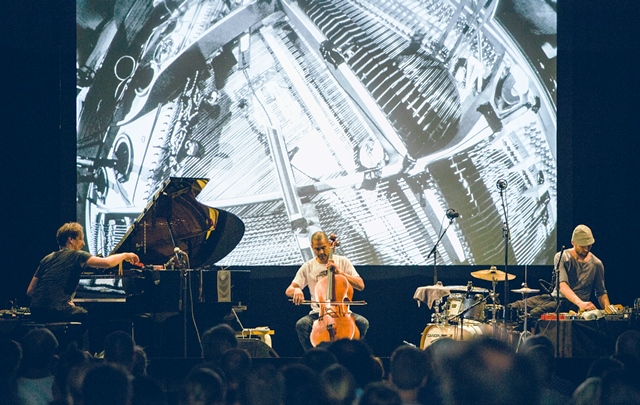 The wraith-like Wagner would have been better suited to the darkness of the adjacent hall Voimala (meaning power plant) which, over all three days, under the billng "The Other Sound" was dedicated to the experimental, edgy and odd. (Pictured right: H K Z at Flow Festival 2014. Left to right: Hauschka, Jeffrey Zeigler, Samuli Kosminen)
At Voimala, Britain's Evan Parker stunned with a seemingly improvised performance on a soprano saxophone which infused the flavour of ragas with the hypnotics of serialism. Minimalist prepared-pianist Hauschka appeared as part of H K Z, a trio with Finnish percussionist-electronicist Samuli Kosminen and former Kronos Quartet cellist Jeffrey Zeigler. They stunned with one long and one short piece which each unified individual tones and threw them at the audience like a flock of distressed birds. In the same hall, Finland's legendary electro-acoustic collective Kemialliset Ystävät (Chemical Friends) mesmerised by merging the bloop of early acid house with motorik and folk improvisation.
Another brick block, Tiivistämö (originally used as a pressure storage facility), showcased a parade of mostly Finnish up-and-comers, stressing that Flow is not solely about the international and recognised names. Most striking amongst these was Mr Peter Hayden, a hairy quintet who look as though they should be tossing off the Finnish mainstay, metal. Instead, they meld the ebb and flow of Glenn Branca to a deconstructed rock nodding towards Sunn O))). At first seeming full-on noise, closer listening reveals something rigorously formal. The music progresses through climaxes and themes in the manner of a symphony. (pictured left: Mr Peter Hayden at Flow Festival 2014)
But the highlight for many Flow-goers were our own recently reformed Slowdive. Although it appeared prudent to roll up 30 minutes before they were due on stage to score a good vantage point, the Black Tent was already a quarter full. The 2014 model sounds exactly like 1992 Slowdive – there is no higher compliment than that. Beautiful landmarks like "Alison" and "Golden Hair" shone and warmed like the glow from the embers of a thousand fires. Witnessing this was utterly overwhelming. See them if possible.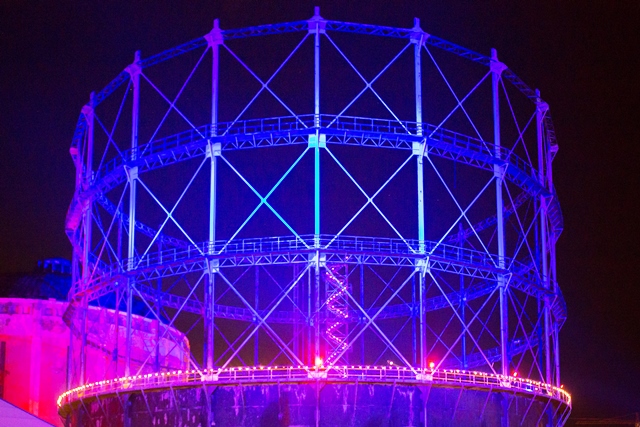 It was appropriate that Slowdive's reunion was dignified and did not tarnish memories of what made them great, as Flow's intriguing site has a similar symbiosis with its own past. The electricity and gas production plant in Helsinki's Sörnäinen district by the Suvilahti inlet – which lent its name to the plant – began supplying the city with gas for lighting in 1909, eight years before Finland broke away from the Russian Empire. (pictured right: a gas holder looms over Flow Festival 2014)
In time, output at Suvilahti grew and electricity was generated as well. Despite working under Russian eyes, the main architect, Selim A Lindqvist, incorporated Jugendstil elements and motifs in the buildings and structures still seen across the site, which is itself adjacent to a functioning power station which continued working after the site occupied by the festival ceased working in 1994.
Helsinki's bond with its own past was also unavoidable at the hotel used by Flow for its visiting artists, the stunning city-centre Sokos Vaakuna. From the outside, the city block-sized monolith does not obviously scream its historical importance. It opened for business in 1952 for the Helsinki Olympics and the then-new lonkero was presumably downed in celebration. The protected building was designed by Erkki Huttunen in a functionalist style and houses extraordinary detailing, furniture and lighting fittings, all of which were made specially. The style is Scandinavian-modern but with a characteristic sinuous line also seen in Finnish ecclesiastic architecture. Alvar Aalto may be Finland's most well-known architect-designer, but the startling Sokos Vaakuna shows that Huttunen is similarly masterful. (pictured left: the lobby of the Sokos Vaakuna hotel)
For many Finns though, the aspect of their own past exercising them most is the 100th anniversary of the birth of Tove Jansson, best-known as the creator of her alter-ego Moomintroll, his family and world. In celebration, the Finnish National Gallery Ateneum is holding a large, wide-ranging exhibition on Jansson and her works which reveals that her whole life was dedicated to art, and not just Moomintroll.

Most remarkable were her braver and more surreal works. In the 1940s, Jansson's cover illustrations for the Swedish magazine Garm lambasted both Stalin and Hitler. Earlier, she was developing a visual language later codified and recontextualised for Moomintroll. Her brooding 1930's oil painting Mystinen Maisema (Mysterious Landscape; pictured above) depicts a dark, yet luminous, valley leading towards a distant city. The city is the future and once reached, the landscape left behind becomes even more mysterious. Fittingly, with the gas holders and warehouses of Suvilahti, Flow has its own mysterious landscape.
theartsdesk will be returning to Finland soon to sample more of this captivating country's flavours. But, for now, Flow Festival is a memorably lavish first course.