Immoral Tales: When Art Met Pornography |

reviews, news & interviews
Immoral Tales: When Art Met Pornography
Immoral Tales: When Art Met Pornography
Walerian Borowczyk's controversial, censor-baiting Seventies film is re-released
Wednesday, 10 September 2014
As Julie in 'Immoral Tales', Lise Danvers helps her cousin out
The release of a restored version of 1974's Immoral Tales on Blu-ray raises inevitable and unavoidable issues: whether the film is pornography, art or arty pornography. Then, there's the matter of whether its director Walerian Borowczyk was a misogynist; an objectifier of women. Consideration of its qualities as a film can be lost in such debate.
Borowczyk (1923-2006) was working to the directive of his producer, who suggested he make a film to capitalise on France's newly relaxed censorship laws. This had the added benefit of also, via its nudity and sexual themes, hopefully attracting more of an audience than his usually niche films. Once delivered, Immoral Tales (Contes Immoraux) became the director's most successful film to date and set him on the path leading to his stewardship of 1987's most-certainly unarty Emmanuelle 5.
After working to order, Borowczyk took the opportunities which came in Immoral Tales' wake. His next film, his most well-known, was La Bête (The Beast), the subject of a prolonged behind-the-scenes debate in the UK about whether it could be screened due to its tackling of bestiality – albeit fantasy bestiality. A man running around in a costume with an integral and massive penis-like appendage which constantly spewed what looked like sperm was a problem. Especially as he was chasing a woman (pictured right, Florence Bellamy as Lucrezia Borgia).
La Bête had developed from an episode filmed for, but not included for release in, the portmanteau, four-episode Immoral Tales. This fifth episode, The True Story of the Beast of Gévaudan, has been added to this wonderfully gleaming Blu-ray restoration which puts any previous home video editions in the shade.
Identifiably a Borowczyk film, Immoral Tales was, whatever its envelope-pushing content, at one with the director's output to date. Film was one aspect of his oeuvre. Born in Poland, he had arrived in France in 1958 and fell in with a cinematic set which included Chris Marker. Borowczyk was also a poster artist, animator, author and sculptor – all of which ended up in and informed his films. Pre-Immoral Tales, he anticipated the Brothers Quay and Jan Švankmajer with his animated works. Borowczyk's use of set design to depict a world prefigured Lars von Trier's Dogville. A pioneer, Borowczyk blurred the margins between disciplines – with which Immoral Tales' boundary-breaking was in keeping. Above all, though, he was a fantasist.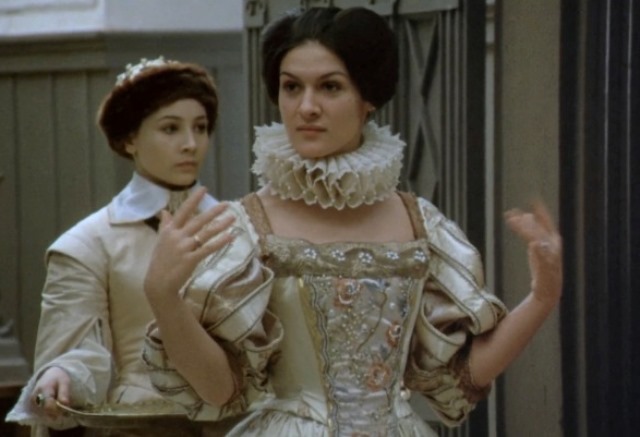 With Immoral Tales he ended up with – at least in France – the desired wider if thrill-seeking audience. Notably, it was the only film to feature Paloma Picasso, the artist's daughter. But that was a side issue. No doubt most of the attraction was the female nudity – including that of Ms Picasso – and depictions of non-traditional sexual situations. Borowczyk was particularly keen on close shots of female pubic hair (pictured left, Paloma Picasso as Erzsébet Báthory).
Based on literary sources, the four episodes concerned unusual takes on differing scenarios: fellatio, masturbation, lesbianism and incest. Overall, it comes across now as if Luis Bunuel had decided to make a historical-type film with heaps of naked women. There is a mischievous quality, and the late Ken Russell may have recognised a fellow traveller.
Erzsébet Báthory, the episode with Picasso, is about the countess who bathes in blood to preserve her youth. It is intense and plays like a fever-dream take on Pasolini. Despite the theme of incest, the Lucrezia Borgia episode verges on slapstick. The two weakest episodes are the dull Thérèse Philosophe (religious fervour-inspired masturbation with a cucumber) and the silly La Marée (The Tide), where 16-year-old Julie's cousin attempts to synchronise his coming in her mouth with the time of high tide – they are swallowed by the rising tide while she swallows his sperm. She is seen naked. He is not; his penis is out of sight.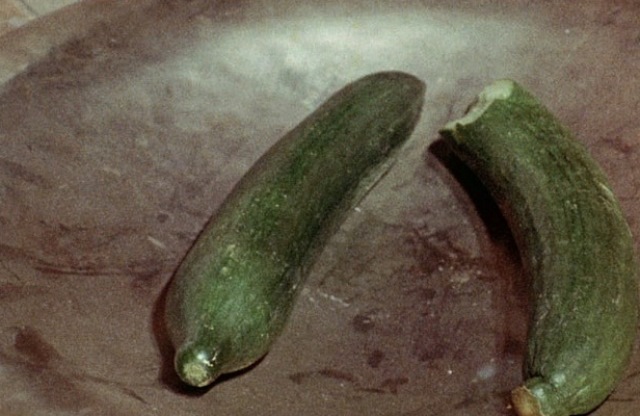 As for whether this patchy film was pornography, it is clearly exploitation cinema – but it is not titillating. And with a prime purpose of serving its scenarios, Immoral Tales also fails the porn test. Indeed, for Sight & Sound in 1977, this was art: Borowczyk's "Immoral Tales are compiled from a succession of such 'erotic' images as gulls, candlesticks, tapestries, breasts, jewels, lace, rough wood and tangled triangles of hair."
Nevertheless Borowczyk did objectify some of the women in the film (especially those sacrificed in Erzsébet Báthory), but in his art he objectified everything. If he was a misogynist, more evidence than Immoral Tales would be needed to prove the case. The film is best approached as a wonky, art-house entry in the fantastic cinema canon (pictured right, cucumbers in the Thérèse Philosophe episode).
This version is 103 minutes: four longer than previous releases. Extras include another cut of the film, two versions of the short film A Private Collection, an introduction, interviews with those involved in the film (no archive footage of Borowczyk) and its trailer.
Immoral Tales is accompanied into the shops this week by four other Borowczyk Blu-ray releases: The Beast (1975), Blanche (1971), Goto, Isle of Love (1968) and the collection Short Films and Animation (12 shorts from 1958 to 1984 and three commercials). Each includes copious extras, commentaries and interviews and look as fantastic as Immoral Tales. The limited-edition box set Camera Obscura: The Walerian Borowczyk Collection, released at the same time, included all these but has already sold out.
All of which begs the question: who is going to take on the job of making the rest of Borowczyk's film work available?
As for whether this patchy film was pornography, it is clearly exploitation cinema – but it is not titillating
Explore topics
Share this article