The James Plays, Edinburgh Festival Theatre |

reviews, news & interviews
The James Plays, Edinburgh Festival Theatre
The James Plays, Edinburgh Festival Theatre
Rona Munro's enthralling history cycle bursts with Scottish regal life
James McArdle (James I), Andrew Rothney (James II) and Jamie Sives (James III) in Rona Munro's trilogy
Rona Munro's history cycle may take some liberties with the facts, as the writer admits in the programme notes, but its broad narrative sweep has been talked about as a state-of-the-Scottish-nation trilogy. It's the first joint production of the National Theatre of Scotland and the National Theatre and the timing of its premiere at the Edinburgh International Festival couldn't be more pertinent – just a few weeks before Scotland votes on 18 September in the independence referendum.
The plays, which cover a turbulent period of Scottish history in the 15th century during the reigns of three Stewart kings, are intended to work as stand-alones, but together they pack a big emotional and intellectual punch.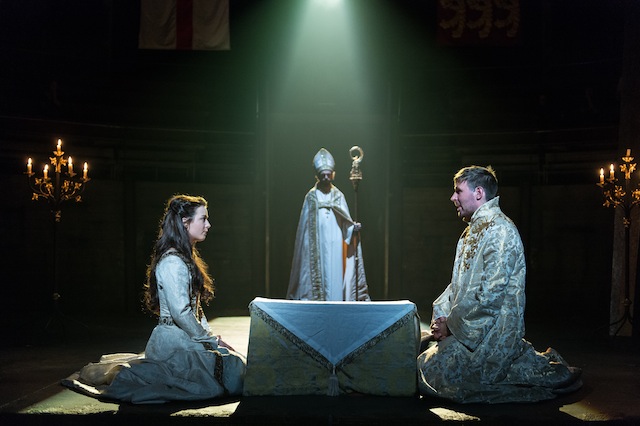 James I: The Key Will Keep the Lock (*****) is a rollicking drama about a king without a kingdom. James (a captivating James McArdle) is installed as a puppet of the English crown by Henry V, who has held him in captivity for 18 years.
 James is a poet who has no idea how to govern, and his love for the steely Joan (Stephanie Hyam), a "gift" from Henry, is not reciprocated. (McArdle and Hyam pictured right, by Manuel Harlan).
This is story of dealing and double-dealing, and of things not being what they seem – "Why can't anyone here ever say anything in plain words?" Joan asks, as Murdac and Isabella Stewart (Gordon Kennedy and Blythe Duff, both superb) plot behind her husband's back. The couple have been keeping the throne warm in James's absence and while Murdac pragmatically accepts the situation, Isabella is unwilling to give up power and is ambitious for their sons.
But the sensitive James, whom Munro makes a proto-nationalist, finds his inner steel and gradually learns to govern, even if it means killing his relatives to protect his family and his place on the throne. He is Scotland, he believes, and his major speech – "The greatest jewel that England had is ours now" – could be him channelling Alex Salmond. This segment is impassioned, emotional and utterly enthralling.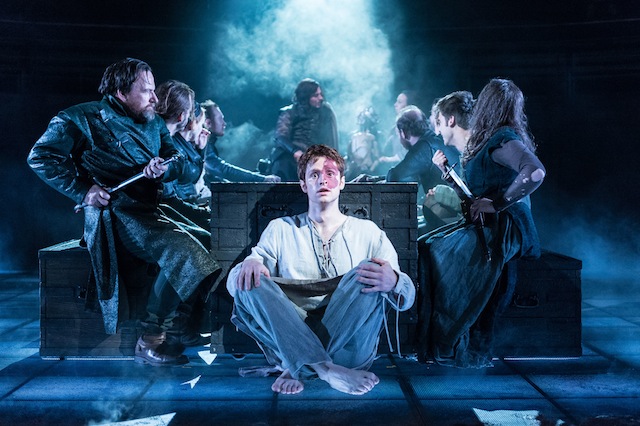 James II: Day of the Innocents (***) starts in a confusing mess of loud music, puppets and flashbacks as director Laurie Sansom gives a markedly different feel to proceedings – and I spent much of the first act totally baffled as to what was going on. But in the second act as the play settles down, so does James II (a sweet Andrew Rothney, pictured left) grow in stature. The nightmares that stem from the violent terror of his childhood, when his father was assassinated, are soothed first by his cousin, William (Mark Rowley), then by the tender love of his wife, Mary (Stephanie Hyam).
The lairds cheat the boy-king and Scotland of its wealth as they steal land and increase their power through his office. But slowly he becomes his own man and history repeats itself as James II, who has gone from insipid to incisive, again chooses kingship over kinship.
James III: The True Mirror (****) stars Sofie Gråbøl – Sarah Lund of The Killing – and she is expertly cast as Queen Margaret, the Danish wife of James III (Jamie Sives from Game of Thrones, a charismatic presence), whose court was marked by cronyism and his neglectful rule as he pursued a hilariously hedonistic lifestyle, which included having a choir following him around. They have a sparky, passionate relationship and the onstage chemistry between Grabol and Sives (pictured right by Robert Day) has real fizz.
While James gads about with lovers of both sexes and increasingly tries the patience of the influential lairds, Margaret is the real power behind the throne, balancing the books and placating parliament. Her quiet wisdom is a neat counterpoint to James's headstrong and childlike selfishness.
Not for the first time in this trilogy about male power, Munro puts a woman centre-stage, and Margaret's speech when she becomes Queen of Scots – rousingly delivered by Grabol – about why she loves her adopted homeland is a highlight. "I've seen the worst in you and you're murderous, miserable men... But the best in you pulls me above that."
The James Plays cover a period that even most Scots know little about but Munro's compassionate and frequently witty take on it – however partisan – is a fantastic achievement. She fleshes out what could be some very dull history with terrific characters, vividly drawn, using a modern vernacular full of rich Scottish phrasing.
Never have eight hours of drama sped by so quickly and engrossingly
She is helped by wonderful acting (give or take the odd mumble) from a cast most of whom play more than one character in the trilogy – and while it's invidious to mention just a few in such an ensemble, the standout performances, in addition to those already mentioned, come from Sarah Higgins as Meg, given many funny lines as Joan's down-to-earth maid, and Peter Forbes as Balvenie, an earl who moves from sneaky coward in the first play to monstrous tyrant in the second.
Jon Bausor's costumes and set – compete with a striking five-metre sword plunged into the stage and 100 audience members seated on the stage, as if attending the King's Parliaments that are studded throughout the trilogy – are suitably evocative and neatly mark the passage of the murky Scottish court from feudal make-do to gaudily prosperous, while Laurie Sansom directs at a terrific pace. Never have eight hours of drama sped by so quickly and engrossingly, even allowing for the aberration of James II's first act.
Munro's compassionate and frequently witty take – however partisan – is a fantastic achievement
Share this article