Rona Munro on writing Little Eagles |

reviews, news & interviews
Rona Munro on writing Little Eagles
Rona Munro on writing Little Eagles
The RSC playwright explains why the Space Race is still relevant today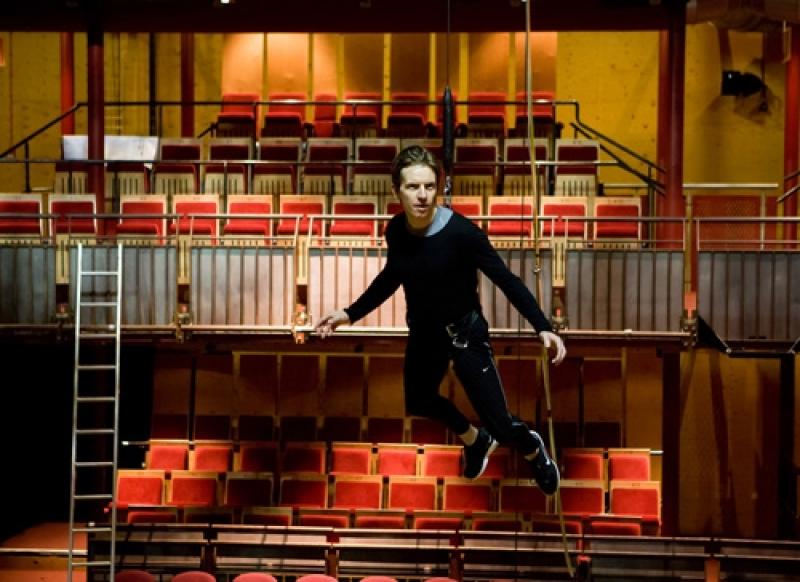 Up, up and away: Oliver Ryan rehearsing his role as Leonov in Rona Munro's new play, Little Eagles
My latest play, Little Eagles, marks the 50th anniversary of cosmonaut Yuri Gagarin's first orbit around the Earth. Gagarin's place in history is, quite rightly, assured but little is known about Sergei Korolyov, a brilliant engineer and the chief designer of the Soviet space programme. Koroloyov may not have won the race to put a man on the moon, but he was responsible for a series of extraordinary firsts in the space race, including the first human in space.
Little Eagles
is his story.
In 2007 the Royal Shakespeare Company told me they were looking for contemporary writers to write big history plays – which are, of course, very much part of the Shakespearian tradition. At about the same time there was a serendipitous flutter of articles about the Apollo moon missions and I vividly remembered what a huge part of my childhood they had been and how they had shaped what I thought the future would be like. Looking back, it is astonishing to realise that only 12 men have actually walked on the moon. All of them are elderly now and some of them are already dead. The world I'd thought would be my future has become history. I realised this was the history I wanted to write about.
My original idea was to write a play about the Apollo missions. The history of the American space missions, from Mercury to Apollo, is utterly gripping. Hundreds of books and films exist on the subject and they only scratch the surface. I found stories I remembered as news broadcasts and live TV events that had us all glued to the TV in the Sixties and I found others I'd never heard about - apparently NASA seriously considered a number of women astronauts in the early years of the space race but got cold feet at the last minute and pulled them out of the programme. However, in the middle of all this research (and the research is the really fun and exciting part of writing, especially with a subject like this), I thought I ought to just check what the Soviets were up to during the same period. What I found out was just off-the-scale astonishing to me.
I'm not certain why this history, the story of Sergei Korolyov (pictured below) and his team is so little known. Of course during Korolyov's own career his identity was a closely guarded secret and he was only known as the mysterious "Chief Designer". I also think, when the Iron Curtain came down, as the space race was long over, there wasn't the same interest in its history or its heroes. However, what I seemed to be learning was that this one man was not just the architect of the Soviet space programme, he'd been the instigator of the whole dream of pushing humanity beyond the Earth. If he had not launched Sputnik, the world's first satellite, the whole race to escape gravity might never have begun. I'd found my hero but I still had a long way to go to shape the play.
It was at this point I was able to take advantage of the relationship the RSC had with Davidson College, a university in North Carolina. In the past they had taken over full Shakespearean productions to Davidson but in 2008 it was decided to do something a little bit different and take over a piece of new writing to be developed in workshop. We had a gigantic rough first draft, a team of fabulous actors from Britain and the States, myself, director Roxana Silbert and a mad keen chorus of students.
There followed an insane two weeks work in which this huge history including World War Two, female astronauts, Yuri Gagarin, gulags, missiles and men on the moon had to be squashed into one play to be presented, script in hand, in front of an alarmingly large audience. There were some fantastic moments and some truly staggering performances but the thing ran at over three hours and it was all just too much. But there was nothing I could bear to cut.
When I came away from that experience and took a deep breath, I realised I was trying to tell three stories – the Apollo missions, the women astronauts and Korolyov's story. So I made a rather ambitious decision. I needed to write three plays. Little Eagles is the first of what I hope will be a trilogy. The second one will be about the women astronauts and has already been commissioned by Plymouth Theatre.
A history play is, by definition, epic. The story is large but, you often have to simplify and condense events to allow them to play as drama. There is also the added complication that you are writing about events and people that actually existed. Several of the characters in Little Eagles are still alive and I had to make my peace with how I felt about that. At the end of the day I do trust audiences to have the intelligence to understand that they are watching a piece of theatre and not a documentary. I think my job as a writer is to write a good piece of drama, a story that is about universal human experience as much as about any specific individual - we don't assume that we know what Henry V was really like but we do want to go and see a play about a character with that particular history.
Korolyov's dream killed some of the cosmonauts - his little eagles - and ultimately cost him his own life
I also had to try and find a balance between the human interest and the factual, scientific part of the story. My own woeful inability to understand the hard science was probably an advantage there. There was no risk I was going to bamboozle a lay audience with rocket science because I can barely hold the science in my head long enough to get it on the page. For me it was a laborious process of constantly reading and re-reading to check that I hadn't said anything incredibly stupid and then, once I'd reassured myself it made sense, I promptly forgot it. It's like that part of my brain can't retain the information - I can just grasp the concept for the two or three minutes it takes to go, "Oh no, he can't say that about the fuel injection," and then it's gone again. Probably that's partly why I was drawn to the subject in the first place - scientists, academics, people who can harness that sort of information and use it just seem jaw-droppingly impressive.


With a big play like Little Eagles and a company like the RSC you do hope you might get a bit of spectacular theatricality. However, I always try and write in such a way that, in the worst case scenario, if a play had to be performed in a bare space with no embellishments of any kind, the story would still work. I actually think that's the most exciting kind of theatrical writing because instead of just passively sitting there, the audience has to bring their own imagination to the piece – of course, if they don't feel inclined to do that, you've got a hideous flop on your hands but if they do, it's just electric and that's what makes theatre so exciting. (Pictured above: Dyfan Dwyfor rehearsing as Yuri Gagarin. Photograph by Lucy Barriball.)
I had always assumed – wrongly as it turned out – that Little Eagles would go on in one of the RSC's spaces so I wrote it so that it could be done in the round with a minimal set. There's quite a subtle difference writing in the round as opposed to an end-on space. With in the round you can overlap scenes and the way in which you can have one set of action flowing into another is exciting and dynamic - but now we're doing it in the Hampstead Theatre end-on, so I'm very grateful to be working with Ti Green, who is a brilliant designer, and Roxana who, between them, have managed to make the staging work.
This is my fifth outing with Roxana and it's a delight because she does what I think all good directors do, and that is to act as a communicator between the text and the cast. Ultimately it's a dialogue that starts with you and the director, then the director takes it to the cast and then the actors take it to the audience. It's a very active relationship. I was lucky enough to get the chance to work directly with actors right at the start of my career through the Edinburgh Playwrights Workshop. They were a collective of writers and actors who, at that time, would give readings of any script that was sent to them. I think that experience gave me a real understanding of how dependent you are, as a writer, on what the actor brings to the script and to an audience. It also gave me a real chance to see the stories you could tell an audience with no staging at all, so if anyone was to ask me what experience has most informed the work I'm doing now I'd have to say that was it.
I think that there are several things that make Little Eagles relevant today. The first, which is a constant, is that it shows the tragic drama of a huge dream. One person's ambition can achieve so much, but there are always consequences, for the world and for that one person. That's been true of so many great men and women throughout history. What Korolyov wanted more than anything was to take mankind into space, but his rocket technology also powered missiles and his dream killed some of the cosmonauts - his little eagles - and ultimately cost him his own life. (Rona Munro pictured right)
However, whatever your opinion of the Space Race and all its implications - the huge amounts of money it gobbled up, the Cold War, armaments - there was something heroic about it. When both the Americans and the Soviets first set out to put a man on the moon it was utterly impossible – it really was a dream. But eventually two guys with a tiny little vessel hardly thicker than tin foil and a computer with less calculating power than a modern mobile phone, walked on the moon. Just think what could happen if we put the same energy and sense of purpose to curing cancer or preventing world hunger? Korolyov proved that, clearly, if we only put our minds to it, we are capable of achieving the impossible.
If this man had not launched Sputnik, the world's first satellite, the whole race to escape gravity might never have begun
Share this article