theartsdesk Q&A: Director Jonathan Kent |

reviews, news & interviews
theartsdesk Q&A: Director Jonathan Kent
theartsdesk Q&A: Director Jonathan Kent
From the Almeida to musicals via opera: the director with a finger in every pie
'I didn't like people staring at me': director Jonathan Kent
Jonathan Kent was an actor before he was a director. Indeed, he had not directed a single play when in his mid-40s he assumed control of the Almeida Theatre in 1990. By the time he and his co-artistic director Ian McDiarmid has left more than a decade later, they had enforced a vital shift in the ecology of London theatre.
Kent lured big names to work for small paychecks: Diana Rigg and Ralph Fiennes were soon followed by the likes of Kevin Spacey, Juliette Binoche, Liam Neeson and Cate Blanchett. The theatre put down roots in the West End, invaded the old Gainsborough Studios and took up exile in a bus shelter in King's Cross. For a time it was the most talked about fringe theatre on the planet. There was one Saturday in 1998 when its various productions in London and New York played to nearly 6000 theatregoers.
When Kent left, he took to opera, initially in Santa Fe where from 2002 he staged shows for five consecutive seasons. Back in England his Tosca replaced the old Zeffirelli production at the Royal Opera House, while his Flying Dutchman for ENO reinvented Wagner's opera as child's bedtime psychodrama. Meanwhile in St Petersburg he had an extraordinary experience collaborating on Elektra with Valeri Gergiev. This is his busiest operatic year in the UK so far: a new Manon Lescaut is coming to Covent Garden, while Glyndebourne is reviving two of his five productions for the opera house: Don Giovanni in Sussex and The Turn of the Screw (pictured below by Alastair Muir) on tour.
The theatre has not suffered in the mean time. His Private Lives with Anna Chancellor and Toby Stephens was widely hailed while Good People, the latest of his collaborations with Imelda Staunton, moved from Hampstead to the West End. Next year they return to Chichester where they first staged Sweeney Todd to revive Gypsy. As he moves between opera, musicals and straight theatre, everything's coming up roses for Kent. He talks to theartsdesk.
JASPER REES: You now have quite a relationship with Glyndebourne. What is it that has kept luring you back?
JONATHAN KENT: I've been there for five years. The thing about Glyndebourne quite apart from its reputation and its heritage and all that the people who work there, the stage management, the production are second to none anywhere in the world. And there is something about a festival, people all coming together for a specific length of time. And also you're allowed to rehearse for a reasonable length of time and people tend to be there for most of the time unlike a lot of other opera houses. But it makes it a really satisfying place to work. I'm very grateful to it and very admiring of it. There's something about it too. It is a family concern and that could have an awful patriarchal, rather cloying imposition, but it isn't somehow. You feel part of a structure and a family for want of a better word.
When you direct a show there, how apparent is it to you that this thing is catching a thermal and is going to have a long afterlife? What are the indications?
There aren't always actually. When I did The Fairy Queen (pictured right by Neil Libbert), which was hardly radical but it was quite tricky in that it was half text, half brilliant Purcell music, there was no indication that it would catch on in the way that it absolutely did. It's in the nature of theatre in whatever form. The one thing you can be absolutely sure: if you think this is a dead cert it will absolutely fall on its face. That's the only rule of thumb.
Has that happened to you in theatre or opera?
I don't think I've felt I've had a dead cert but I've done things which I thought would have much more of an impact that they actually did. I'm old enough not to believe in the dead cert but I'm sometimes surprised by what catches on and what doesn't catch on. It's what makes it interesting. It's a sort of a lottery.
Had you seen Don Giovanni (pictured left by Robbie Jack) enough to know which directions you wanted to go in and/or avoid?
I hadn't seen it countless times. We wanted to root it in some kind of truth rather than just this demonic figure. What I find interesting about him was his bravery. There is of course the stone guest, the Commendatore, but there is also God in the play, and it is a discourse with God, and everybody within the piece is in some relationship to God. Don Giovanni who is a sceptic who defies God, but it's an intellectual quest to tempt God out of hiding, and by defying him when he is obliterated, it is in some ways a victory for Don Giovanni because he has proved the existence of God in terms of his own sacrifice. But it is a defiance and an intellectual quest and that struck me as interesting.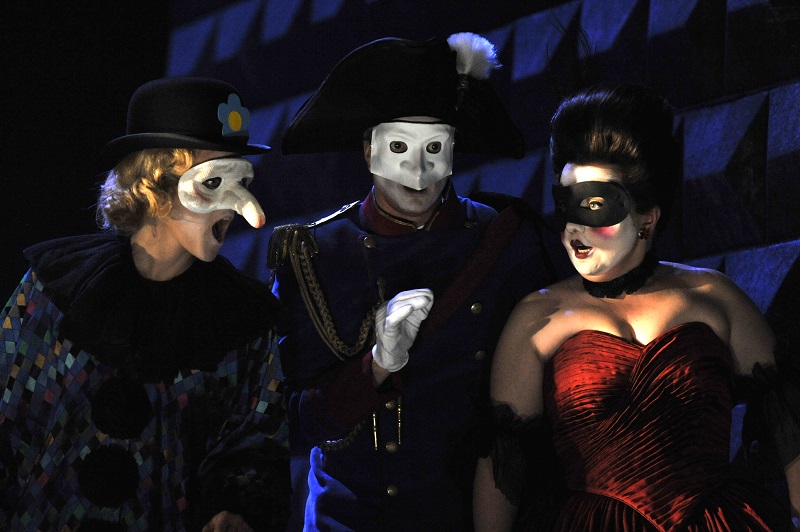 When you embark on a quest to reinvent an opera at the heart of the canon, are you aware that there will be those who are determined not to accept your interpretation?
It's like directing Hamlet. Everybody has a platonic vision in their head and it's very hard to dislodge that. Everybody comes knowing exactly what it should be like, and I don't know if they've ever seen – particularly Don Giovanni which is the most elusive of operas. There are so many musical forms within it. It is a great meeting between the Baroque and the Enlightenment and it is a piece which covers a whole gamut of musical forms, and to try and make that coherent, a unified event, is tough. So I knew that it was not going to be to everybody's taste. But that doesn't matter in the end. In the end all you do is do what you do and hope people like it.
And if they don't are you able to allow it to be water off a duck's back?
No. Of course you always long to be carried shoulder-high down Shaftesbury Avenue. Of course you do. But you sort of know that it's not always going to happen. But it's always an assault when people don't seem to understand what you've done and to that extent it is a failure, in that you haven't communicated your best intentions.
Have you felt over the years more understood by opera or theatre critics?
To be honest I think opera critics are more – perhaps because it is a slightly smaller pool and it is quite rarefied and music elicits passions, I find some of the reviews much more ad hominem than theatre. And sometimes hysterical.
When did you first direct an opera?
The first opera I did was in 2002 as I left the Almeida. I had had offers but because I was running a theatre and the lead time is so different I couldn't say, "Yes I'll do an opera in three years' time", because I didn't know what we were doing next month. The first opera I did was in Santa Fe. I did five years in Santa Fe when I left. It was a great education. I started on Katya Kabanova which Janáček took the Ostrovsky play and edited it and then set it to music. So it is a play. It was a great opera to start on. I then did an opera seria, early Mozart - Lucio Silla. I did a contemporary opera, I did the American premiere of Thomas Adès's The Tempest. I did Marriage of Figaro and then I did a completely new opera called The Letter [by Paul Moravec and Terry Teachout, based on Somerset Maugham's stage version of his own story]. So over five years I did a sort of college degree in the various ranges of opera.
How much more did you know at the end?
I was simultaneously doing operas. I did The Turn of the Screw, I did Tosca at the Opera House, I did a staged oratorio at the ENO [Tippett's A Child of Our Time], so I'd done other opera en route. But yes of course one knows much more about it.
Intellectually, emotionally, aesthetically, in what was does the process differ from directing actors, be it in a small theatre like the Almeida or a barn like the Olivier?
The rhythm is completely different quite apart obviously from the division of the disciplines. In theatre you start slowly and you build up and you build up and it all crescendos with the first night. Whereas with opera what happens is you start rehearsal and then two weeks before you perform it the music takes over so in a way it's been taken away from you. It's a different rhythm which is not always for me easy.
And unless it's a new opera the performers always come along knowing their lines. In trying to wrestle their knowledge of the work into a mould that you have in your head, is it a much more complex diplomatic negotiation?
It depends. In somewhere like Glyndebourne they come on the first day and join the ship. But international houses – in the Opera House Jonas Kaufmann - who is the greatest tenor in the world, no question - is joining 10 days later. So you have to duck and weave. Yes to a degree it's a diplomatic exercise. And that's sometimes dispiriting. Particularly the kind of theatre that I'm interested in which is moulding to the character of the actor or indeed singer towards the part. Particularly operas which have to be revived. I did Tosca (pictured above right by Catherine Ashmore) seven or eight years ago and it's been revived every year because it has to be. So it can't be based in the personality entire of the person that originated it.
You didn't have a huge amount of success with one person in the original cast [Angela Gheorghiu].
No I didn't. That was a baptism of fire, I have to say.
Would you work with her again?
Actually in a curious way I would. It was not the greatest, I have to say, but I don't know - I sort of admire her balls. I admire her unremitting self-regard and selfishness. There's something really impressive. She also has a very beautiful voice. You sort of see why regietheater came into being. When you stand people in their bucket of custard and paint their faces blue, it doesn't matter who's singing it. But that's not the kind of theatre I'm particularly interested in. Maybe it's because my foundation and my root is the straight theatre and now musicals.
Overleaf: 'The first night of Elektra was the most exciting evening I'd ever spent in the opera'

How was it to work with Gergiev? Was it a culture shock for someone who had only recently been running his own theatre?
It was everything I'd hoped for. He's a remarkable man. I'd met him before. I can't remember why I had to go to Paris. It was Elektra that I was doing. He was staying in this hotel and asked us to come to breakfast – the designer Paul Brown was with me, I think. We sat at a table and he was at another table with someone else and then you gradually realised that there were people waiting at every table. It was in a courtyard where people had breakfast outside. And everybody there seem to be waiting for Gergiev. That's a title. And he moved seamlessly from table to table. His wife was there and his children. It seemed very properly and glamorously Russian. Then he came and talked to us for 20 minutes and moved on.
Working for him was remarkable, particularly the Elektra which was the first thing I'd done. The first night of Elektra was the most exciting evening I'd ever spent in the opera. Nothing to do with my production. He'd not been around for rehearsal at all - I don't think this is maligning him at all. We were opening on a Sunday night. On Friday we were doing a desultory run-through onstage with some deputy sawing away. He arrived late at about 10. He listened for a bit at the back of the stalls, he then stopped rehearsal, went down to the front and started rearranging all the orchestra. Well, you know how long that takes. Two hours later he started again and started conducting and I think it finished about two and then the next day he called everybody, he called the second cast, he rehearsed with the orchestra for ages, he rehearsed again till about two in the morning. The next afternoon – we were opening that evening – he then called the first cast, and then he sent them away because he was just working with the orchestra. It started at eight. At 8.30 he was still working with the orchestra. You could hear the audience all outside. He then disappeared at about quarter to nine, went and had a shower, the audience came in, did all the slow clapping and all that stuff. I think we started at 9.30. And everybody's nerves were so…. God knows what the second performance was like because nobody could sustain that. But for Strauss, for Elektra, it was completely amazing. Everything you ever dream what opera will be.
Manon Lescaut at the Royal Opera House: what's going to happen?
It's a fantastic cast. Amazing cast - Kristine Opolais, Jonas Kaufmann - and it's an interesting opera in that it's his third, and I like doing young men's or young women's pieces. I did Flying Dutchman which I've just done again in Copenhagen and that's slightly before Wagner learned to be Wagner. There's something unveiled about it before the great veil of genius descended on them. The same as this. It's got an awkward rawness. Some of the most ravishing music. Narratively it's quite hard. It's like a postcard sent back from a narrative rather than the thing itself. I love it. It's got an emotional narrative: at the end of act one she runs of with Des Grieux; suddenly we discover at the beginning of Act Two she's being kept by Géronte. It's not ideal but it gives it an energy and rawness which I really love.
Do you find when working with singers at the top of their game that they are happy to collaborate and take direction?
That very much depends on the individual. I know it's a rather mealy-mouthed get-out. You get some like Bryn Terfel who is an amazing collaborator and wonderful to work with. I don't think you can generalise.
It's now a long time since you left the Almeida and your successor now has a successor. Those years put the theatre on the map and, it's fair to say, put you on the map.
Oh of course. It was the making of me.
Would you have done anything differently knowing what you know now?
Knowing what I know now I probably wouldn't have done it in the first place because we had all the protection of blind ignorance and innocence. But I just didn't know how difficult things were and so of course things weren't quite as difficult as one thought. And we had a degree of luck. For instance, really early on, I worked out budgets – I found this tragic little book I had where I worked out budgets and I'd forgotten to put in things like National Insurance so we were running a huge deficit we didn't really know about. Then sort of miraculously there was something called the London Borough Grant Scheme which funded the Almeida to the tune of something like £60,000 a year. And after the first year there were inevitable cutbacks – it was Mrs Thatcher, that whole era – and they cut us and because we'd done quite well in our first season there was a bit of a scandal and people gave us money and we raise something like £250,000, not least because – and I will always be grateful to him for this – Andrew Lloyd Webber gave £100,000 I think it was. So it not only covered what we'd lost but it wrote off our unknown deficit that we had no idea we had, thank the Lord. And there were the people who chose to work for us. And things worked out. And also we had mad ambition which was exciting. And after a while the people who joined us and came with us shared that ambition. It was like surfing. Once you got up on the wave it was great. In a way it was good to leave though. You couldn't sustain that. You needed a soft landing.
You couldn't sustain the level of excitement? Or commitment?
We'd expanded hugely. We were in New York, we were on tour, we were here. So there was a lot. We had a turnover of £6 million which for a little theatre in those days was a lot of money. And we built theatres, we built the Gainsborough, we built King's Cross. It was a helter-skelter ride. And it was wonderful. And it was the making of me so I have every reason to be grateful to it but it was also right to leave. And what I'm thrilled about now is I think Rupert [Goold] will regain some of that.
That's a leading statement. I must ask how you found the succeeding regime of Michael Attenborough.
It was just different and I think it will be different again. Michael really consolidated it and it was great, I think. But Rupert has a different kind of anarchic spirit. I happened to like his productions very much and admire him.
How good an actor were you?
I don't think I was bad. Sometimes I was terrible. I didn't really like it. I hated the fact that 800 people a night knew who I was and I didn't know who they were. And most actors really love the anonymity, that's what they like. Also I didn't like people staring at me which again was a disqualification from being any kind of actor. Occasionally I wasn't bad. Actually the last thing I did which was The Rehearsal, in the first year at the Almeida, I think I wasn't bad in that.
Did you give it up without a backward glance?
God yeah! The first day I started directing, which was my first season, it was the second play, and I directed Ibsen's When We Dead Awaken. People occasionally write to me and say, "Have you got any advice?" I never have any advice. The only thing I always write back is "Whatever you do don't start with When We Dead Awaken." However I did and on day one I thought, I don't care what anybody else thinks. I know I should be doing this.
How long did you act for?
Oh, since the Seventies and it was not wasted in that I hope it's made me a better director. I was going to be a painter. I come from a family of architects. My father was an architect, my brother is an architect, my cousin is an architect. So I grew up with a special awareness. And then I also knew about acting because I'd done it. Although now I sort of can't remember what it was like. It's as though my brother or a very good friend or something was an actor and told me about it. I have no sense memory of it. But it's very easy as a director, because you're buttressed behind a table, to think, "Well for Christ's sake, all you've got to do is walk over there, shoot that woman, burst into flood of tears and throw yourself out of a window. A child of five could do it. Just do it!" And of course it's so much harder than one thinks. And once you have acted you at least have a memory of that.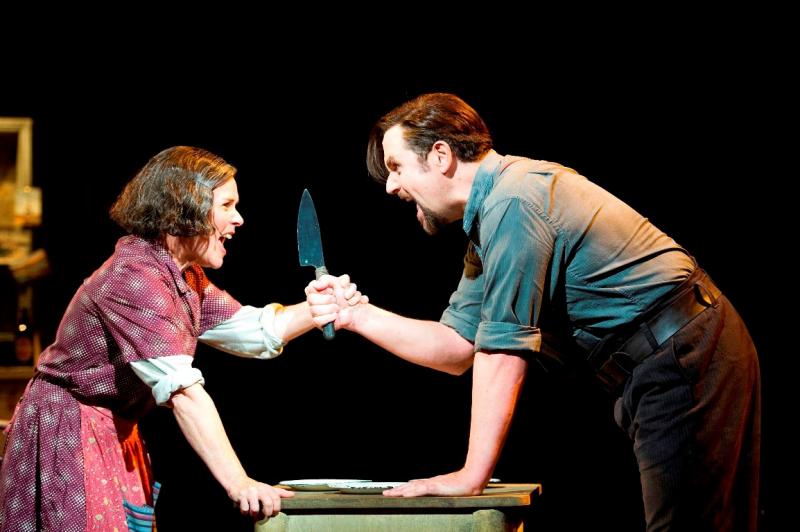 Two actors above all have been your muses: Ralph Fiennes and Imelda Staunton.
I really like doing a body of work with an actor. Certainly that was true of Ralph but it was also true of Richard Griffiths, of Tom Hollander. Ralph I did six or seven and I hope will again. But Imelda is remarkable. She's protean. I'm sure there are things she can't do and things she wouldn't want to do but they are few and far between. She's astonishing. She's done Mrs Lovett, Good People (pictured above by Tristram Kenton), and now she's going to do Gypsy. She's just a chameleon and she's also got a quality where audiences care about here. There are two kinds of actress or actor and actually Ralph is probably the second kind too: actors and actresses who sort of force submission from an audience – they in a way frighten an audience. Just to use two great actresses: Maggie Smith and Judi Dench. Maggie – and I think she is a great actress, but she does intimidate an audience by her sheer dazzling brilliance. Whereas somebody like Judi is equally brilliant in her own way but the audience care about her and feel protective about her and are interested in her and she elicits a kind of affection from an audience. Imelda elicits an affection as well. I've been lucky enough to work with really great actors and she's as great as anybody I've ever worked with. She's amazing.
Have you seen The Grand Budapest Hotel?
Yes.
So do you want to do a comedy with Ralph Fiennes?
I've already told him. I think he's wonderful he's like a very soigné, effete rabbit.
You've worked with him more than anyone. Did you know how funny he could be?
I did know because years ago we did a fundraiser for the Almeida in New York and he did a bit of PG Wodehouse. He was hilarious. It was just a staged reading. I'd love to do a farce with people like him Tom Hollander, Adrian Scarborough, Imelda. Imagine if you could get them. I think he'd be a great farceur.
What can we expect from your Gypsy?
It is a brilliant book with some of the best music ever written for a book musical. It's a sort of theatrical Grapes of Wrath. It's this little group of people trailing actress America in the Twenties and Thirties in pursuit of the American Dream, in pursuit of success whatever that is. But it's against the background of Depression.
With more tinsel than Grapes of Wrath.
Of course there's tinsel - but it's pretty tarnished and tawdry.
Of course you always long to be carried shoulder-high down Shaftesbury Avenue
Explore topics
Share this article