The Fairy Queen, Glyndebourne Festival Opera |

reviews, news & interviews
The Fairy Queen, Glyndebourne Festival Opera
The Fairy Queen, Glyndebourne Festival Opera
A magical riot of theatre and music makes for a deliciously English summer treat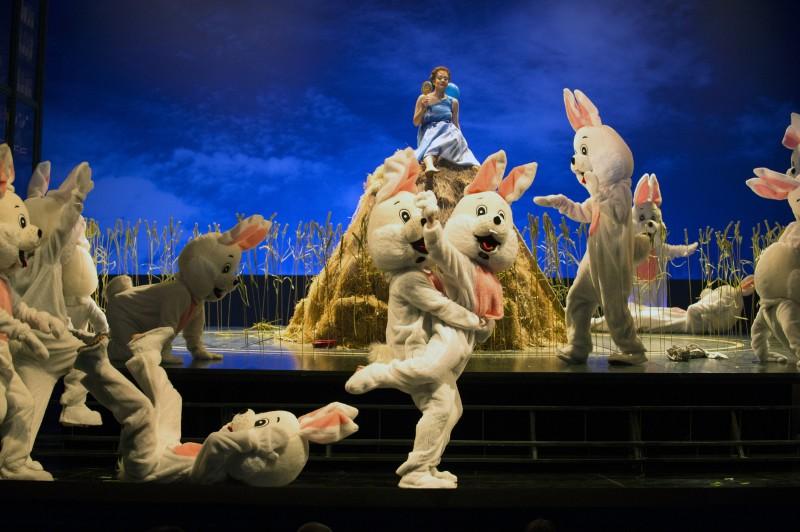 Fecundity and fertility come to riotous life in Jonathan Kent's chorus of rabbits
Purcell certainly doesn't make it easy for the champions of English opera. His beloved Dido and Aeneas is barely half an evening's entertainment, so condensed is its tragedy, and the dense political satire of Dryden's King Arthur text all but requires translation if it is to make sense to a contemporary audience.
And then there's
The Fairy Queen
– the gauzy, gorgeous semi-opera whose music is the side-dish to a bastardised 17
th-
century take on Shakespeare's
A Midsummer Night's Dream
.
With Purcell's music for the latter valued above its rhyming-couplet dialogue, it's rare to see the work today except in purely musical form. Purcell's cast of rustics, gods and spirits can be summoned evocatively enough on the concert platform, but their charms are nothing to the vivid intensity of Jonathan Kent's fully realised staging.
Jonathan Kent transforms an awkward semi-opera into a generous more-than-opera
Original text and music all but intact, his Glyndebourne production comes in at over three hours, putting perhaps a little too much strain on the flimsy dramatic structure. But so generous is Kent's magical vision, so bursting with visual delights and distractions, that it seems churlish to balk at too much of a good thing.
The scene is set in a domed 17th-century drawing room – a private museum, complete with cabinets of curiosities on either side. Laden with the souvenirs of empire – Chinese vases, bright twigs of coral, animal skulls and feathery fans – these carefully constrained mysteries contrast with Purcell's cheeky spirits and nature-gods, whose magic bursts forth from within the glass cases as the evening progresses.
Roughing up the edges of this period vision (fulfilled most amply by the quartet of lovers, with Matt Barber's Lysander, Hedydd Dylan's Helena and Alice Haig's Hermia pictured right) are Kent's rude mechanicals – agency cleaners complete with dodgy hoover and duster-covered shoes. Their playfully anachronistic presence finds echo in a Hymen who becomes a disapproving vicar (Sainsbury's carrier bag clutched in hand) and a final wedding feast that's pure 1950s. And this is before we get to a lusty, cross-dressing Corydon and Mopsa and, of course, the legendary chorus of shagging rabbits.
It's a riot, but not one without its moments of delicacy and beauty. Lawrence Cummings, chief among the gutsiest and most invigorating of period specialists, sets aside rougher textures for the most tender account of Purcell's score, favouring sweetness and legato sway over brusquer articulation. Dance rhythms are tight and clean but heard as though from another world, transfigured like Shakespeare's own mortals in this enchanted wood. These are mirrored in Kim Brandstrup's sensitive choreography and Paul Brown's designs that summon golden winged horses from the central cupola, weave Titania into a spidery shroud for her rest, and set Bottom and his fairy queen afloat in a pea-pod boat complete with goldfish boatman.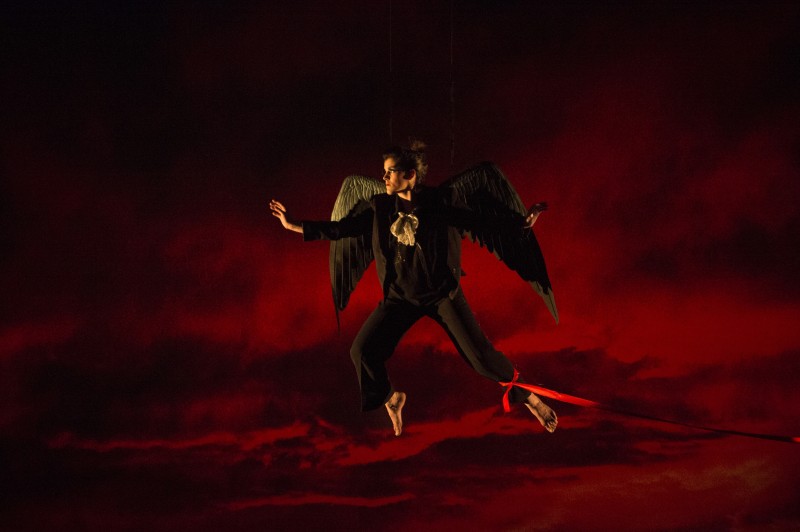 With so much visual energy, and a cast of actors in the named roles (led by the dynamic Penny Downie as Titania and Finbar Lynch's edgy Oberon), the singers occupy supporting roles. Emotions are fleshed out, pageantry enacted in their verses, as masque after masque reveals pairs of lovers, a parade of the seasons, and a bedtime story of night and day.
With Carolyn Sampson (cruelly under-used, save for a wrenching "O let me weep"), Claire Debono and Joelle Harvey anchoring the musical set-pieces, the rest of the roles fall to younger singers, with mixed results. The women outclass the men by some margin, with tenor solos leaving me yearning for 2009's Ed Lyon. Only bass David Soar stands out among a competent but unexciting cast, whose comparative vocal inexperience is balanced by a dramatic freshness and the excellence of the ensemble singing.
Jonathan Kent here transforms an awkward semi-opera into a generous more-than-opera, creating pageantry for our own age in his endless, imaginative parade of spirits and creatures. It's a joy to see design, choreography and musical direction so tightly synchronised, each celebrating and enabling the other to create dramatic unity out of this most fragmented of works. A truly English summer treat, right up there with strawberries and cream.
Paul Brown's designs set Bottom and his fairy queen afloat in a pea-pod boat complete with goldfish boatman
Explore topics
Share this article