Rodin, Eifman Ballet, London Coliseum |

reviews, news & interviews
Rodin, Eifman Ballet, London Coliseum
Rodin, Eifman Ballet, London Coliseum
A ballet to offend lovers, geniuses, muses, sculptors, mental patients and women everywhere
Near-nudity and writhing stand in for emotional profundity in 'Rodin'
Before Boris Eifman's second visit to London this week, ballet lovers who missed the divisive Russian dancemaker last time round will have been weighing up the merits of a punt on a ticket. If they were basing their calculations on reviews, I imagine their mental reasoning went as follows.
Against
: Eifman's ballets send many English-language dance critics into tail-spinning, virtuosic displays of vitriol (based on genuine dislike: Eifman makes one colleague "want to stand on her chair and howl.")
For
: other critics like him; Russian audiences apparently love him. Plus, controversial might equal interesting, right?
In the Soviet era, when he suffered much official opprobrium, Eifman's work was labelled pornographic. After seeing Rodin, a 2011 narrative work about the sculptor's stormy relationship with Camille Claudel which had its first British outing at the Coliseum last night, I find myself in complete agreement. There's nothing wrong with scantily clad dancers and depictions of sex per se, but Rodin garnishes them with all the demerits of modern, plastic "industry" porn: the flimsiest plot, no emotional depth at all, and stereotypes instead of characters.
You'd be forgiven for expecting better with this story material. Claudel and Rodin's relationship is about love and art, but also about power – the power of the male "genius" over the female muse (a sculptor herself, but ignored in Rodin's shadow), the power of artists over the clay they sculpt, the power of the "sane" over the "insane" (Camille ends up - unjustly? - in a mental asylum). But all Eifman can muster is two hours of vulgarly reductive cliché, in a ballet that must offend lovers, geniuses, muses, sculptors, mental patients and women everywhere.
Oleg Gabyshev's Rodin is a tortured genius – we know this because he has mad bushy hair and does nothing but writhe, on the ground, on his table, on that thing that looks like a Cubist garden trellis. I have absolutely no idea why Lyubov Andreyeva's Camille is with him, because a) he seems ghastly, and b) there's no emotional arc to their first encounter at all, no sense of strangers overcoming strangeness to discover one another love-able. No, it just cuts straight to "passion", which Eifman's choreography represents through squirmy, inelegant lifts, like two people playing high-speed 3D Twister in a padded room.
Two of the other three emotional states in the ballet are also built on the same base – anger/misery and madness, the first hallmarked by grimacing, the second by knees flashing akimbo (pictured above right) or into other split-legged positions, as if the source of all women's madness were their genitalia. Yes, only women go mad in this production, and the scenes in the women's asylum are beyond tasteless: white-gowned and bonneted figures gurn, wriggle frenetically, and wave those dangerous nether parts around in a style I am going to christen "Victorian Twerking."
The last emotional state is the manic happiness exhibited by the corps de ballet when called upon to portray laddish studio porters, cancan dancers, or people who dance in evening dress for no apparent reason – all of which they manage, it must be said, manfully, and with some verve, while their appearance as art critics (pictured below left) is genuinely funny. The bespectacled, puffed-up, swaggering crowd who, armed with notebooks like giant red cards, obsequiously applaud Rodin but turn French noses up at Claudel show Eifman gleefully thumbing his own nose at the mosquito swarms of critics who have accompanied his remarkably long career with a constant whine of disapproval.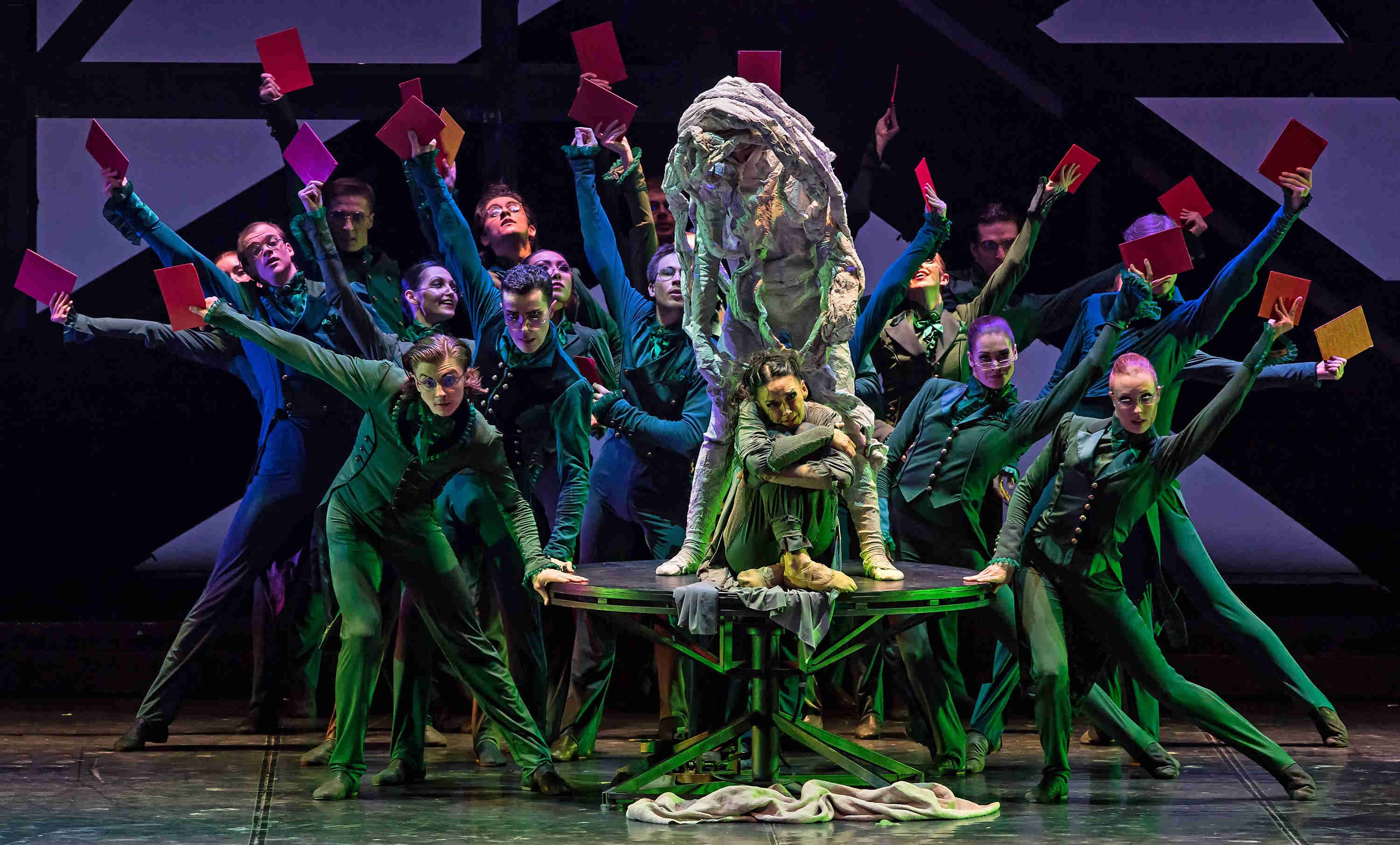 Both Andreyeva, and Yulia Manjeles, who plays Manet's long-suffering partner Rose Beuret, show signs of being better dancers and better actresses than Eifman's material gives them scope for. Spare, graceful Manjeles endows neglected Rose with an arresting dignity, and Andreyeva broke the emotional monotone with her glimmers of loneliness, regret, and artistic focus. Using dancers as sculptor's clay is a bright idea; hands, arms, torsos emerge strikingly from both Claudel's and Rodin's "blocks" to create recognisable versions of their works.
There is interesting potential for self-reflexivity buried in Rodin: Claudel's struggle for recognition might parallel the dearth of female choreographers in contemporary ballet, while the uncomfortable positions into which Rodin moves his models might question the ever more acrobatic lifts into which female dancers are contorted. Given Eifman's otherwise rampant sexism, and frequent contorted lifts, I doubt the reflexivity was deliberate, but during an experience as generally miserable as this, one clutches at any straw.
As for the music, a recorded cut-and-paste of French Romantic composers with added hammers and Darth Vader breathing, the less said the better. And I'm not sure whether it was all the flashbacks, or just the grinding emotional monotony, but the entire second half added nothing to our knowledge of Claudel and Rodin's relationship; I could have left at the interval and still written the same review. I wish I had. Eifman's brand of controversy is not interesting; it is utterly, dreadfully tedious.
Eifman Ballet are at the London Coliseum until 19 April. Rodin is performed again on 16 & 17 April, while 19 April sees the return of Anna Karenina.
Gowned and bonneted figures gurn, wriggle frenetically, and wave those dangerous nether parts around in a style I am going to christen 'Victorian Twerking'
rating
Share this article