Spring Quartet, Barbican |

reviews, news & interviews
Spring Quartet, Barbican
Spring Quartet, Barbican
Multi-generational jazz supergroup plays likeable set of expansive, freewheeling tunes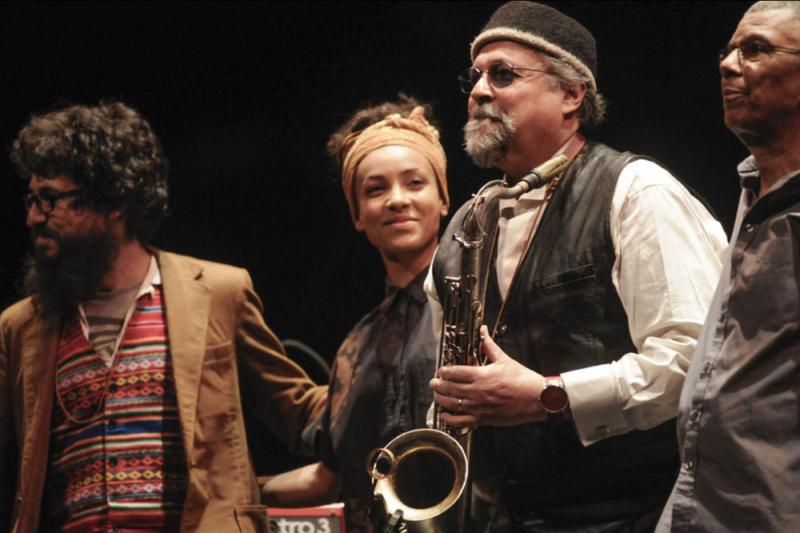 Spring buds: Genovese, Spalding, Lovano and DeJohnette
In the 1960s and early 70s drummer Jack DeJohnette, now 71, was learning his craft with nearly everyone who was anyone, including Coltrane, Monk, Keith Jarrett and Miles Davis. Last night at the Barbican, he was the presiding spirit (if not, technically, leader) in a new multi-generational "supergroup", the Spring Quartet, alongside Blue Note's star saxophonist Joe Lovano (61), and two thirtysomethings, pianist Leo Genovese, and the winner of the 2011 best new artist Grammy Esperanza Spalding. It was like watching spring in slow motion: the new shoots are vigorous, but there's still plenty of colour in the autumn leaf.
There was plenty of spring in the sense of bounce in the music, too. The first piece, Lovano's "Spring Day", was an expansive, freewheeling rampage, ideas flying out like sparks from a roaring fire, as Spalding, Lovano and Genovese all charmed the room with their gregarious solo work, all held together by DeJohnette's deliciously light touch. Of the four, DeJohnette had the least solo time, but, as the best professionals will, he made his expert flexibility seem effortless.

Lovano, who on either tenor or soprano saxophone had easily the most penetrating sound, was jousting with spears of melody, his distinctively muscular tone massaging the group's sound, then occasionally softening into a Lester Young caress. His soprano sang a lovely duet with Spalding in her own vocal composition "Hystaspes Shrugged", a world- and folk-influenced song of yearning vocalisation that allowed both performers to show off their honeyed delicacy.
The sound was mainly acoustic: Genovese had a battery of keyboards, but mostly played the piano, clearly relishing its full reverberation, while Spalding made a lovely, resonant, elastic sound on the double bass. It was almost classical in timbre, without the attack of Mingus or any electronic effects, but her technical control and harmonic imagination during long solo passages filled the Barbican hall with round, golden, swinging phrases.
That's the thing with spring: what comes up generally looks quite similar to what was there the year before
Compositions were spread around the group, though here (if not elsewhere), deference was paid to experience: Lovano had three, DeJohnette two, and the youngsters one apiece. Intriguingly, the two younger players' pieces were more melodic and accessible to an audience unfamiliar with the last 30 years of jazz idiom. (Opinion on whether that's a promising or depressing sign will vary.) Genovese's piece "The Ethiopian Blues" had bursts of a kind of fragmented stride piano. At other times he produced a virtual hailstorm of notes, and generally, like Spalding, preferred an almost classically pure sound. The least well known of the quartet, he impressed with an exceptionally fluent technique, seemingly able to deploy phrases from the full extent of jazz piano history.
The originality on display was not so much any technical breakthrough as the sheer skill and variety of their playing, and the creative endurance with which ideas span endlessly off one another. Presumably, a decision has been taken to eschew the unmelodic avant-garde: you don't fill halls from San Francisco to Istanbul without tunes. But that's not in any way to diminish the quality of what there was. That's the thing with spring: what comes up generally looks quite similar to what was there the year before, but it's fresh and beautiful all the same.