Esperanza Spalding, Barbican |

reviews, news & interviews
Esperanza Spalding, Barbican
Esperanza Spalding, Barbican
The Grammy-winner serves up a deliciously rich gumbo of influences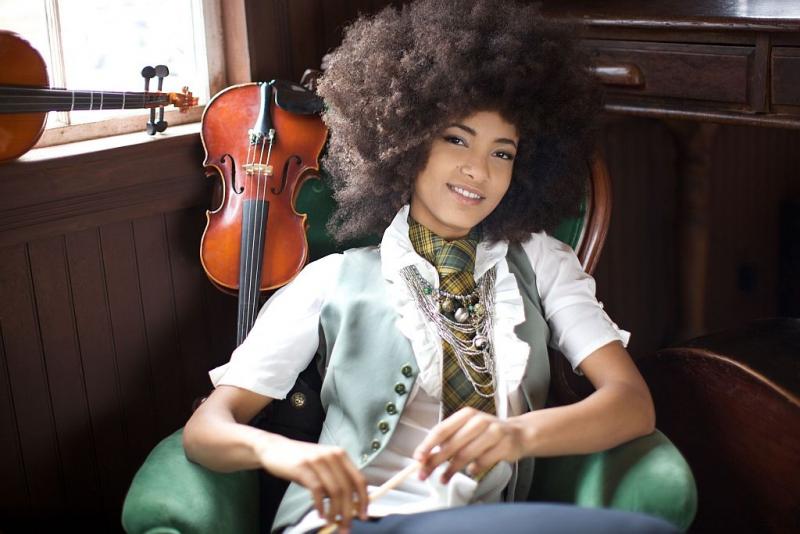 And the winner is... the preposterously talented Esperanza Spalding
The last time I saw Esperanza Spalding live, at Ronnie Scott's towards the end of 2009, the mention of her name would largely have been greeted with quizzical looks.
Now, thanks to that astounding Grammy win for Best New Artist and a gazillion disgruntled Justin Bieber fans – seriously, you do not want to mess with those pesky Beliebers - her profile has soared exponentially.
Performing songs from her 2010 release, Chamber Music Society, in a single continuous set, Spalding did her utmost to recreate the album's singularly intimate atmosphere – no easy feat in the Barbican. To give some semblance of inviting us into her living room, she walked on to the stage with the house lights down, took off her coat, sat down in an armchair and nonchalantly poured herself a glass of red wine.
Featuring at its core two discrete trios of Spalding on bass, percussionist Richie Barshay and pianist Leo Genovese on the one hand, and violinist Sara Caswell, violist Lois Martin and cellist Jody Redhage on the other, the ensemble served up a deliciously rich gumbo that subtly interleaved influences from jazz, hip hop, folk, classical and Brazilian music. And in its use of women's voices (fellow Berklee alumna Leala Cyr and cellist Redhage doubling) as additional textural layers on tracks such as "Winter Sun", it could also draw comparisons with a work as seemingly tangential as Steve Reich's Music for 18 Musicians. Echoes of the familiar are stitched into the fabric of Spalding's music, and yet it never sounds anything less than utterly new.
The fragile transparency of the evening's lead-off song, a setting of William Blake's poem Little Fly, was greeted with a kind of rapt attention that was sustained throughout the set. From the delicate vocal interplay of Jobim's "Inútil paisagem" - a gossamer-light duet between Spalding and Cyr – to the biting ostinatos and metrical ambiguity of "Really Very Small" (again, echoes of Reich here), Spalding's composing and arranging skills become ever more distinctive.
The evening's high-water mark, "What a Friend", is typical of her compositional concept: the rather filmic approach to structure; the stark juxtaposition of freely floating, arrhythmic passages with hugely pulsating grooves; the Latin-flavoured wordless vocalisation; and the constant vibration between major and minor modes which threw up some surprising, and pleasingly bittersweet, dissonances. Seeing Spalding in full flow, completely rocking out on the bass and exuding the pure joy of expression, makes you impatient to hear the R&B, hip-hop influenced follow-up album, Radio Music Society.
Throughout the evening, pianist Genovese proved an outstanding accompanist. Contributing lushly voiced ballad playing (especially captivating in the encore "Fall In" from Esperanza), fiendishly intricate right-hand runs, rhythmically flawless comping and the bandoneón-like timbre of the melodica, perched atop the grand piano, his touch and discernment were a thing of wonder.
Spalding's own artistic odyssey looks set to take her to previously uncharted places. Stretching way beyond the boundaries of your typical jazz initiate, the amazing response to her music so far is one of the most exciting things to happen to jazz in recent memory.