Esperanza Spalding, Ronnie Scott's |

reviews, news & interviews
Esperanza Spalding, Ronnie Scott's
Esperanza Spalding, Ronnie Scott's
Bone-shakingly funky jazz at Ronnie Scott's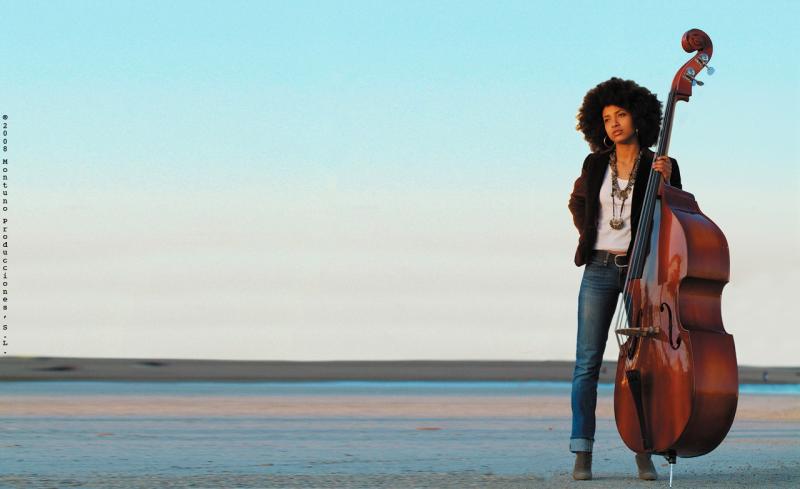 Proxima Estacion: Esperanza
Watching some jazz musicians play live, you're made acutely aware of the intense effort that goes into their performance.
Conveying a non-verbal message that roughly translates as "this shit is really hard, you know", tell-tale signs include the pained rictus of deep concentration, the
sotto voce
grunts, groans and exhalations, and the self-communing, head-down-to-the-floor mode adopted for solos of five minutes or longer.
Observing Esperanza Spalding's sunny disposition in the hallowed confines of Ronnie Scott's, on the other hand, you get the impression that she's barely breaking a sweat. What she's actually doing is carving out bone-shakingly funky bass lines, singing some of the most circuitous melodic lines you're likely to hear, and quietly grooving along to the music. This is like patting your head, rubbing your stomach and Morris dancing all at the same time, only about a million times harder.
Encouraged by her mother, Spalding began playing violin at age five, switching to bass a decade later. In 2005, aged just 20, she began teaching at Boston's Berklee College of Music, making her one of its youngest ever faculty members. The time scale almost defies belief. The Portland-born, Texas-based 25-year-old has already worked with some of the greatest names in jazz, including pianist Michel Camilo, guitarist Pat Metheny and sax player Joe Lovano.
Backed by her regular pianist Leo Genovese and drummer Lynden Rochelle, Spalding's wide-ranging set referenced everything from funk and hip-hop to Brazilian and Afro-Cuban rhythms. Whether deconstructing a standard ("Autumn Leaves"), reinventing a pop song (Stevie Wonder's "I Can't Help It") or performing her own material ("Precious"), Spalding's playful virtuosity and boldly individual arrangements were utterly compelling. Despite the trio format, the textural range was vast, due mainly to the bank of keyboards which surrounded Genovese. Switching at will from glassy Fender Rhodes to organ stabs to cascading torrents of notes on the grand piano, his seductive palette of sound was at times reminiscent of the great Joe Zawinul.
But it was Spalding that you were constantly drawn to, conjuring up contrapuntal feats between voice and bass of such incredible dexterity - and with such sweetness and strength – that if you closed your eyes for a second you'd swear you were listening to a quartet.
More dates from Esperanza Spalding here.