10 Questions for Zara McFarlane |

reviews, news & interviews
10 Questions for Zara McFarlane
10 Questions for Zara McFarlane
Rising jazz star discusses reggae, her roots in Jamaican Dagenham, and the desire to write more
Zara McFarlane: rare emotional intensity
Zara McFarlane's rise to jazz eminence has taken the scenic route, especially in these days of the super-educated jazz prodigy. From a Jamaican home where reggae was always in the air, via a love of musical theatre, and a degree in pop performance, McFarlane studied jazz and improvisation at the Guildhall. With the support of Gilles Peterson, who signed her to his Brownswood label, she released a debut album, Until Tomorrow, in 2011.
This was warmly reviewed, and received a MOBO nomination, but her second album,
If You Knew Her
, which came out earlier this year, is a further breakthrough. Containing mostly her originals, in bold, spare arrangements, it announced a unique voice and a composing mind of unusually broad reach and engaging talent.
She has condensed the melodic sweetness of pop, the narrative drive of musical theatre, the bass hooks of reggae and the vocal control and innovation of jazz into a potent synthesis whose apparent smooth simplicity conceals sophisticated control, and a raw emotional punch. Her May performance at the Brighton Festival is already sold out. Having supported major acts like Hugh Masekela and Gregory Porter, she is quickly becoming one herself.
MATTHEW WRIGHT: You've said you grew up with reggae and musical songs. What did you get from them, musically and emotionally? Do they still influence your music today?
ZARA MCFARLANE: There was definitely a lot of reggae. It was just there, at parties, events, in the house, subconsciously in the background. As for musicals, I used to enjoy watching them, and later studied musical theatre. That's a more conscious influence. The songs are generally used to create an emotional point, propel the story further, create an emotional feeling, or to create something with a story behind it.
With reggae, it's always about the heavy basslines. The influence is hard to explain: it's more than just music for me. I've often travelled to jamaica, and the music reminds me of eras, and people, especially my grandmother in Jamaica. Reggae is more more than music.
Critics have compared your music to Ella and Nina Simone. Are they important role models? Is there anyone else?
I used to listen to a lot of Sarah Vaughan as well, and Dianne Reeves. She has more of a classical range and tone. I admire Lauryn Hill, too.
They're inspiration more than role models. The way people are as human beings is a role model; as an artist, I'm interested in what they can do technically. I did support Reeves at last year's London Jazz Festival [the concert sold out], but my role model is my mother.
Your voice has an unusually smooth, focused tone, that must take a lot of practice and control. Has it always been like that? Did it just develop naturally, or was there a conscious decision to go for that sort of sound?
It's a mixture of the two. Things have developed in that way, Over the years I've been conscious of wanting to have control throughout my range. I like the sound of a particular tone, (it's always tone that attracts me to a singer), and Sarah Vaughan and Dianne Reeves have control throughout their range, as opposed to Billie Holliday, who has a much smaller tone, and doesn't change the sound of her voice ever. Sarah Vaughan can sing high and sweet. Those are the things I identified in other people, and that's what I enjoyed exploring.
I originally studied musical theatre, which needs a varied sound, then I studied pop, which is a different sound from rock and soul, and there are different things you have to apply. The course I was taking in pop was a training specifically in how to be a session musician. What I got from it was how to produce myself, be versatile, and change my sound.
Police and Thieves came out on the 50th anniversary of Jamaican independence. How sad things haven't developed much
Many of your songs are about control, restraint, staying on top of feelings: is there a personal history behind this?
One song in particular, "Move", was written at a time when I was unsure if I wanted to continue making music as a career. I was teaching, and gigging, and it was getting to point when I really wasn't sure. Then I thought that if you've invested a lot of time already, it's important to see it through. And I did.
Some songs contain a lot of repetition for effect, e.g. "You'll Get Me in Trouble". What effects are you hoping to create?
I do tend to write simple songs, duets, that allow me to experiment melodically. On this song, it was just how I heard it. I might come back to the song and rearrange it. For the duets on the album, I'd like to get the band more invovled, try the song in a different style. My background in pop tells me to keep the chord changes simple, and rearrange it creatively later. I've got a great band and that helps, too.
Many of your arrangements are very spare, with only a single instrument. It leaves your voice exposed. Is it very brave?
Originally it was more to do with how I heard the tracks. I had recorded different versions, and one was just vocal and piano, and it made sense with lyrics and emotion. Sometimes, when I put too much into something, it takes away from what I'm trying to say. There really is a story throughout the whole album: the woman goes on an emotional journey.
My experience of being in Italy, as a black woman, is that they just assume you're a prostitute
"If You Knew Her" includes a lot of your own songs. How do you find the composition process?
I started writing songs when I was about 11. I just got into it because I was bored one day. I've done it slowly slowly over the years, only writing songs when I was inspired to write, perhaps one song a year. When I was busier musically, the urge to write, and the expectation that I would write, became greater, and I got into a routine of sitting and thinking and writing a song a day. I would love to write more songs, and write for other people. I can produce a little bit, and I want to explore that side too.
When it comes to the lyrics, I sometimes just jot down ideas on my phone; sentences, just odd random things. To write the music, I have to be on my own, in my little music room, with a guitar and piano. I have to have my thoughts to myself, then I can start putting the music down.
Some journalists have written about growing up in Dagenham as if it was a big deal. How was it really? Is jazz today a very privileged place?
I think it's different for me growing up in Dagenham, because I was always an outsider in Dagenham. It's a racist area: the BNP's HQ is in Barking, not far from where I live. When i was growing up I just accepted that i was outsider. I had different experiences, I travelled in Jamaica. Back then, it wasn't really part of london, it wasn't a London postcode, a lot of people I knew had family in Dagenham going back generations. It was more villagey than city, whereas Londoners move about. I also have family in Shropshire, so I'd experienced a few different things, and didn't really fit into normal Dagenham.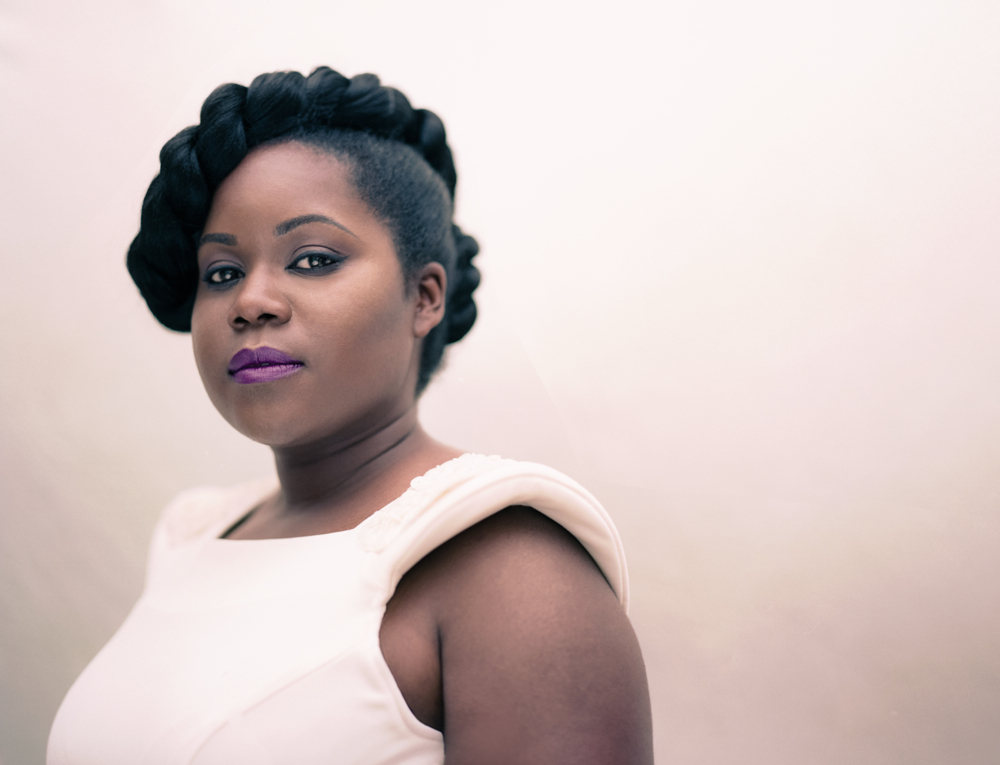 As regards jazz, I started working with Tomorrow's Warriors, a group of young black jazz musicians, and Jazz Jamaica. I did a project that was a mixture of Motown, jazz and reggae. It still had a pop element was that I comfortable with. I developed my craft for jazz gradually that way, I wasn't studying at a college, so I didn't feel any advantage or disadvantage. I felt it more when I went to Guildhall. There wouldn't have been any jazz clubs in Dagenham. It wasn't my experience. I came to jazz quite late in life. Nina Simone helped: she'd been in a lot of films, back in the day.
"Police and Thieves" (see video below) is an interesting choice of song in an album of otherwise quite personal, romantic material. Why did you include it? What does it have to say to us today?
We did that song, that arrangement, about a year and a half before the album came out. I remembered it from my childhood, showed it to Gilles, made a recording and video, which came out on the 50th anniversary of Jamaican independence, and a year after the riots (of 2011). It felt relevant because of those things: how sad, in a way, that these things haven't developed much. Those Tottenham riots come out of nowhere after the shooting of Mark Duggan. Some people just jumped on the bandwagon. The album wasn't ready at the time, but that song was relevant.
I'm not explicitly a political singer, but if an event means something to me personally, it might come out in a song. "Woman in the Olive Groves" is about a prostitute in Italy. My experience of being in Italy, as a black woman, is that they just assume you're a prostitute. So that's still something that's relevant to me, I've experienced that before. In a different time, place, and country, in Africa, perhaps, that could have been me.
What can you tell us about your plans for your Brighton Festival performance?
We'll be doing a mixture of songs from the first and second album. I'll get "Police and Thieves" in there, it's a favourite. When we play live we perform with the band. It's very interesting: some of the songs that are duets on the album we do with the full band, live. The main band is a quintet: me, sax, piano, bass and drums. It makes a slight change to the character of the songs, but not too much. For a live concert, the band helps create a particular atmosphere. It can make things more dramatic, build things up. I'm writing again, just beginning again now, but I don't know if I'll have anything ready for May.
Music reminds me of eras, and people, especially my grandmother in Jamaica
Explore topics
Share this article