The Strypes, Concorde 2, Brighton |

reviews, news & interviews
The Strypes, Concorde 2, Brighton
The Strypes, Concorde 2, Brighton
Explosively exciting show from the teenage Irish garage rockers
Thursday, 13 February 2014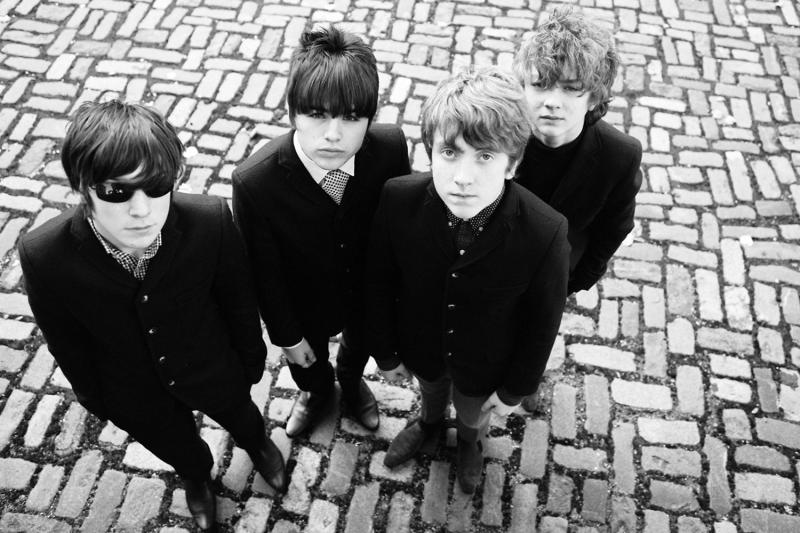 The Strypes, looking and living the part
The Strypes broke through initially with an amped-up version of the blues, akin to the sounds of the early Sixties London blues rock explosion that gave us the Rolling Stones. Tonight proved that they've since taken a Tardis through the decades - although no further than 1992 or so - but have kept fast hold of their smash'n'grab garage band ethos.
Where bands such as Foals and Everything Everything explore futurist technology in a rather fussy, uninspiring manner, these Irish teenagers engage with the past in a way that's visceral and hugely exciting.
Clad in black suits with white shirts and skinny ties, against a black and white backdrop bearing their name, they already look the part, a band as tight in appearance as their playing, visually part Hives, part Blondie. Lead singer Ross Farrelly is the only one all in black and never removes a pair of shades that his sparring partner, guitarist Josh McClorey, refers to as being "more expensive than your first car". Combined with his fringed hair, his appearance is a direct descendent of the lineage that runs from Scott Walker, through Julian Cope to Bobby Gillespie. At his side, bassist Peter O'Hanlon breaks with the new wave sharpness via a mop of long hair flopping around, masking his features.
They exude a honed musical vitality that's utterly compelling
They kick off with a version of John Kongos'/Happy Mondays' "Step On", sucking out the funk and injecting a take-no-prisoners punk urgency. From thereon they don't let their foot off the accelerator for an hour and a quarter. They exude a honed musical vitality that's utterly compelling, bouncing around, saying little, diving straight into one song as soon as the last one's finished in a manner that recalls The Ramones. While they're clearly living a retro rock fantasy, there is no sense of the artifice that so many NME-friendly bands off-puttingly exude.
Originals such as the rock'n'rolling bounce of "I Don't Wanna Know", featuring doses of manic and brilliant harmonica from Farrelly, sit easily alongside covers such The Specials' "Concrete Jungle", all of them rendered like Dr Feelgood at their most spittle-flecked and amphetamine-raddled. Indeed, Seventies pub rock is another core template here, yet numbers such as "I'm a Hog For You, Baby" and "Blue Collar Jane" have as much of The Yardbirds about them, all smeared in virtuoso guitar-playing from McClorey that brings to mind Cream at their most incendiary.
So many comparative reverences! Perhaps that's why the front third of the hall is full of indie kids dancing wildly and the other two thirds jam-packed with men and women in the forties and fifties, succubae for the way The Strypes inject the music of their own youth with an untrammelled, unforced dose of genuine passion and freshness. A woman who I'd estimate to be in her forties tells me she's just come back from seeing the band four times in the States. That's devotion.
The band's relish is contagious. They keep telling us they're going to finish but cannot help diving into further material, finally concluding their encore with a double-headed nirvana of garage-punk influences – The Ramones' "Rockaway Beach" and The Kingsmen's "Louie Louie", both delivered at full pelt velocity, before ending with their breakthrough Irish mini-hit cover of Bo Diddley's "You Can't Judge a Book by the Cover". This lot are the real deal. Totally thrilling. They nailed a show that knocked my socks off.
Overleaf: Watch The Strypes' video for "Blue Collar Jane"