Arctic Monkeys, O2 Arena |

reviews, news & interviews
Arctic Monkeys, O2 Arena
Arctic Monkeys, O2 Arena
Forget Noel's High Flying Birds, Alex Turner's soaring simians are the real guitar greats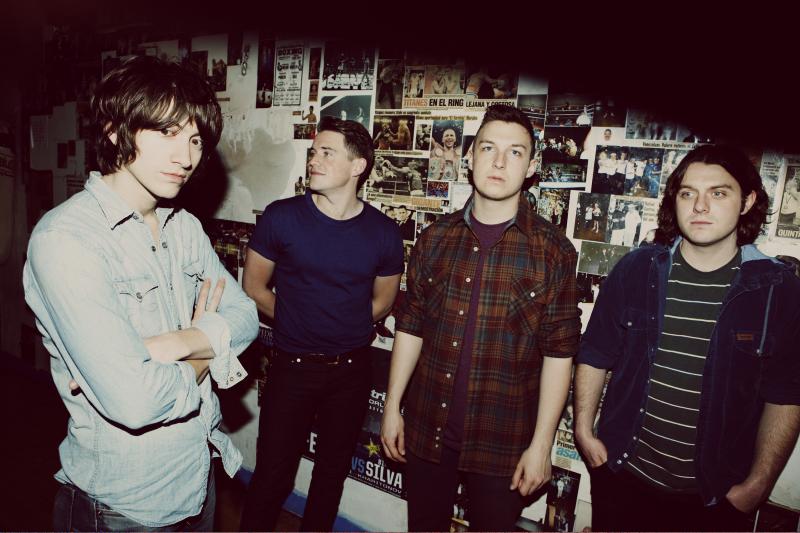 Arctic Monkeys: the thinking man's Oasis as well as the best guitar band since The Smiths?
Boy, do Arctic Monkeys move fast. There were 21 songs in their set at the O2 Arena last night and at one point they were racing through them at such a breathtaking lick I thought I would be on my way home within the hour. In the end their performance clocked in at around the length of a football match thanks to some pauses to swap guitars. Plus a break for Alex Turner to stand by the drums and ostentatiously comb his elaborate quiff.
Some sections of the crowd might have questioned Turner's surprising 2011 rug-rethink, but no one would dare question his ability to pen a brilliantly infectious pop song.
This second gig on the quartet's current UK tour was positively peppered with their greatest hits. After the slow, brooding Yorkshire blues of opener "Don't Sit Down 'Cause I've Moved Your Chair", "Teddy Picker" really saw the pace pick up. By the sixth number, "Brianstorm", the audience was in a veritable frenzy. The four unashamedly heterosexual lads in the row in front of me – the kind of kids who would have been Jam fans if they were three decades older – were singing along and hugging each other so enthusiastically I nearly tapped them on the shoulder and suggested they get a room.
The newer material was slightly, but only slightly, less punchy than their early work
What makes Arctic Monkeys so interesting is the way they straddle various demographics. They have their fair share of Fred Perry-wearing Oasis fans, but they also appeal to the more literate pop constituency. Alex Turner may not be the best lyricist this country has ever produced, but he may well be the best since Morrissey. His compositions are beautiful, finely detailed little pen portraits full of witty wordplay and unexpected Duran Duran references featuring prostitutes, chip pans and relationships gone right and wrong. There has rarely been a better description of passion turned stale than "You used to get it in your fishnets/ Now you only get it in your nightdress" from the choppy, ska-flecked "Fluorescent Adolescent".
The newer material was slightly, but only slightly, less punchy than their early work. The latest album Suck it and See is a return to form after the more experimental third album, Humbug. "Brick by Brick", sung by drummer Matt Helders, was a thumping singalong rock-anthem-by-numbers, but "Evil Twin" had an elegant menace and "The Hellcat Spangled Shalalala" demonstrated that relocating to America from Sheffield has not dented Turner's enthusiasm for a magnetic pop hook or a pithy line.
And if the Beatles-in-Hamburg hairdo was retro there was nothing backwards about the music. Just when you think every drop of fun has been squeezed out of the guitar-based rock template, Arctic Monkeys prove that it can sound as modern as ever. Turner is every inch the intelligent contemporary guitar hero, both embracing and knowingly satirising the theatrics of the genre by dropping to his knees à la Hendrix, putting his foot on the monitor like Joe Strummer or glaring at the audience in a frozen pose like Gene Vincent. There is nothing pyrotechnic about his playing, but it is economical and to the point.
After some well-deserved backstage orange segments following a breathless "When the Sun Goes Down", the foursome returned for an encore of the title track from their latest album, followed by a laid-back, slowed-down version of "Mardy Bum". And then Turner announced, "Jimmy Savile rest in peace," before introducing his chum Miles Kane, who joined the band on stage for the closing number, "505". Perhaps the late DJ was looking down and fixing it for 16,000 Arctic Monkeys to have a spectacular Saturday night. But Alex Turner's gang certainly played their part too.
Arctic Monkeys on tour until 9 November
Watch Arctic Monkeys perform "Fluorescent Adolescent"
Turner's songs are beautiful little pen portraits full of witty wordplay and unexpected Duran Duran references
rating
Share this article