Steve McQueen: Are You Sitting Uncomfortably, BBC Two |

reviews, news & interviews
Steve McQueen: Are You Sitting Uncomfortably, BBC Two
Steve McQueen: Are You Sitting Uncomfortably, BBC Two
Fascinating background on the restlessly ambitious video artist's journey to Hollywood
Saturday, 25 January 2014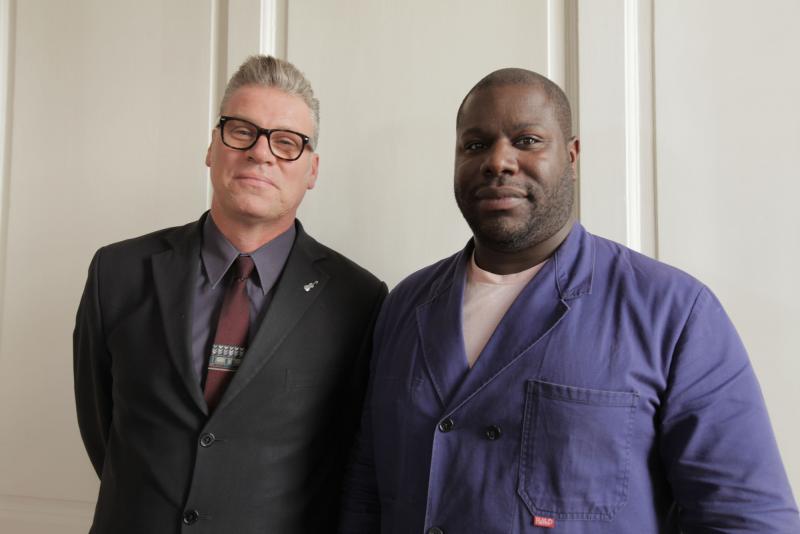 Mark Kermode and Steve McQueen
Anyone familiar with Mark Kermode's reviewing will already have heard his adulation of Steve McQueen's latest film, 12 Years a Slave. An edition of The Culture Show dedicated to McQueen's career could, then, have gone a bit weak at the knees in veneration. Instead, it roamed freely, making many intelligent connections across McQueen's restless artistic journey from Turner Prize-winning video artist to hotly tipped Oscar shoo-in.
That's just one of the very many ways in which McQueen breaks new ground, in what's becoming a really remarkable career. Rather than letting his artistic success stagnate in formaldehyde, or sparkle in an ossuary, he's developed and expanded on the same skills and applied them to a different format. So far, to great effect.
The section about the Solomon Northup source was the least surprising. Anyone spending their Friday night watching The Culture Show (or even bothering to dig it up on iPlayer) will surely know this stuff already. Yet, just when the programme seemed to be settling into a mundane re-hash of the film's Wikipedia page, the pace suddenly quickened, and it set off on a fascinating tramp through McQueen's back catalogue.
McQueen's first two feature films - Hunger, about IRA hunger-striker Bobby Sands, and Shame, about sex addiction, both present easy connections through the theme of physical and psychological imprisonment, the competing menaces of which Northup debates with himself many times. Hunger adds violence to the discussion.
Brad Pitt wondered out loud why it took a Brit to ask this question
More surprisingly, there were illuminating connections across the whole body of McQueen's video art. Deadpan, McQueen's re-working of the famous Buster Keaton scene in which a house front falls on top of him, shows his interest in meticulous re-working of cinema history. Bear, the 20 year-old wrestling scene which first brought McQueen to the attention of the art world, suggests an interest in channelled aggression and the male torso, both of which are amply shown in this most recent work.
And McQueen's 2004 video piece Charlotte, featuring close-up shots of McQueen poking Charlotte Rampling in the eye, depicts in miniature the violation amplified so horrendously in 12 Years a Slave. Eyes, McQueen pointed out, are a crucial means of communication for Chiwetel Ejiofor's Northup, since he can't tell anyone about his background for fear of worse treatment.
Perhaps the show's most sensitive question was why there has still been no American feature film attempting to present the sober reality of slavery. At the Toronto Film Festival premiere, Brad Pitt, the film's producer, wondered out loud why it took a Brit to ask this question. In Hollywood, the subject is still held at arm's length, and viewed, as in last year's Quentin Tarantino movie Django Unchained, through many layers of irony and pastiche. That film is not so much America looking into its soul, but a film nerd flicking through his Blu-rays. One of the drier contributors, Professor David W Blight of Yale University, was the most outspoken on this topic. "I personally found Django Unchained offensive. If that's the lens through which we can get to the history of slavery, we're a really sick people," he said.
Like Charlotte Rampling, we're all being poked in the eye. And we seem to be enjoying it.

McQueen's 2004 video piece Charlotte depicts in miniature the violation amplified so horrendously in 12 Years a Slave
rating
Explore topics
Share this article