Matthew Bourne's Swan Lake, Sadler's Wells |

reviews, news & interviews
Matthew Bourne's Swan Lake, Sadler's Wells
Matthew Bourne's Swan Lake, Sadler's Wells
Sexy and dangerous as ever, the Bourne swan dominates a dance-theatre classic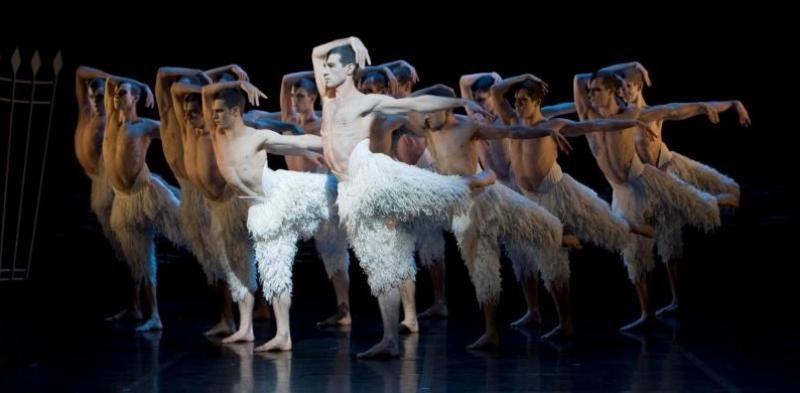 Jonathan Ollivier, powerful king among swans
In 1995 a new avian species with unfamiliar markings, the Bourne swan, drew unexpectedly large crowds to a run-down old Islington theatre. I remember it well: seats in the gods were being worn so tight then that feet attached to long legs couldn't be placed on the ground and, negotiating a tolerable view downstairs at the box office, I missed 10 minutes of the display.
Since then the very masculine
Cygnus bourniensis
has been sighted in unlikely places all over the worldand has now returned to overwinter in a more spacious and comfortable Sadler's Wells. Rapid evolution over nearly two decades has only strengthened its attractiveness.
Perhaps, for once, I ought to put the orchestra and conductor first: not so much because they've failed to appear in recent Nutcracker reviews here but because I entered the auditorium last night expecting the pre-recorded and over-amplified if extremely well played soundtracks we've had for Bourne's Cinderella and Sleeping Beauty, only to be greeted by the welcome sounds of tuning-up: a real orchestra again. Amplification remains an issue, to compensate partly for regional expectations of unnatural volume, which it seems craven to indulge, and also for the very small number of strings in the New Adventures pit band.
Never mind: at the helm last night was the company's Musical Director Brett Morris, the best ballet conductor in the business alongside Birmingham Royal Ballet's Koen Kessels. Morris nurtures every phrase, isn't afraid of making some of the feminine strains more virile to match the swan choreography and raises the national dances at the ball to a level I've not heard even on a recording. He also boasts some superb players – best of all leader Gina McCormack, who takes the three testing solos (Russian Dance included) as aristocratically as top violinist James Ehnes on Neeme Järvi's superlative new CD set of the complete ballet.
Yet if this places Tchaikovsky first so, too, does Bourne. His Swan Lake gives us infinitely more of the score than the disastrously cut and interpolated Drigo version made just after the composer's death, which has remained all too current in ballet company repertoires due to the Petipa/Ivanov choreography it accompanies, now much bastardised in many cases.
Bourne manages to keep most of the Act One Pas de trois as a high-camp romantic command performance, colourful against the prevailing blacks and whites in Lez Brotherston's enduring designs as well as funny – and who would have thought the whole act could work as an ever-fresh narrative of unhappy royalty?
He also has Fokine's instinct for delineating groups within ensemble dances: Michela Meazza's haughty mother Queen gets her first supported display to the big waltz's vaunting trumpet tune – cut in the Drigo version – while the most dramatic variation of the Act Three Pas de Six now serves as a dramatic scene in which she plays Gertrude to her tormented princely son's Hamlet. Tchaikovsky's "goblet" Polonaise is a nightclub swank number (pictured above by Bill Cooper in an earlier staging) with action – plus Quentin Crisp and Beryl Reid's June Buckridge looking on - which would be to this show what Bob Fosse's Frug is to Sweet Charity, were it not that greater things are just around the corner.
Namely those two-thirds feral, one-third human swans, as energetic as ever in this fine-tuned revival. Jonathan Ollivier's leader towers in relation to his entourage as a prima ballerina like Svetlana Zakharova, all exquisite long arms (Meazza has those, too) and aristocratic grace, has long done at the Mariinsky and the Bolshoi. Dominating the sweet, troubled prince of Simon Williams – who's also danced the Swan – Ollivier (pictured below with Sam Archer's Prince by Hugo Glendinning) mesmerizes with his rapid head movements and elongated profile. The great Pas de Deux still moves me: how astonished Tchaikovsky would have been to see a love duet between two men, and how much more than ever he needs help now. As the Act Three Stranger – read Odile the Black Swan – Ollivier is perhaps strip-cartoon sexy where Adam Cooper was stylishly menacing, but here's a major presence and a powerful dancer, no doubt.
Williams (in first picture with Saranne Curtin's Queen) has the harder job of sustaining the narrative but carries Bourne's vivid story-telling along with the face-made-for-comedy of Kerry Biggin as the Essex girl who angles for him. And never forget that Bourne provides bravura solos for the foreign "princesses" at the ball, in an almost exhausting display of panache before the brilliant "Black Swan" Pas de Deux (read Trois).
In the high tragedy of the last act, where Bourne gives us all of Tchaikovsky's symphonic sequence, there's perhaps a bit too much eked-out cygnine aggression in the absence of a single evil figure to combat. But the end convinces, and crowns a Swan Lake for the ages. Petipa-Ivanov's Act Two vision in white is immortal, too, so let's just be thankful that we can treasure both styles.
How astonished Tchaikovsky would have been to see a love duet between two men, and how much more than ever he needs help now
rating
Share this article