Prom 40: 6 Music Prom, The Stranglers, Laura Marling, London Sinfonietta |

reviews, news & interviews
Prom 40: 6 Music Prom, The Stranglers, Laura Marling, London Sinfonietta
Prom 40: 6 Music Prom, The Stranglers, Laura Marling, London Sinfonietta
The first Radio 6 Prom collides, with mixed results, the Stranglers and Berio, Laura Marling and Xenakis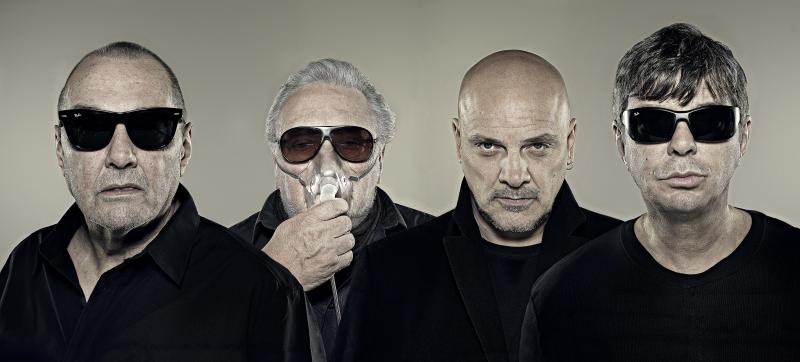 The Stranglers: Poetic geezers
"That was a bit of a dog's breakfast," said the guy in the row behind. Yes, but then the said canine repast can also no doubt be nutritious and delicious, for dogs anyway. The most dogs-breakfasty (in the bad sense) moment was right at the end, when the Stranglers played their greatest song "Golden Brown", their immortal chanson to a girl and heroin.
Somehow, perhaps it was just the weird acoustics, but by the time the percussion of the London Sinfonietta reached my seat it was a cacophony (the track, incidentally, alternates 6/8 and 7/8 rhythms, which seemed to cause confusion). The added instruments only detracted from the sweet, sinister minimalism of the spare harpischord-based original arrangement.
Boorish misogyny is still rife in pop, but references to exiled revolutionaries are woefully rare
Still, it was perhaps good for the song to get a nod as a great British composition in this context. The next best Stranglers track came at the start with "No More Heroes". The band always used to pose as macho punks but also referenced Trotsky. While boorish misogyny is still rife in pop (see "Blurred Lines"), references to exiled revolutionaries are these days woefully rare.
The set-up was like an eccentric and eclectic radio hour (not surprising, as it was the first Radio 6 Prom) presented by groovy Colchester United-supporting presenter Steve Lamacq and possibly less groovy Tom Service, of Radio 3 (although I do recommend his recent book of conversations with the composer Thomas Ades).
The combination of musical forces worked best when Cerys Matthews (pictured below), ex-Catatonia and also a Radio 6 presenter, sang Fats Domino's "Blueberry Hill" with a warm, Welsh lilt and the strings added a certain epic gravitas to lines like "When I found you, the moon stood still". Being a notorious song collector, she also sang a folk song she assured us was a favourite of King Henry V and urged us all to do-si-do. Not many did. Laura Marling's "I Was an Eagle" showcased her commanding voice but somehow needed more warming up of the audience to work as a mere interlude, more escape velocity to take us off to where we know she can take us.
If there was concept for the evening, it seemed to be that while Lamacq would introduce classical squares to clever pop, Tom Service would introduce the intelligent pop listener to snatches of contemporary music – from Varèse's percussion classic Ionisation (introduced as the first music Frank Zappa ever bought – the precocious brat) to a bit of Xenakis. What worked best in this context was Berio's "O King", his heartfelt homage to Martin Luther King, sung with cool passion by mezzo Anna Stephany, and the vital minimal funk of Steve Martland's Principia, where conductor Andrew Gourlay marshalled his troops with impressive precision. What Martland would have made of it we tragically don't know, as he died suddenly of a heart attack three months back. We do know he was often splenetically rude about the Proms, though.
While this was also billed as the first "Punk Prom", it actually was relatively genteel and good-natured. Next year: the Sex Pistols with full orchestra, followed by some Morton Feldman? Can't wait.
While this was also billed as the first 'Punk Prom', it was relatively genteel and good natured
rating
Share this article